If you're looking at all things Italian, why not combine delicious food, beautiful cities, stunning countryside, friendly locals with some eloquent electronica from the heart of the quaint city of Parma.
KIRLIAN CAMERA have been active in the dark synth genre since 1979, when Angelo Bergamini set off to create a project, which has lasted decades and gained fans with every release.
With very promising beginnings as the first ever Italian band signed to Virgin Records, the group went from strength to strength, but with the rightful addition of Elena Alice Fossi, the success has been complete.
With the recent opus 'Hologram Moon', a No1 in the German Alternative Charts, Bergamini and Fossi have really proven that KIRLIAN CAMERA still have it very much in them. Angelo Bergamini and Elena Alice Fossi chatted about their latest musical adventure.
Parma, a beautiful town that seems almost too quaint to produce such talent. What was the music scene like over there post-punk?
Angelo Bergamini: Well, I don't remember so much about such a period, thanks to a memory blackout I did get in 2002. But I can recall something hazy about a very productive situation. I remember bands such as PALE TV, T.A.C, EAST WALL, RAW POWER, KOTO, BLITZ and so on, all more or less linkable to the city in question… Anyway, Parma didn't offer that much to one who actually wanted to become a skilled alternative musician.
How can I say… I think the city is really beautiful, but my heart was and is elsewhere. I feel more "connection" to Germany, Tuscany and… Florida, for example. I'm not able to speak German (just a few words!) but always I appreciated their country and their culture, then Elena increased such a sensation, as she really loves those places and German people.
Being the first Italian act to be signed to Virgin Records must have been a big deal… what happened?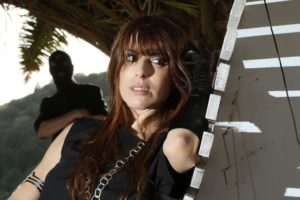 Angelo Bergamini: It was strange. One day before I was told that at Virgin they would like to offer me an agreement… it was impossible to even daydream about it, for any group, at the time!!! Impossible dreams, you know. Then… the day after, one of my collaborators came out with such news. My reaction was even weirder: I didn't react. I was cold. Cold as an ice cube. Don't know the reason why. Strange life, indeed…
You've changed labels on many occasions with your latest release outed on Dependent…
Angelo Bergamini: Yes, we feel like we are gypsies, AH AH AH!!! Some labels we worked with in the past, such as Out Of Line, Trisol and Virgin Records, offered us a kind of artistic freedom and some promotion, so I couldn't tell anything so negative about them, but… well, now Elena has signed to SPKR, a Los Angeles-based entity managing Dependent and, once again, we're just trying to do the best we can, offering our deepest soul to the audience. Then, who knows?
Keeping up this agreement with Dependent might turn out to be a good decision, you know. Sometimes, working with us is not that simple, as we perfectly know all of the possible mechanisms market and mafia offer, so… sometimes a label manager might feel "too observed", kind of not at ease, you understand? They don't realize we couldn't give a damn about their manoeuvres and rackets. Simply, we are not dumb, come on! Really we are not. Label managers are often looking for idiots… and so many bands are there to offer such a precious quality…
Angelo, you had a very successful project of your own with HIPNOSIS, what made you drop that? The 'Hologram Moon' idea is of a conspiracy…
Angelo Bergamini: HIPNOSIS was a cover band, in its very early life, so in a way I had been feeling strangled, I suppose. Then, all in all, I perceived KIRLIAN CAMERA was kinda my life. HIPNOSIS got platinum discs and many awards, but I wanted KC to become even bigger, somehow or other.
Elena Alice Fossi: The idea behind 'Hologram Moon'
turns out to be a metaphor, as I actually couldn't realize whether the Moon is a hologram, an abandoned planet, an abandoned spacelab, or it's simply a small planet looking like a bizarrely perfect sphere…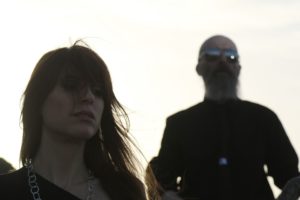 The curious thing is that many people out there "know" what it is. In fact, some say it's a hologram, some say it is not, some are losing their mind desperately trying to prove that satellite is real and they even quote scientists becoming embarrassingly purple in the attempt to discredit other people. I'm talking about "persons" who know absolutely nothing and never will know anything at all. I know nothing, but I'm looking for truth. Simple.
In the meantime, OASIS' Noel Gallagher is coming out with an album titled 'Who Built The Moon?', more or less regarding the same theme and… the question, as we notice, is just interesting an increasing number of people. We'll be soon asking Noel whether he has got any news in regard to such a matter…
So on the new album, Eskil Simonsson visits to help out too!
Elena Alice Fossi: Collaborating with Eskil is not a casual fact, as well as he is not casual. He is not a casual being. I actually feel that giving life to the songs we worked on together was coming out from a combination of natural factors. We are so delighted with this result.
We first met in Magdeburg on the occasion of a charity festival in 2014, as I decided to perform there with some friends; Angelo suggested me to invite a guest, giving me the name of Eskil. It was just a perfect idea, as I think KIRLIAN CAMERA and COVENANT both belong to a cold romantic / dramatic electro world. I feel there is some kind of sense of loss often crossing the music lines of both projects.
Yes, that's pop and I do not want to dignify mainstream at all costs, but… the point is that – whether we want it or not – our electro pop music is not regular mainstream, you know. It may turn out to be a boom or a boomerang… but we could not care less about that, as we love it , so won't stop dreaming through those melodic humanoids we are creating. Creating ourselves. Recreating ourselves on new birth days, along with different parents and friends…
You never felt really aligned with a dark synth genre, you just like doing your own thing?
Angelo Bergamini: Our music is made of several layers, various echoes, shreds of movie soundtracks and it's often crossed with different mood. Depends on when it's been composed. Not seldom does it evoke dramatic visions, but couldn't disdain humourous inputs and alien needs!
While working on a new KIRLIAN CAMERA album, we happen to create a single for the African rising star FAKEBA, a very determined singer, then we happen to listen to THE ELECTRIC PRUNES or THIRD EAR BAND and go back to Ligeti or the Strauss' waltzes. Out of the blue, we might happen to make a dance track, just for fun… as even fun is important, in music!
We recently have been asked to sell our sounds to a sampling company, for example and it may happen we find ourselves working on a laughing gnome who has to kill a dragon!!!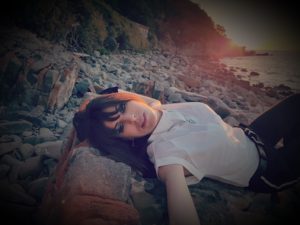 You will easily understand that one genre in particular couldn't be our fixed cup of tea, then we like to bring our musical ideas into several areas.
No, we definitely are not so linkable to an exact scene, although Elena in particular feels special love for electronic music, so our last performances are giving massive room to synthetic sounds and I think such trend will be even increased and developed.
We must follow our own visions, regardless of what is the "right thing", as we suppose the right thing comes out when you couldn't give a damn about mere nostalgia and assembly line standard music. Listeners are increasingly looking for straight atmospheric works, they want "that" exact product without any complications and so creativity ain't that necessary, as no real variation will be admitted! Today's listeners are making me nostalgic of the progressive era!!!
Are the side projects now retired?
Elena Alice Fossi: We are now on the STALINGRAD VALKYRIE project, once called STALINGRAD, kind of martial music sometimes being crossed with some "distant humour". Angelo is daydreaming about a new SPECTRA PARIS chapter, as he is the glamour entity here, but I think such an idea will turn into a strange collection being filled with unreleased material. KIRLIAN CAMERA is anyway requiring relatively long lead times, due to particular love involved!
Elena, you're doing famously well with SPECTRA PARIS…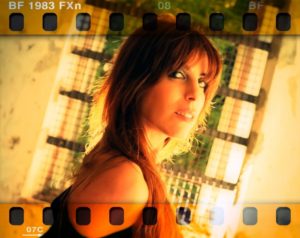 Elena Alice Fossi: Thank you, Monika! SPECTRA PARIS gives me a lot of satisfaction, whether it becomes something bigger than now, or it remains trapped into a dark pop limbo being reserved for the few! This is because every time I get into the "Spectra-spaceship", then I have a sensation I am growing up a bit. Maybe it happens because I let a good amount of time pass between one album and another, so whenever I approach a new work, my mind no longer is in the same place it was at the time of the previous album.
This doesn't mean I deny the older solutions, although I admit I notice a kind of naivety in my old treatments. And yet, such a mechanism generates a kind of space-time map of my life and each album, like a magnetic point, tries to tell me who I was, who I am and where I'm going. However, 'Retromachine Betty', the latest album I released, gave me a safer journey, where I feel good in a most synthetic and electronic side which always belonged to me, but I never had managed to express with such naturalness before.
I don't know the reason why – strange magic or pure nonsense – the sounds of machines have always moved me, so, in this album that has been recently by Dependent Records, I wanted to introduce my own computer-creature, giving it a name, a sensitivity, an identity, even a sexual one. I wanted it to be born in the beginning of the '80s and to visit future places and ages, like a time machine, through an evolutionary system that goes beyond our days.
Both of you have worked with the legendary John Fryer… Angelo, your collaboration dates back a while…
Angelo Bergamini: Yes, we met in London at Blackwing Studios, January 1988, kinda sanctuary as far as Mute and 4AD were concerned. Everything was so filled with enthusiasm and on that occasion, I had a chance to collaborate with Suzanne Reddington-Gardner a very talented singer, as our vocalist was… lost somewhere!
John's co-production succeeded in giving us some more spotlight, even if our label at the time managed to mess everything up. Let's say some press focused on us a little more, after paying dues for eight years, surrounded by some hostile silence, in Italy. So, we definitely set route to another area, after some confused stories with Virgin and EMI.
John Fryer was particularly popular, those exact days, as his single as M/A/R/R/S 'Pump Up The Volume' was about to become a massive hit. He wasn't one of those guys who are obsessed with a particular genre. That's the best starting point, when one goes to work with KIRLIAN CAMERA, especially nowadays.
And Elena, you lent your vocal wizardry on John's own project BLACK NEEDLE NOISE…
Elena Alice Fossi: It was a nice moment of fun for me, as well as a real pleasure! Experiences like those can only enrich, both as a musician and humanly, because they leave an indelible mark inside. And I must admit that I feel proud to take part in such a big party, in fact I couldn't help noticing how each singer perfectly fits in her/his own role, thanks to John's skilful orchestration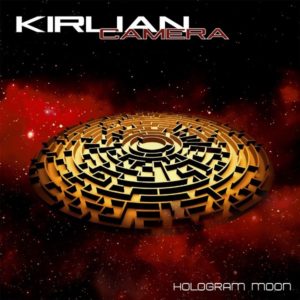 How difficult is it to sell music now, comparing to back then?
Angelo Bergamini: I must say it's always been an uneasy deal, when one doesn't go to agree with certain tyranny created by some ludicrous label managers. Then, working along with women in a band turns things even more complicated! I mean… when you're working with and for a beautiful woman. Explaining what I mean would be nothing but stupid. Everybody knows everything, although many would like to prove times are changing. So, given I like challenges, I love to work with beautiful and talented women, kind of love for suicide!!!
Joking aside, you know that today music has become a sort of background to distract listeners. So, given that I love challenges (part 2), I love making pop music to be possibly listened to with attention!!! So when you decide you wanna sell your music you're just going to hit the jackpot, especially when you come from some real low-life. Selling – real – music in the 80s was less complicated, thanks to the New Wave support and a relatively new adventure into the underground maze.
I must add that label managers and operators in general are grumbling about poor sales since… time immemorial! So, I don't know whether anything actually changed. OK, now you sell less physical material but you can sell yourself, your identity, your social one.
One will value whether that's good or not, then… and as for Kirlians, once again… you know we love challenges (part 3)!!!
Having gained cult status, do you expect your releases to be an instant success?
Elena Alice Fossi: We never expect anything particular, even though we always have natural high hopes once we start again working on a new chapter! Many people like to say "better the devil we know", but I don't seldom accept facing new adventures, even when some clouds are peeping over the horizon. Now, this moment looks notably crowded with good sensations and we so often have a chance to perceive some real good feeling coming out of the audience's hat!
We are veterans without nostalgia; we never give up, always feeling glad to be on stage, even when performing mini clubs in front of, say, 200 fans! Well, 2000 are similarly welcome, you know… we always try turning listeners' enthusiasm on, till reaching together a magical place, so far from any standard and lifeless performance! A party aboard a spaceship surrounded by millions stars might give you the gist.
Angelo Bergamini: Elena is a real force of nature on stage! Difficult to see anything like that, today in particular, as she's completely involved in a trance, a trance that rules out mummy-like fixedness, though! She intensely lives a sort of personal drama, up there. She smiles, cries, laughs, gets serious, runs, gets down on the floor. Some teardrops probably appeared in her eyes, during a concert when playing 'Sky Collapse' and the tears she was perhaps holding back choked her throat, and I must say that Elena is not a whiner at all!
Intensity is the word, during Elena's performances, so I'm sure she's able to spread such sensations, doing that by means of the most genuine, honest and potent language. KC need it! That's what we like to call success!
Then, if God or whoever wants us to take the place of Rihanna by playing our music instead of bare mainstream pop, well… we're ready!!!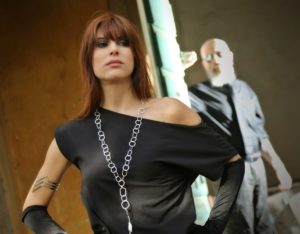 How's Italy treating electronic music these days? Apart from a handful of bands hailing from the Tricolore, the synth scene seems to be rather shy there?
Elena Alice Fossi: Italy… Italy! You can come to Italy to eat, enjoy the morning sun at the end of May, admire the sea that bathes that picturesque boot, but please, if you want to listen to good music, run away as far as you can!
Move your ass away, hurry up and don't look back! Just like KIRLIAN CAMERA did! Beloved Germany welcomed us, adopted us… but also a lot of other countries have been able to show actual sympathy for this musical genre.
Even in Senegal, when we performed our music to open the way to European electronica for the first time in the West Africa history, doing that for two years in a row, we could see an interest and a warmth for that synth pop essence that maybe was new to them, it being sometimes dark, dreamy, sometimes danceable, so different from their great rhythms… yet they have listened, danced, understood, in spite of the fact they never attended any concert like that before. But Italy, damn… have I already told you that there are some beautiful sunsets?
Are you likely to play live in the UK to promote 'Hologram Moon'?
Elena Alice Fossi: Live shows are my natural element; it's kind of absolutely vital point, where I feel in my actual home. Oh yes, how much I love performing on stage! And, as for UK goes, we notice an increasing interest, for the first time, something special, I mean, so, I know some ideas concerning touring your country are taking shape, little by little. It's a question of selecting requests and considering some new ones, then we'll come there with pleasure. Electropop and electronica are living quite a good moment, in GB too, so… hopefully, it'll be happening soon!
---
ELECTRICITY CLUB.CO.UK gives its warmest thanks to KIRLIAN CAMERA
Special thanks to Gary Levermore at Red Sand PR
'Hologram Moon'
is released by Dependent Records, also available from https://kirliancamera.bandcamp.com
https://www.facebook.com/kirliancamera.official/
http://en.dependent.de/artists-dependent/kirlian-camera/
https://soundcloud.com/kirliancamera
---
Text and Interview by Monika Izabela Trigwell
Photos by Studio Migliorini and Angelo Bergamini
7th March 2018