John Fryer is the man behind many contemporary projects, which include the wonderfully ethereal MURICIDAE and the eccentric, shiny and glittering SILVER GHOST SHIMMER.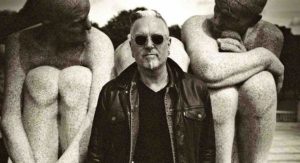 Having previously been living-in part of London's Blackwing Studios, working with FAD GADGET, DEPECHE MODE, YAZOO, COCTEAU TWINS, THIS MORTAL COIL and NINE INCH NAILS, with such a wealth of experience, John Fryer cannot do anything else but dirty his hands in the music of "old, new and future".
Last year saw the rise of his latest enterprise, BLACK NEEDLE NOISE, which caused a stir amongst the fans of the quirky persona with an impeccable musical eloquence.
With the release of a new song 'Swimming Through Dreams' featuring the vocals of Mimi Page whose voice was heard on 'Open Page' from the most recent DELERIUM long player 'Mythologie', ELECTRICITYCLUB.CO.UK is chatting to the master himself about the story of BLACK NEEDLE NOISE, its future and Fryer's plans for world domination.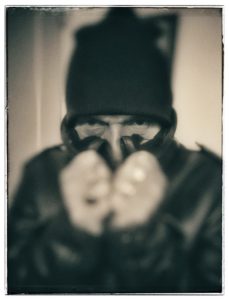 You're globally known for working with acts spanning from DEPECHE MODE to NINE INCH NAILS, what made you decide to present your own projects to the world?
It's been amazing working for so many talented artists and I'm very proud of all the records I've made over the years, but at the end of the day, you are working on their music, even though I take it very personally and treat their records as if they were my own, but nothing beats making your own art.
MURICIDAE and SILVER GHOST SHIMMER were both successful projects with in-house vocalists. BNN is different in that respect…
When I was writing for those bands and DARKDRIVECLINIC, I wrote lots of other music that didn't really fit into their sound, so I was left with lots of songs. So I decided to go down another route and this time not have the boundaries that bands put upon you. So with BLACK NEEDLE NOISE anything goes.
The name of the project came from the sound of a stylus on a vinyl record, that certainly has a vintage reference?
Well, that is one visual point. The other one came from watching the series 'Black Mirror'. Picture this, you take your vinyl records and melt them down into a liquid form, then you inject them into your body. Then you have the music you love to totally take over your body. To feel from the inside.
The use of various vocalists paints different soundscapes. Is that what you were planning to achieve?
Yes, each song has its own life, its own story to tell and is its own movie. Just close your eyes, drift away and let yourself get taken on many journeys.
The journey started with 'Wild Stone'. Why did you decide to kick off with that one?
Well, the BLACK NEEDLE NOISE story started with 'Bang Bang', a Nancy Sinatra cover.
'Wild Stone' was the first song release as a collaboration and was a good jumping off point as it sounded completely different from my other three bands, DARKDRIVECLINIC, MURICIDAE and SILVER GHOST SHIMMER.
'Before The Tears Came' became an unusual project with songs released monthly and finally put together on an album. Is that what the master plan was?
Yes, and I'm continuing in that way so you don't have to wait a year or two for the next album to be finished. Whenever a song is finished, it gets released. Why sit on something for a year or two before you release it. Why not just put it out?? We live in a digital age so why not use it??
Your choice of vocalists on the outing is rather eclectic. What prompted using specific artists for specific songs?
I admire all the singers I have worked with and am working with on the new songs. The only reason they have been released in that order is, I send out the music and whatever song comes back with vocals first gets mixed and released. Then, when there are enough songs, I put them together to make the album and adding a track just for the album. I will do the same for the second album too.
'Mourning Morning' could have been a lost Bowie piece, is that your tribute to the man?
JF: Well, no, it's just that Andreas Elvenes has a very Bowie-esque voice and it really suited that track. 'Dead Star' is more of a tribute to the amazing talent of Mr David Bowie.
Some artists return more than once, what's the reason for that?
It really depends on the songs and if the artist has time to fit another song in. BLACK NEEDLE NOISE should not become a burden to them, it should be fun. Anyway I'm really grateful and honoured for them just to sing on my music once let alone twice.
'Bang Bang' featured your voice and 'I Face The Wall' continues the trend. Did you feel like those two suited you to sing on?
Yes, I think they worked out pretty well and there will be another one on the new album in the near future.
Your shimmery touch of anything vintage adds to the songs on the production, are we to expect more of BNN in those realms?
You can expect more BLACK NEEDLE NOISE in that realm and many other realms of shimmery shiny noise pop.
Your self-confessed use of softsynths does not take away that vintage feel of the music. How is that achieved?
That is the magic of the audio alchemy and sound sculpting that goes on in my studio.
Are MURICIDAE and SILVER GHOST now retired with BNN thriving?
I would have to say probably yes, well SILVER GHOST SHIMMER for sure as Pinky no longer wants to do anything else. She made a classic album with me and now she is totally happy doing other things with her life.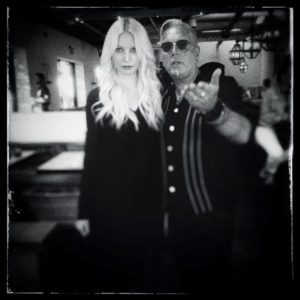 Any plans to produce other acts again?
Yes of course, I'm writing with and producing someone right now and I'm always mixing songs for other artists + fitting in some new BLACK NEEDLE NOISE songs. I never stop working.
As hard as it would be to tour BNN, any DJ sets you're planning to perform?
I would love to do more DJing but I never get asked, so if anyone one out there wants me to come and DJ. Let me know.
I want to play live with BLACK NEEDLE NOISE, it's just figuring out how to do it and with whom. Maybe later in the year something will happen.
What's next for BLACK NEEDLE NOISE?
The next song features Ana Breton from DEAD LEAF ECHO.
---
ELECTRICITYCLUB.CO.UK gives its warmest thanks to John Fryer
'Swimming Through Dreams' featuring Mimi Page can be downloaded via https://blackneedlenoise.bandcamp.com/track/swimming-through-dreams
The entire BLACK NEEDLE NOISE catalogue is available at a special name your price offer from https://blackneedlenoise.bandcamp.com/
https://www.facebook.com/BlackNeedleNoise/
https://www.facebook.com/John.Fryer.Official/
---
Text and Interview by Monika Izabela Trigwell
9th February 2017