Their last wonderful album 'The Way Things Fall' was described by one keen observer as "a snuff film version of Speak & Spell".
Having signed to Mute, ADULT. are back with a soon-to-be long player entitled 'Detroit House Guests'.
As the title suggests, it is a collaborative affair based on the visual artist residency model, with each musician coming to Nicola Kuperus and Adam Lee Miller's studio for a three week period under the premise that they all lived, worked and collaborated together.
The first track to be made public was 'They're Just Words' featuring the vocals of Douglas J McCarthy, frontman of NITZER EBB and also the cousin of Perry McCarthy, the original 'Top Gear' Stig. A stark promo video for this slice of mechanical but strangely groovy electro sees the trio in some suitably nocturnal locations, as McCarthy and Kuperus provide a creepy call and response duet.
On 'They're Just Words', Kuperus does a great deadpan take on Siouxisie Sioux, while McCarthy is in particularly good form sounding like an inebriate preacher. He also appears on a second track on the album called 'We Are A Mirror'.
'Detroit House Guests' will feature collaborations with a whole host of musicians and artists including Michael Gira from SWANS, Shannon Funchess from LIGHT ASYLUM, Robert Aiki Aubrey Lowe aka LICHENS, Austrian thereminist Dorit Chrysler and multi-disciplinary artist Lun*na Menoh.
---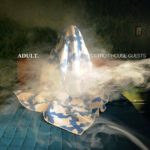 'Detroit House Guests'
is released by Mute Artists in double vinyl, download and CD formats on 17th March 2017
https://www.facebook.com/adultperiod/
---
Text by Chi Ming Lai
Photo by Nicola Kuperus
8th February 2017