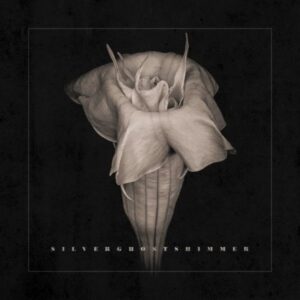 Having produced, engineered and worked with the likes of FAD GADGET, YAZOO, COCTEAU TWINS, NINE INCH NAILS, and of course, DEPECHE MODE, the renowned John Fryer is back with another exciting project SILVER GHOST SHIMMER.
John Fryer was previously involved with THIS MORTAL COIL and DARKDRIVECLINIC, and this time he embarks on another musical journey, accompanied by Pinky Turzo, an American executive producer and co-owner of Noiselab Music.
Pinky lends her vocals on this eclectic collection with a perfect dose of filmic glamour and class.
Fryer, who recently appeared at 'A Secret Wish', hosted by Cold War Night Life in London, is rather proud of his latest production "inspired by the vocal groups of the 60s". The ten tracks on 'Soft Landing' form a rather eccentric album, which is bound to find popularity in various musical circles, as well as Fryer's electronica background.
The title track, which opens the album, is a homage to the 1962 hit by JAY & THE AMERICANS 'She Cried'. The sound resembles a mixture between Dave Gahan's solo projects and GOLDFRAPP's 'Head First', with added excellent synthesis and irregular beat patterns. It is glam electronica gathered in one sexy tune and an excellent opening to this fantastic album.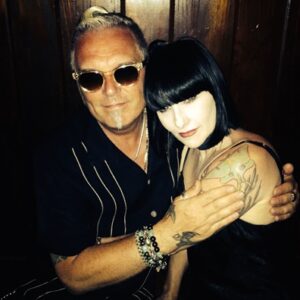 'Suffocated' follows with the continuation of the GOLDFRAPP sounding vocals, reminiscent of the classic 1960s tunes, when a song was an actual work of art. A gentle melody, emotional weightlessness and sorrowful tonality round the track perfectly. 'Inside My Loneliness' continues with similar qualities, but introduces metallic sounds and trembling synth over the ethereal and cinematic vocal.
'Happy In Your Tears' in its singing style resembles GWEN STEFANI or early MADONNA, the dainty synth line is interspersed with a heavier sounding guitar, the production is superior and reminiscent of Alan Wilder's.
The song is so unique, it could easily appeal to the grunge fans of SONIC YOUTH, HOLE or BABES IN TOYLAND. The feeling of unlikeness continues with 'Not Even Fire', with its engaging modulation and captivating resonance. Elements of vintage DEPECHE MODE can be established in the excellent sounds of this gem, prompting the question whether this album may just be the most splendid concoction of tunes we will hear this year.
'Scattered Pearls' musically resembles an amalgamation of poignant synthpop and classic song orchestrations, while 'Questions That Cry' sounds fresher and contemporary at first, just for it to emerge into a guitar dominated track which SHAKESPEARS SISTER wouldn't be ashamed of. The vocals soft and calming are almost SHERYL CROW-like.
'She Keeps Me Hoping' opens with a catchy guitar riff over a super synth line and brazen lyrical content. Glistening with a shine of thousand diamonds, this glamorous track shimmers in the glitzy sparkle of those enchanting vocals by Pinky. The glamour beats of 'Glittering Eyes & Apple Rays' are astounding. The lustrous voices and sophisticated melody unite to form this intensive track are as original, as they are resonant of the glitzy tunes crafted by DUSTY SPRINGFIELD, SANDIE SHAW and the like.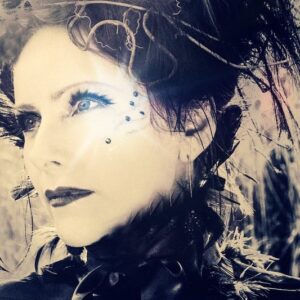 The album closes with 'This Mortal Shimmer', and its title clearly with reference to John Fryer's THIS MORTAL COIL. Floating water sounds add to the buoyant texture of this track at the onset, which swiftly continues into a heavier, elaborately "shimmer"-coated extravaganza of synth.
A baby-like voice hovers over the production with unique mixture of shyness and powerfulness alike. Tropical forest noises and church choirs may be the strangest mixture known to be used in one track, but Fryer closes the production with exactly those, which add to the eclectic nature of this record and prove his production abilities are second to none.
Could this be the album of 2015? It may possibly be. The vocals by Pinky Turzo, resembling many acclaimed songstresses, are sublime; full of soul and evoke an array of emotions. As for John Fryer himself, there is a palpable feeling that himself and the Alan Wilders of this world, are magic-makers, when it comes to the production and finishing of an album. The eloquent use of synths adds to the project, making it very desirable to any fan of electronica, yet a gem like that will have a much wider appeal. Any pop, glamour rock or even soft grunge fanatic will positively respond to this album. Hardly surprising, when we are dealing with the genius that produced such an array of artists, including ASHBURY HEIGHTS, LUSH, CLAN OF XYMOX, HE SAID or WIRE.
If you missed John Fryer at his London DJ set in April, owning this album is a must, satisfaction is fully guaranteed with this one.
---
'Soft Landing' is self-released and available now via the usual digital outlets
https://www.facebook.com/silverghostshimmer.official
https://www.facebook.com/John.Fryer.Official
https://silverghostshimmer.bandcamp.com/
---
Text by Monika Izabela Goss
1st May 2015