HYPERBUBBLE's award winning soundtrack to the independent Sci-Fi mini-movie 'Dee Dee Rocks The Galaxy' is now out as a CD. For anyone who has ever followed the quirky Texan duo's work, it maintains the bionic bubblepunk standards of their previous albums and projects.
Under the influence of the great soundtrack innovators like John Carpenter, Wendy Carlos, Delia Derbyshire, Jerry Goldsmith and Suzanne Ciani, 'Dee Dee Rocks The Galaxy' is a wacky twenty five minute rocket ride where there is no time to take in the scenery!
With salvos of synths, stylophones, theremins, vocoders and electronic drums, there is even the unexpected appearance of guitars on the penultimate track 'Showdown In Space'! HYPERBUBBLE told ELECTRICITYCLUB.CO.UK in Autumn 2014 that "guitars are retro", but have blamed this particular invasion on Guitar Ninjas!
The film itself traces the story of Dee Dee and her adventures on the Planet Theremin, before a musical battle between our heroine and Emperor Korg's Guitar Ninjas. A synth rock opera described by Jeff and Jess DeCuir of HYPERBUBBLE as "Flash Gordon meets The Wizard Of Oz", there are songs, snatches of dialogue and incidental music.
The album begins proper with 'Dee Dee's Theme' and can be best described as MÖTORHEAD's 'Ace Of Spades' reimagined on Moog sequencers. The spacey bleep fest of 'Galaxy A Go-Go' reinforces the Sci-Fi vibe, while the frantic pace of the vocodered 'Instruments of Doom' only adds to the fun. 'Moog Maneuvers' is aural madness, with pulses and percussion appearing from all angles. 'Runaway Love Slave' takes it even further and comprises of programmed drums only.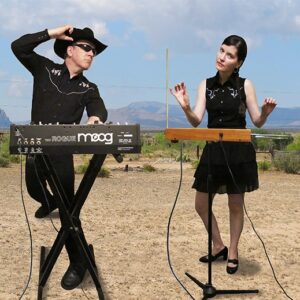 'The Kill Zone Kid' revisits the synth MÖTORHEAD concept of 'Dee Dee's Theme' before the film's cast members join in on the marvellous 'Showdown In Space'. The futuristic synth lead line even has echoes ROCKWELL's 'Somebody's Watching Me', which incidentally aped THOMAS DOLBY vocally!
Ending with the jaunty 'Queen Of The Universe', if you enjoyed QUEEN's soundtrack experiments like 'Football Fight' from 'Flash Gordon', then 'Dee Dee Rocks The Galaxy' is an album for you. And like that film, it is all futuristic escapist fun, a quality that HYPERBUBBLE have been happily able to maintain after seven releases.
---
'Dee Dee Rocks The Galaxy' is released by Pure Pop For Now People Records as a download via the usual digital outlets. The autographed CD edition is available from http://hyperbubble.net/shop.html
A free EP sampler featuring 'Queen Of The Universe, 'Kill Zone Kid' and a Synthetik FM Remix of 'Queen Of The Universe' can be downloaded at http://fellowshipwreck.com/audio#f061
https://www.facebook.com/hyperbubble
---
Text by Chi Ming Lai
2nd May 2015