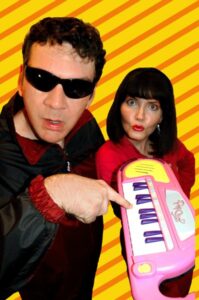 Quirky Texan synthesizer couple HYPERBUBBLE are already veterans of two albums 'Solid Pop' and 'Airbrushed Alibis'.
Jess (vocals, synthesizers and bionics) and Jeff (sequencers, synthesizers and vocals) deliver a species of cartoonish synthpop that is reminiscent of that great lost duo VIC TWENTY who supported ERASURE in 2004 and practically blew them off the stage during their unconvincing covers period.
HYPERBUBBLE themselves call their music Bionic Bubblepunk. Jess is the electro Emma Peel while Jeff is the obedient robotic version of John Steed. To HYPERBUBBLE, "guitars are retro and sequencers are the key to the future". But among all the blips and blops, good humourous songs are the key.
Their most recent album 'Candy Apple Daydreams' is a tasty fairground ride that takes in influences as diverse as YELLOW MAGIC ORCHESTRA and OUR DAUGHTERS WEDDING to THE OHIO EXPRESS and THE CAPTAIN & TENNILLE. The wonderfully quirky title track with its colourful feline flavoured promo video somehow manages to be a cross of all of those.
The album doesn't disappoint, packed with fun tunes such as 'Pictures of Paradise', 'Girl Boy', 'Pop Toy' and 'U.F.O. Beach Party' plus a supporting cast of short eccentric instrumentals like 'Moogzilla Vs Korgatron' and 'Teddy Bear Crime Wave'.
Signed to Bubblegum Records, HYPERBUBBLE will appeal to those who like their electro shiny and with a sense of humour.
---
'Candy Apple Daydreams'
is available via the usual retaliers
https://www.facebook.com/hyperbubble
https://twitter.com/Hyperbubble
---
Text by Chi Ming Lai
Photo by Joe Wallace
7th October 2010