Boys Are Just So Silly Sometimes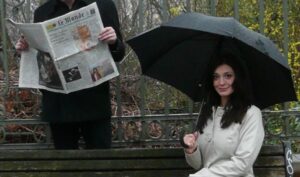 LOLA DUTRONIC are Lola Dee and Richard Citroen, a charming duo who divide their time between Berlin, Toronto and Paris.
Although the brand has already released several albums, their present guise has only been together since 2008 with the album 'In Berlin' which featured DAVID BOWIE's renowned pianist Mike Garson.
Aided by the use of lush electronics, their sound is a chichi homage to classic French and British artists such as SERGE GAINSBOURG, FRANÇOISE HARDY, PETULA CLARK and JOHN BARRY. This nostalgia-tinged soundtrack inevitably recalls the Nouvelle Vague imagery of ALAIN DELON and BRIGITTE BARDOT in a JEAN-LUC GODARD cinematic classic.
With a new single 'Whisper', featuring the talents of SUICIDE's Martin Rev as co-writer, their seven track 'Musique' EP has now been relaunched to the wider public. Originally released in May, it features reworkings of LOLA DUTRONIC's better known French and English language tracks plus some new songs. In all, it is a marvellous musical showcase with lots of stark beats and warm synths accompanying Lola's sexy, breathy vocals.
Opening song 'My Radio (French Disco Mix)' is the sort of Eurocentric tune that PET SHOP BOYS' Neil Tennant used to refer to as a Princess Stephanie record, a concept that he and Chris Lowe adopted with EIGHTH WONDER's 'I'm Not Sacred'.
Earlier single 'Brigitte Bardot (Retro Future Mix)' is revamped into a bleepy midpaced shuffle with a gorgeous accented monologue and "la-la-la-la-la" refrain which turns out to be a bit of a LOLA DUTRONIC trademark. An amusing tale of dealing with the fragile male ego, Lola just shrugs her shoulders at a disco where the DJ plays music that no-one can dance to and exclaims "Some boys have some very silly ideas about music don't they?".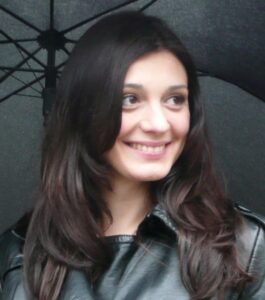 Recalling SAINT ETIENNE and INTASTELLA, another brilliant new composition 'Beautiful World (Slight Return)' does exactly what it says on the tin. 'The Stranger (Imaginary Bond Mix)' hints at MARC ALMOND's 'Only The Moment' but with synthesized backing while 'Chanson D'ete (Summer Of Love Mix)' is the type of cute uptempo pop that Sarah Cracknell, Bob Stanley and Peter Wiggs always did so well. Finally, the drum machine of OMD's 'Enola Gay' is mashed up with ERASURE's 'Blue Savannah' for the EP's wonderful closer 'Best Years Of Our Lives (Electro Mix)'. Lyrically, it's a close relative to PULP's 'Something Changed'.
'Musique' is a superb introduction to the lounge friendly stylings of LOLA DUTRONIC. Those with sophisticated aural tastes will certainly appreciate the neo-Gallic romanticism and elegance alongside la musique electronique.
---
With thanks to Marty Thau
The 'Musique' EP is available now on Red Star Digital Music
---
Text by Chi Ming Lai
9th October 2010, updated 1st July 2017