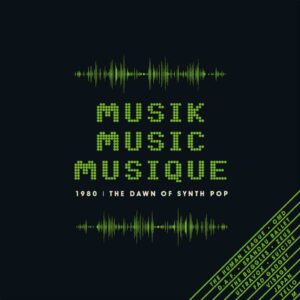 1977 is often seen as Year Zero for synthpop, thanks to hit singles by DONNA SUMMER, SPACE and JEAN-MICHEL JARRE.
But it was not until 1979 with TUBEWAY ARMY reaching No1 with 'Are Friends Electric?' that the sound of synth truly hit the mainstream.
Although 'No1 Song In Heaven' by SPARKS had actually been a hit a few months earlier, 'Are Friends Electric?' was the beginning of the synth being accepted as a worthy mode of expression, rather than as a novelty. But as synths became more affordable, they became the perfect tool of youthful expression.
From Cherry Red, makers of the excellent 'Electrical Language: Independent British Synth Pop 78-84' 4CD boxed set, comes 'Musik Music Musique'
; subtitled '1980: The Dawn Of Synth Pop', this 3CD 58 track collection explores the arrival of synth pop and the dawn of a new musical era. This was the year before the synth became the rule rather than the exception with the success of SOFT CELL and DEPECHE MODE.
The set starts appropriately with OMD and 'Messages', one of the first tunes showcasing the warmer side of electronics following the colder wave led by Messrs Numan and Foxx. But as if to counter this next generation of youngsters, 'Messages' is immediately followed by the collection's vocoder laden title song 'Musik Music Musique' from Zeus B Held and the superb proto-industrial ode to loveless sex 'Coitus Interruptus' by the much missed FAD GADGET.
Zeus B Held was later to make his impression on popular culture remixing ALPHAVILLE and SIMPLE MINDS as well producing the likes of FASHION, DEAD OR ALIVE, SPEAR OF DESTINY and TRANSVISION VAMP, but his wider breakthrough came as part of GINA X PERFORMANCE in 1979 with The Blitz Club favourite 'No GDM'; on this compendium, the lesser-known but just as worthy 'Vendor's Box' from their second album 'X-Traordinaire' is deservedly provided a platform.
The best producers often earn their spurs as artists and realising their limitations, use their accumulated studio nous to subvert the mainstream via pop. 'Astroboy' by BUGGLES sees Trevor Horn develop his sonic architecture to prove that he had another song that wasn't 'Video Killed The Radio Star'. Meanwhile the welcome inclusion of NEW MUSIK's other hit 'This World Of Water' allows Tony Mansfield to showcase the crafted sparkle that would later go on to adorn records by CAPTAIN SENSIBLE, VICIOUS PINK, A-HA and NAKED EYES.
It may seem strange to see SPANDAU BALLET as part of this package but when they first appeared, they were considered a synthesizer band; 'Glow' was a UK double A side single with 'Musclebound' in 1981 and while it was the last synth-led track they did, their funk soul aspirations were there for all to hear. In fact, songwriter Gary Kemp had conceived 'Glow' with a brass section in mind, so it is now something of a curio that could be seen as a precursor to 'Chant No1'.
SPANDAU BALLET were produced by Richard James Burgess who co-designed the Simmons SDSV; his electro-jazz combo LANDSCAPE figure with the Colin Thurston helmed 'European Man' which was actually designated "electronic dance music" on its single artwork some three decades before it was appropriated and abbreviated to become EDM…
Many of the usual suspects from the period like VISAGE, JAPAN, JOHN FOXX, THE HUMAN LEAGUE and OUR DAUGHTER'S WEDDING are all present and correct with familiar recordings, but interestingly (although not for the better), it's the original version of PHIL LYNOTT's 'Yellow Pearl' without the Rusty Egan drums or the Midge Ure remix that gets the nod!
One of the main beauties of these thoughtfully curated collections is to be able sway away from the obvious and feature a known-name with a lesser-known work; in the case of ULTRAVOX, it's the occasionally Eno-inspired and Conny Plank produced 'Waiting' which was the B-side to their first Midge Ure fronted single 'Sleepwalk'. Meanwhile, SUICIDE are represented by the excellent Ric Ocasek produced 'Diamonds, Fur Coat, Champagne' and YELLO with 'Bimbo', the oddball opener of the Swiss trailblazers' debut long player 'Solid Pleasure'.
SILICON TEENS get to feature with something other than 'Memphis Tennessee' and it's the Daniel Miller's self-penned instrumental 'Chip N Roll' that has the honour, while the Mute Records founder gets another track in with 'Brushing Your Hair', a gloriously vibrant instrumental production and co-write for Alex Fergusson of ALTERNATIVE TV.
There's additionally tracks by lesser known international acts or those bands that faded from view after effectively being one hit wonders. The entire career of M may have been overshadowed by the ubiquitous 'Pop Muzik' but Robin Scott did go on to release three albums and work with Ryuichi Sakamoto; the sombre 'Official Secrets' may not really have much of a hook but it contains some percolating bleepy sections that pre-date KRAFTWERK's 'Home Computer' by one year.
'A Circuit Like Me' from Australian combo, THE METRONOMES actually sounds very 21st century with its detached female vocal and charming monosynths, while the gallop of 'Drawn & Quartered' by THE KORGIS is a worthy find. Now while ROCKETS found fame with a catchy robotic flavoured cover of 'On The Road Again' with the help of Zeus B Held, the silver faced Italians found that the vocoder suited their performance art poise and reapplied it for the self-penned space rocker 'Galactica'.
Also possessing a bit of a gallop is LORI & THE CHAMELEONS' wispy Morricone-influenced single 'The Lonely Spy' although with its acoustic strum, it is quite different from the understated electronic disco of their best known track 'Touch'. Cut from a similar melodic post-punk cloth, the Martin Hannett produced 'Sympathy' from PAULINE MURRAY & THE INVISIBLE GIRLS is a reminder of how women were coming to the fore after punk in synth-assisted new wave, a fact borne out on 'Musik Music Musique' by the inclusion of more obscure works from TOYAH, KIM WILDE and HAZEL O'CONNOR.
'Musik Music Musique' is also an opportunity to become reacquainted with lost tunes of yore and 'The Eyes Have It' by KAREL FIALKA will be remembered by those who owned the 1980 Virgin Records compilation 'Machines', as will the octave driven 'Destiny' by DALEK I LOVE YOU. Some enjoyably avant pop adventures come courtesy of XYNN's 'Computed Man' and SCIENCE's 'Tokyo', while one of the more bizarre but successful experiments included is 'I'm A Computer' by THE GOO-Q.
One of the lesser known acts featuring with the eccentric 'Money' is MOEBIUS, not the member of German duo CLUSTER but an American art rock band with a penchant for DEVO. 'Doctor …?' by BLOOD DONOR is another wonderful discovery while of the more experimental art pieces included, NINI RAVIOLETTE's 'Suis-Je Normale' delightfully comes over like a collaboration between Jane Birkin and Laurie Anderson.
Düsseldorf is often seen as the spiritual home of electronic music and there is worthy representation from DER PLAN and 'Da Vorne Steht Ne Ampel' illustrating how there were other dimensions to German electronic music other than that engineered by KRAFTWERK. But closing the set is the band named after the Electri_City itself, LA DÜSSELDORF with the light-hearted 'Dampfriemen'; a quirky slice of synth "Oompah" with comedic chants and a kazoo section, it sums up the manic oddball nature of the former NEU! drummer Klaus Dinger.
There are many other tracks that have merit, but textures which reoccur on 'Musik Music Musique' to date stamp the period are the icy chill of the affordable ARP Quartet string machine and squawky sax, although not in an overblown jazz funk way.
Despite 'Musik Music Musique' comprising of a carefully researched tracklisting, a few errors do slip through; as well as the SPANDAU BALLET track being released in 1981 as already mentioned (although it was available on a very scarce Japanese-only promo sampler in late 1980), the version of 'Kebabträume' by DAF is the 1982 Conny Plank version from the Virgin album 'Für Immer' and not the Bob Giddens produced Mute Records five piece band recording which actually came out in 1980.
Then in the booklet, the Foxx fronted 1977 line-up of ULTRAVOX! gets illustrated as opposed to the New Romantic suited Midge Ure one, while LA DÜSSELDORF's Hans Lampe is referred to as a "Keyboard Whizz" when he is actually a drummer and now performs with Michael Rother who was Klaus Dinger's partner in NEU!; in fact Dinger handled keyboards himself under the pseudonym of Nikolaus Van Rhein.
Those are minor quibbles though, because this set is very good value and acts as a great music history lesson as well as offering the chance to hear some new vintage synth. While many may have heard of BERLIN BLONDES, THE PASSAGE, THE FALLOUT CLUB and EYELESS IN GAZA, only a few will have heard their music.
'Musik Music Musique'
offers something of a low risk opportunity to make some new friends while becoming reacquainted with a few old and lost ones. Here's to the 1981 follow-up set…
---
'Musik Music Musique – 1980: The Dawn Of Synth Pop'
 is released on 31st July 2020 as a 3CD boxed set by Cherry Red Records
https://www.cherryred.co.uk/product/musik-music-musique-1980-the-dawn-of-synth-pop-various-artists-3cd/
---
Text by Chi Ming Lai
13th July 2020