The quirky Texan husband and wife duo HYPERBUBBLE have finally delivered their long awaited cosmic country album with a twist.
First revealed during an ELECTRICITYCLUB.CO.UK interview in 2014, 'Western Ware'
puts the "MOO" into Moog!
Inspired by GIL TRYTHALL's 'Switched On Nashville' which featured a Moog modular version of 'Gentle On My Mind' and a bizarre vocoder laden take on 'Folsom Prison Blues', 'Western Ware' was actually recorded in the home city of country music.
This HYPERBUBBLE album is a collection of covers that promises the recordings are "100% Electronic. No Strings Attached". Opening song 'Y'All Come' is a hoe down in space, but things get more crossover with the unmistakable lilt of 'Jolene'. Previously covered by acts as unlikely as THE SISTERS OF MERCY, STRAWBERRY SWITCHBLADE and ONE DOVE, Dolly's classic tune gets an enjoyable synthpop reboot.
On the 'Nashville in the 23rd Century' rendition of 'Boney Fingers', Jess DeCuir's theremin is a most perfect Country instrument as it hauntingly twangs, while she duets with her man Jeff. Perhaps unsurprisingly as electronic music's own CARTER & CASH, 'Truck Driving Woman' actually sounds like one of HYPERBUBBLE's own compositions despite being of 1968 vintage, first made famous by Oklahoma starlet NORMA JEAN.
With its swoops, sweeps and Darth Vader references, the cover of FREDDY WELLER's 'Bar Wars' is hilarious and brought up to date.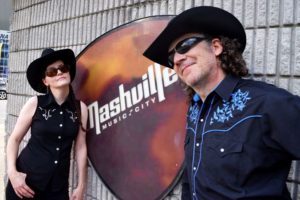 The tone continues on a pulsating synth laden rendition of 'Rhinestone Cowboy' which also features musical pranksters Ricardo Autobahn and Daz Samson as well as some HI-NRG orchestra stabs!
And as the track segues into 'Digital Cowboy', there's a treat for fans of OUR DAUGHTER'S WEDDING as Scott Simon comes out of semi-retirement to play lead synths on this previously unreleased title track from ODW's first EP.
'The Rubber Room' adds some square waltzing and more theremin before the album climaxes with 'The Electric Horseman', a meaty take on the instrumental from the Robert Redford film of the same name. Extended from the original which incidentally also featured a sequencer line, the track is given a powerful synthwave workout not far off from PERTURBATOR!
'Western Ware' clocks in at just over 29 minutes and while it doesn't outstay its welcome, it is disappointing that 'The Devil Went Down To Georgia', which HYPERBUBBLE have played live on several occasions, hasn't made the final tracklisting.
As with their previous offering 'Music To Color By', phasers are again set to fun and for the 'Western Ware' concept alone, HYPERBUBBLE deserve either an award or a straitjacket 😉
'Western Ware' uses the following equipment: Moog Etherwave Theremin, Moog Rogue, Moog Sub37, Moog Little Phatty, Moog Theremini, Moog Prodigy, Moog Taurus II, MicroKorg Vocoder, Korg Monotron, Roland Gaia, Roland Juno 60, Roland Jupiter 8, Roland TR707, Roland TR808, Roland TR909, ARP Odyssey, ARP Omni, Yamaha CS01, Casio MT500, Oberheim Matrix, Nord lead, Access Virus T12, Alesis D4, Linn LM2, Boss DR55, Simmons SKHB2, Dubreq Stylophone
---
'Western Ware'
is released by Fellowshipwreck as a CD and download
http://www.hyperbubble.net/
https://www.facebook.com/hyperbubble
https://hyperbubble.bandcamp.com/
https://twitter.com/Hyperbubble
---
Text by Chi Ming Lai
26th February 2017