Elektronische Musik Aus Düsseldorf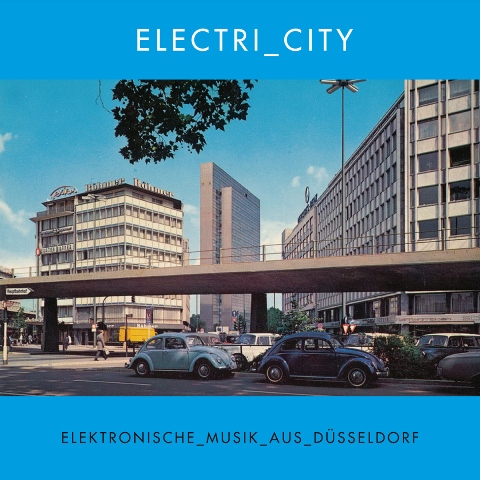 German music has been compiled before, but it has often been a hit and miss affair.
Soul Jazz Records' lushly packaged 'Deutsche Elektronische Musik' sets over two volumes contained a wide range of freeform experimental works from Der Bundesrepublik, but occasionally forgot about the Trade Descriptions Act implications of its title. Released to coincide with 'ELECTRI_CITY – The Düsseldorf School of Electronic Music'
, the English translation of the acclaimed book by Rudi Esch about the city's music heritage, 'ELECTRI_CITY 2' gathers together the more accessible elements of Deutsche Elektronische Musik, Kosmische and Neue Deutsche Welle.
Think of it as a direct journey of discovery, but with the benefit of a local tour guide as well. Issued by Grönland Records who handled the NEU! and HARMONIA remasters, the 2CD deluxe edition  'ELECTRI_CITY 1_2'
adds the first volume that came out in 2015 alongside the original German language book.
NEU! and DAF will probably be the best known acts of those included; produced by the legendary Conny Plank, both are more than well represented on 'ELECTRI_CITY 1_2'. But with the proto-synthpop of 'Isi' and the proto-punk of 'Hero' from the former, alongside the electro-body controversies of 'Der Mussolini' and 'Kebabträume' from the latter, there are also many other acts who are worthy graduates of the school.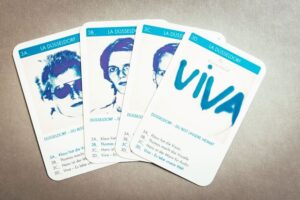 One of the most welcome inclusions is that of the under rated Neue Deutsche Welle trio RHEINGOLD. Both '3Klangsdimensionen' and 'Fluß' are almost up there with great international crossover hits like PETER SCHILLING's 'Major Tom'.
But often, the German language was a barrier to wider recognition and apart from DAF, most of the material gathered here does not really break the lyric bank.
Those of Klaus Dinger from NEU! in particular are amusingly close to ranting gibberish, especially on the two brilliant offerings from his more synth driven combo LA DÜSSELDORF.
Missing though are KRAFTWERK; but with Ralf Hütter's well-known defensiveness of the Kling Klang legacy, representation instead comes from former percussionist Wolfgang Flür and his autobiographical party piece 'I Was A Robot'. There is also a special hidden cover of 'Ruckzuck' from THE TECHNOCRATS, a side project of Ralf Dörper, best known as a member of PROPAGANDA and DIE KRUPPS. Anyone getting as far as even listening to this set of compilations will probably have at least one KRAFTWERK album in their collection, so their absence is not really noticed.
As Andy McCluskey put it: "Whilst KRAFTWERK cement their position in the pantheon of the museums and the books, LA DÜSSELDORF and NEU! were very important. They also did something that was beautiful and different". Of course, British acts like OMD championed the cause of Elektronische Musik aus Düsseldorf, eventually distilling the form into synthpop and even selling it back to Das Vaterland; in acknowledgement of that, a mysterious collective called MAKROSOFT cover 'Electricity' in a deadpan apocalyptic fashion.
Further evidence of cultural exchange comes with the 1976 HARMONIA & ENO collaboration 'Luneberg Heath', the effects of which were to later have a profound effect on DAVID BOWIE's Berlin Trilogy of 'Low', 'Heroes' and 'Lodger'. But the biggest surprise to many will be 'Darling Don't Leave Me', a lost duet between DAF drummer Robert Görl and EURYTHMICS' Annie Lennox which is a gloriously wiggly synthpop pleasure.
Diversity was one of the beauties of The Düsseldorf School Of Electronic Music and harder, edgier sounds emerged alongside more esoteric instrumental pieces. 'Wahre Arbeit Wahrer Lohn' and 'Zwei Herzen, Ein Rhythmus' from DIE KRUPPS show how much of a debt is owed to them by the Industrial music scene.
Meanwhile LIAISONS DANGEREUSES led by Beate Bartel (MANIA D, EINSTÜRZENDE NEUBAUTEN, MALARIA!) and Chrislo Haas (DAF, DER PLAN) took Teutonic precision into the underground dance clubs with hypnotic numbers like 'Etre Assis Ou Danser' and 'Los Ninos Del Parque'. However, those in the hunt for something even angrier will probably appreciate the more challenging platitudes of BELFEGORE.
With 'Flammende Herzen', NEU! guitarist Michael Rother opened his solo account to become Germany's answer to Mike Oldfield while on 'Karussell', he also proved he could sound like a one-man ULTRAVOX. A former band mate of Rother's, RIECHMANN is undoubtedly the great lost talent of the era; the lunar synth passages of 'Abendlicht' and the delicate melodic schaffel of 'Wunderbar' showcased his potential towards the musical magnificence that was never able to be fulfilled due to his tragic passing.
Of course, a vibrant art scene centred around Düsseldorf and provided a sympathetic environment for many to flourish. DER PLAN, TEJA and DIE LEMMINGE are good examples of that more experimental approach. PYROLATOR's 'Max' in particular comes over like a Rhein-Ruhr version of THE NORMAL while 'Mustafa' by TOPOLINOS, a pre-PROPAGANDA girl group featuring Claudia Brücken and Susanne Freytag, is a jaunty, enjoyable piece of Middle Eastern flavoured avant pop that was not really a true indicator of what was to come.
All-in-all, 'ELECTRI_CITY 1_2' is as Rudi Esch puts it "an intelligent and sophisticated roller coaster ride through one of the most integral chapters of recent German music history". A fine collection of cathartic expressionism, the 29 tracks on offer provide a fine entry point into a fascinating post-war attitude that resulted in a highly influential musical aesthetic.
CD1
01 LA DÜSSELDORF Düsseldorf
02 RIECHMANN Wunderbar
03 HARMONIA & ENO Luneburg Heath
04 DER PLAN Wir Werden Immer Mehr
05 DAF Der Mussolini
06 NEU! Hero
07 TEJA Säuren Ätzen
08 DIE KRUPPS Wahre Arbeit Wahrer Lohn
09 LIAISONS DANGEREUSES Los Ninos Del Parque
10 WOLFGANG FLÜR I Was A Robot
11 RHEINGOLD 3Klangsdimensionen 2010
12 MICHAEL ROTHER Flammende Herzen
13 MAKROSOFT Electricity
CD2
01 RIECHMANN Abendlicht
02 NEU! Isi
03 RHEINGOLD Fluss
04 ROBERT GÖRL featuring ANNIE LENNOX Darling Don't Leave Me
05 DIE KRUPPS Zwei Herzen, Ein Rhythmus
06 TEJA SCHMITZ Studieren
07 DAF Kebabträume
08 PYROLATOR Max
09 LA DÜSSELDORF La Düsseldorf
10 BELFEGORE Mensch Oder Gott
11 DER PLAN Gummitwist
12 LIAISONS DANGEREUSES Etre Assis Ou Danser
13 TOPOLINOS Mustafa
14 DIE LEMMINGE Himmel
15 MICHAEL ROTHER Karussell
16 THE TECHNOCRATS Ruckzuck (Hidden Track)
---
'ELECTRI_CITY 1_2'
is released by Grönland Records as a deluxe 2CD edition. Each compendium is also available separately as a CD, double vinyl LP and download
https://groenland.com/en/artist/electri_city/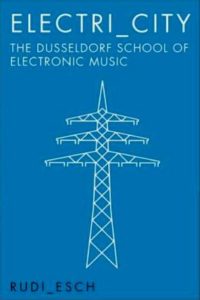 'ELECTRI_CITY – The Düsseldorf School of Electronic Music'
by Rudi Esch is published by Omnibus Press on 26th August 2016.
Book launch events featuring Q&A sessions with Rudi Esch and special guests to be announced include: London Rough Trade East (10th September), Brighton Hotel Pelirocco (11th September), Liverpool Cavern (9th November), Birmingham and Midland Institute (12th November), Manchester Palace Hotel (13th November)
Please check https://www.facebook.com/Electri.city.Esch/ for details
This year's ELECTRI_CITY_CONFERENCE takes place at Düsseldorf CCD on 14th – 15th October 2016
http://www.electricity-conference.com/
https://www.facebook.com/ELECTRICITY.Conference/
---
Text by Chi Ming Lai
17th August 2016, updated 1st July 2017