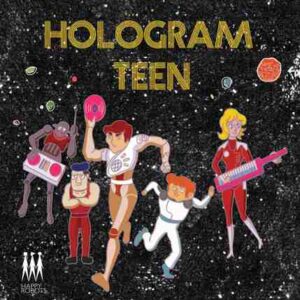 HOLOGRAM TEEN is the solo project for Morgane Lhote, probably best known as the long-term keyboard player in respected indie act STEREOLAB; she featured on their seminal 'Emperor Tomato Ketchup' album and latterly went on to work with members of SIMIAN MOBILE DISCO.
Los Angeles-based Lhote describes her music as "electronic, motorik disco" and it's the Kosmische / Krautrock elements in these tracks that help set them aside and stand out from the typical instrumental synth pack.
Opening track 'Marsangst' is a quirky mix of choppy DEADMAU5-style synths, blippy sequencers and lo-fi modular electronic percussion. A third of the way through the piece goes on a trippy percussion-based detour with echoed vocals and the sort of pitch-descending Moog sound that TOMITA favoured on his seminal 'Snowflakes Are Dancing' album. Cramming a bucketful of ideas into its six minute running time helps the track retain its momentum throughout and the mainly major chord vibe makes the track very hard to dislike.
'Hex These Rules' starts off with a 'Blue Monday' influenced kick drum pattern and resonant synth bass before evolving into a cheeky Balearic-influenced disco piece, all hand claps, "oohs" and funky octave bass. Evoking the sound of the influential Spanish Suara record label, the coolest features here are the lo-fi piano and early clipped Kosmische sounds which when set to a disco beat, conjure up images of a young Ralf Hütter drinking Sangria and shaking his stuff in a Barcelona nightclub.
'Scratches en Series' revolves around an analogue step sequencer part and 808 snare, rimshot and cowbell percussion. Although it was Lhote's intention with the track to pay homage to acts such as THE SUGARHILL GANG, the piece actually ends up recalling the work of UK duo ULTRAMARINE and their album 'Every Man & Woman is a Star'. Some light-hearted scratching and vocal sampling keep the playful nature of the track going and again the abundance of ideas mean that 'Scratches en Series' never outstays its welcome.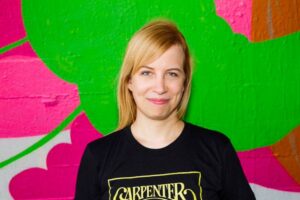 The wonderfully-titled 'Franmaster Glash' closes the EP with an electro-influenced drum pattern, filtered hi-pass octave PWM bass and a discordant synth line. Clocking in at just over four minutes, the track effortlessly flies by and the mix of early synthpop and 'Street Sounds' electro is a wonderful combo.
In terms of an overall contemporary comparison, the work of Nordic producer Todd Terje would be a good starting point here.
The mix of early German keyboard work, analogue sequencers and scattershot percussion mean that there is plenty to love and repeated listens reveal new elements each time. In an age when it is far too easy to produce soul-less and lazy, overly repetitive synth-based music, this HOLOGRAM TEEN EP bucks that trend. It also brings a welcome element of light-heartedness which is a real breath of fresh air and quite possibly ushers in a brand new genre… electro-Krautrock.
---
'Marsangst'
is released as an extended four track digital EP by Happy Robots Records
https://www.facebook.com/hologramteen/
https://soundcloud.com/hologramteen
---
Text by Paul Boddy
Photos by Shanna Fisher
19th August 2016