"Düsseldorf is the capital of electronic music" – that is the quintessence of 'ELECTRI_CITY – Elektronische_Musik_Aus_Düsseldorf'.
In it, Rudi Esch gives an eyewitness account of how the Düsseldorf electronic scene developed from 1970 to 1986 and spawned acts like LA DÜSSELDORF, DIE KRUPPS, DER PLAN, LIAISONS DANGEREUSES, RIECHMANN, RHEINGOLD, PROPAGANDA, DAF, KRAFTWERK and NEU!
To tie in with the German language book, Düsseldorf paid homage to its electronic music history with the ELECTRI_CITY_CONFERENCE, a three day event of lectures, discussions and live music. An impressive line-up was assembled and read like a 'Who's Who?' of electronic music, with figures such as Gabi Delgado, Ralf Dörper, Rusty Egan, Harald Grosskopf, Peter Hook, Stephen Mallinder, Mark Reeder and Michael Rother all participating in various talks and discussions.
Known for his love of German music, OMD's Andy McCluskey was interviewed by Rudi Esch for 'ELECTRI_CITY – Elektronische_Musik_Aus_Düsseldorf' to give his viewpoint on why die Düsseldorf Schule made such an impression on him as a teenager in The Wirral.
With a version of the book in Englisch on the way retitled 'ELECTRI_CITY – The Düsseldorf School Of Electronic Music', it was appropriate that on the final day of the ELECTRI_CITY_CONFERENCE, McCluskey and Esch presented what was billed as 'The ELECTRI_CITY Show'.
Discussing a variety of records which Esch had brought along from his own personal collection, the pair indulged in some light hearted, but fanboy friendly banter…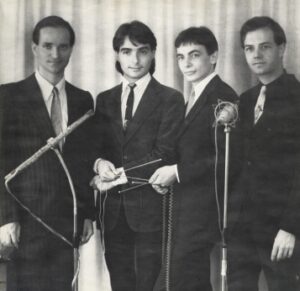 Rudi: KRAFTWERK were something radical and new when they first appeared in the UK in 1975. What was the impression you had when you saw them at Liverpool Empire?
Andy: I was wearing my trenchcoat, long scarf, flared jeans and afro, and they walked out on stage in suits and ties… it was incredible. I'm on record as remembering it was September 11th and seat Q36. I remember it because it was the first day of the rest of my life! It was also the front row of the cheaper seats! This was something I had never seen and it was forty years ago! The amazing thing is, KRAFTWERK are still, NOW, more futuristic on stage than 99% of bands!
Rudi: Yes, it was so different at this time, to cut your hair and buy a suit…
Andy: … although it took Wolfgang Flür a long time to cut his hair, he had it longer for while than the rest of them *laughs*
Rudi: Yes, especially on the inside cover of 'Radio-Activity'…
Andy: And his moustache lasted a bit too long *laughs*
Rudi: Wolfgang says that was his D'Artagnan look!
Andy: Yes, I can see that. I'm not gay but he was a sexy man, he was the Elvis of electronic music and still is!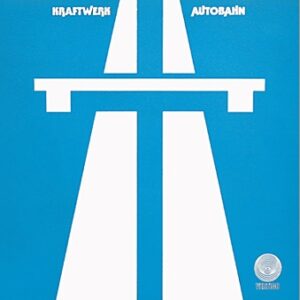 Rudi: We often talk about the music, but let's talk about the artwork of NEU!
Andy: I know Rusty Egan said the artwork didn't really impress him but if you look at that, it is more contemporary now that if they had done something modernist or constructivist back in the 70s.
Rudi: The original cover to 'Autobahn' in the UK was very graphic…
Andy: But the cover I had was like a painting of a car going down the autobahn. That fantastic blue sleeve with the minimal sign image influenced Peter Saville.
Rudi: So you bought the German import?
Andy: That's what I did! I would go to the shop on Saturday in Liverpool and go to the 'German' section and just see what they had that they didn't have last week. If there was something there, it was the most exciting day of the week, and if there wasn't, it would be like "NO! I've got nothing to listen to this weekend that's new!"
Rudi: How did you discover LA DÜSSELDORF?
Andy: John Peel introduced me to LA DÜSSELDORF… I was sat in bed, but still had the radio on. On came this track and I was like "what the hell is that?"… so I've got 'Silver Cloud' minus the first fifteen seconds recorded on a cassette! It was incredible, but I didn't realise that LA DÜSSELDORF were Klaus Dinger's band after NEU! although when I spoke to Michael Rother, he dismissed LA DÜSSELDORF as pop! *laughs*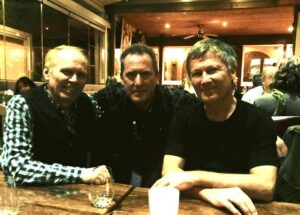 I was still kind of in the dark. You could buy these records, but nobody was writing about them in the press and there was no internet. So I would like the sleeve and then buy it to hear what it sounded like.
People always talk to us about KRAFTWERK, and obviously, they were hugely important. But there was another element from Düsseldorf that influenced us, and that was the organic side which was firstly NEU! and then LA DÜSSELDORF and Michael Rother's solo records.
Rudi: But KRAFTWERK made a bigger overall impression?
Andy: KRAFTWERK's 'Radio-Activity' is probably to this day, the album that influenced Paul Humphreys and I so much. It taught us you could make music with anything you wanted, because we had nothing.
They were definitely being the future, while dressed like the past. It's interesting that to try not to look rock 'n' roll, the only place they could go was backwards with their look… it's timeless really. They were trying not to be Anglo-American rock cliché and they achieved it. That for me was the exciting thing. When I was a teenager, I was looking for something different.
I became friends with Wolfgang Flür and Karl Bartos in the 90s, and was invited to Wolfgang's flat for dinner; on the wall was a gold record for 'Radio-Activity' which was a hit single in France. I was telling them that 'Radio-Activity' was the song that most influenced OMD and told them 'Electricity' was just an English punk version of 'Radio-Activity'. They replied "Yes, we know!"… it was that obvious! *laughs*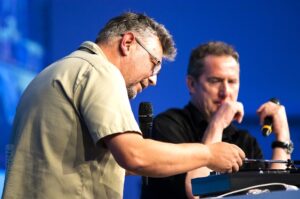 It's like many teenagers now are frightened of the future and want to conform, but everything about me and people I knew were searching for something different.
So when I found KRAFTWERK, NEU! and LA DÜSSELDORF, it was absolutely NOT the rock 'n' roll cliché that I was bored of.
Rudi: Although Wolfgang has a past in a beat band called THE BEATHOVENS…
Andy: But what people think of now as super distilled minimalism, the early records, you could see how KRAFTWERK came out of the more freeform, jazz music from playing with other people in Germany. But they slowly distilled their own style and sound, and moved away from that organic sound which was amazing, but also meant that we couldn't go with them on that journey because we were kids with no money, so there was no point trying to be KRAFTWERK. So we just tried to do our thing, this strange hybrid of their ideas, emotional music and completely unconsciously, probably glam rock which we were watching when we were twelve.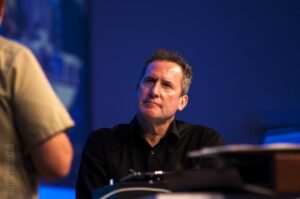 Rudi: Musically, you did something unique with OMD because you did not use entirely electronic instruments and musically, I think you are closer to LA DÜSSELDORF?
Andy: Ralf Hütter is very busy curating the legacy of KRAFTWERK… that's fine because they are the most important influential band from the last forty years in the history of pop music, they changed the world.
It is great that the city of Düsseldorf has woken up to the fact that KRAFTWERK and other musicians changed the world and cherishing them. Whilst KRAFTWERK cement their position in the pantheon of the museums and the books, LA DÜSSELDORF and NEU! were very important. They also did something that was beautiful and different. And OMD unconsciously were combining the two, the electronic sound with the organic…
Rudi: Talking about NEU! They were not an electronic band and there are no electronic sounds of that first record…
Andy: No, it was LA DÜSSELDORF where Klaus Dinger started to add some keyboards and got pop! *laughs*
Rudi: With LA DÜSSELDORF and their songs like 'Düsseldorf' and 'La Düsseldorf', there's a lot of Düsseldorf for one band…
Andy: Thinking about LA DÜSSELDORF and NEU! – the biggest loss to the scene is Klaus Dinger.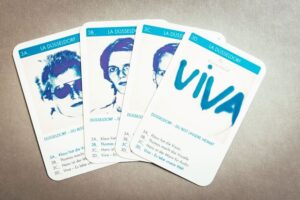 Rudi: Yes, after his death, people were talking about the Motorik beat and how great NEU! were… even Michael Rother said before 2004, nobody cared about NEU! but now he can make a living again from the legacy of these old records…
Andy: It's great that people are thinking about NEU! and LA DÜSSELDORF, they should be up there with KRAFTWERK.
Rudi: People said Klaus Dinger was a difficult guy and not easy to get along with…
Andy: It's the Van Gogh thing… you have to bloody die before people think you're a genius!
Rudi: To me in Dusseldorf, there were like two generations, so the people in the 70s had the money to buy synthesizers and make music like LA DÜSSELDORF, and then from 1979, there was the second generation like DAF, DER PLAN and DIE KRUPPS who were in punk bands, but then got new technology like sequencers and used them in a punk rock way…
Andy: The early synth bands had the mentality of punk, but instead of playing one chord, they used one finger. To use technology was a much more interesting thing to do than just punk.
Rudi: My favourite KRAFTWERK song is 'Showroom Dummies', I like it because it goes on endlessly and more hypnotic, especially with the drums…
Andy: One of the things about KRAFTWERK is the drums are so tight and the sound is so rigid and hard. It was a drum sound that was completely new and alien. When OMD initially went into the studio, Paul Humphreys made an electronic kit, but it never worked very well.
So when we recorded, we had to use a real drum kit but we were so desperate to get that tight, really punchy sound, we didn't want our drummer Malcolm Holmes to play the whole kit and have all that splashy ambient nonsense… so we made poor Malcolm play each drum individually, one at a time… that was our concession to be as tight and hard as KRAFTWERK.
So he had to put down four minutes of bass drum, then four minutes of snare, four minutes of hi-hat, but NO cymbals were allowed… that was far too rock 'n' roll! It led to some interesting moments because he screwed up the fill at the end of the middle eight of 'Enola Gay', playing it on the three, not the four!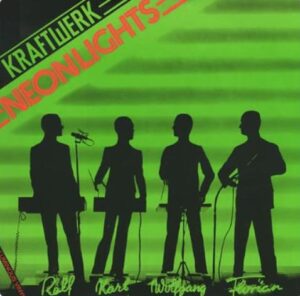 Rudi: Do you have the luminous 12 inch of 'Neon Lights'?
Andy: I have them all, but I don't have a vinyl deck. 'Neon Lights' is possibly one of the nearest times KRAFTWERK came to combining the machine rhythm and the organic melancholic melody with vocals. It's the closest Hütter gets to really singing, he's not singing staccato. And that song is, after 'Europe Endless', my favourite song by KRAFTWERK of all time, precisely because it has that amazing juxtaposition of the contrast of the hard machinery and the beautiful melancholic melody; it makes it more romantic, because they shouldn't fit together.
Rudi: Why didn't you sing on OMD's cover of 'Neon Lights' on 'Sugar Tax'?
Andy: That was originally for a single that didn't come out which I'd produced for a girl named Christine Mellor. I really liked it and wanted people to hear it. But in hindsight, it was a mistake and I should have sung it with maybe just her on the middle eight.
Rudi: KRAFTWERK have a concept and they stick to it, but don't talk about their records…
Andy: The one thing I could not be, is that focussed, rigid and precise. I can't stay in the intellectual moment. I like the intellectual pre-concept, but I get carried away in the emotion of it, so when I go on stage, I just lose all control… it's a shameless madness. I just can't stay still, I dance like a lunatic and I don't care!
---
ELECTRICITYCLUB.CO.UK gives its warmest thanks to Rudi Esch and Andy McCluskey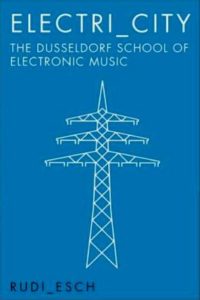 'ELECTRI_CITY – The Düsseldorf School Of Electronic Music'
is published  by Omnibus Press on 10th August 2016
The companion 'ELECTRI_CITY 2'
CD, double vinyl LP and download featuring many of the artists discussed in the book is released by Grönland Records on 12th August 2016
This year's ELECTRI_CITY_CONFERENCE takes place at Düsseldorf CCD on 14th – 15th October 2016
http://www.electricity-conference.com/
https://www.facebook.com/ELECTRICITY.Conference/
https://www.facebook.com/Electri.city.Esch/
---
Text and Interview transcription by Chi Ming Lai
Photos by Markus Luigs and Tom Steinseifer
4th July 2016