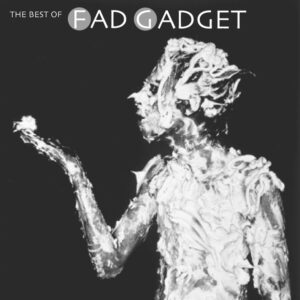 Although originally released 18 years ago on CD, this compilation of Frank Tovey's singles-based material as FAD GADGET is now debuting on vinyl for the first time with an identical track listing spread over four sides.
Looking back retrospectively, one can see how Tovey's incarnation as FAD GADGET provided a perfect middle ground between DEPECHE MODE's early synthpop and the darker Industrial (and often verging on the unlistenable) experimentation of acts such as THROBBING GRISTLE.
Born 1956 in London, Tovey was the first artist to work with Daniel Miller at his fledgling Mute Records and quickly gained notoriety not just for his recorded work. Tovey's live performances often saw him (literally) suffering for his art, precariously climbing to the top of venue stages or balconies during 'Back to Nature' and ripping out his pubic hair and throwing it into the audience.
Tovey was never afraid to explore the darker side of life and 'The Best Of' rounds up the 1979-1985 A + B sides released as FAD GADGET and one 'Luxury' which was released under his own name.
FAD GADGET's debut single 'Back To Nature' was primarily constructed using his own primitive electronic set-up of an early Korg Minipops drum machine and Crumar electric piano fed through a distortion unit, plus Daniel Miller's soon to become iconic ARP2600 semi-modular synthesizer.
Starting with simulated electronic animal sounds, octave synth bass and a lyric which is based around a caravan holiday in Canvey Sands, 'Back To Nature' brilliantly set the template for Tovey's work as FAD GADGET; exploring similar themes of alienation as his contemporary GARY NUMAN, but from a far more bitter, world-weary standpoint rather than a dystopian Sci-Fi based one.
Second single 'Ricky's Hand' pushed lyrical themes to a far darker place, being a cautionary tale warning of the perils of drink driving. Notable for the use of a Black & Decker V8 electric drill as a jarring percussive instrument and secondly the still stunning moment where the vocal by BJ Frost (Tovey's girlfriend) dissolved seamlessly into a screaming modulated synth line at the climax of the track. 'Ricky's Hand' also featured some truly wonderful sequencer work by Miller and an early appearance from the ARP2600 generated kick drum which would eventually become a mainstay on the debut DEPECHE MODE and YAZOO albums.
Of the B-sides featured here, both 'Insecticide' and 'Lady Shave' showcase Tovey's experimentation with vocal dynamics and effects, becoming a fly in the former and screaming "shave it!" throughout the latter with added tape delay to enhance the effect.
FAD GADGET peaked commercially with the 'Under The Flag'
album which is represented here by three tracks. The album saw a shift up in production quality and the appearance of Blackwing Studio's newly acquired Roland MC4 Microcomposer which allowed for the multiple sequencing of parts at the same time. The tracks 'Love Parasite' with its proto funk-based synth bassline and 'For Whom The Bells Toll' (featuring a certain Alison Moyet on backing vocals) both remain highpoints in the FAD GADGET back catalogue.
However, if ELECTRICITYCLUB.CO.UK could pick out a FAD GADGET Desert Island Disc, then it would have to be 'Life On The Line'; starkly emotive and written under the shadow of the Falklands War, the addition of live piano to Tovey's electronics helps to humanise the piece and make it an all-time electronic classic.
Once Mute started to invest in sampling technology, it was only natural that Tovey would begin to gravitate towards using it, eventually collaborating with German industrial metal-bashers EINSTÜRZENDE NEUBATEN on the single 'Collapsing New People' which featured a sample of a printing press as a rhythmic backbone for the track. This era provided a turning point for Tovey as he started to move away from electronics and towards a far more acoustic aesthetic, eventually culminating in the jettisoning of the FAD GADGET name.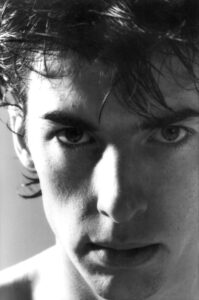 Tovey would then take a complete U-turn in 1989 with a cover of the English folk song 'Sam Hall' and recording primarily acoustically with the albums 'Tyranny & The Hired Hand' and 'Grand Union', the latter featuring his new backing group of Irish musicians called THE PYROS. In 1993, Tovey withdrew from the music business, but a comeback which started with a high profile support slot on DEPECHE MODE's 'Exciter' tour was tragically cut short when he suffered a fatal heart attack in 2002 at the age of 45.
2020 will see a new career-spanning box set of FAD GADGET material to tie in with the 40th anniversary of the 'Fireside Favourites'
album, but in the meantime, vinyl lovers of darker electronic music would be foolish not to invest in this superb collection of one of the true innovators of synthetic music.
---
'The Best of FAD GADGET'
is still available on CD but is reissued as a double silver vinyl LP as part of the MUTE 4.0 (1978>TOMORROW) series on 6th September 2019, pre-order from https://mutebank.co.uk/products/fad-gadget-the-best-of-fad-gadget-silver-double-vinyl
https://www.facebook.com/fadgadgetofficial/
https://twitter.com/FadGadgetMusic
https://www.instagram.com/fadgadgetofficial/
---
Text by Paul Boddy
Photo by Peter Gruchot
1st August 2019