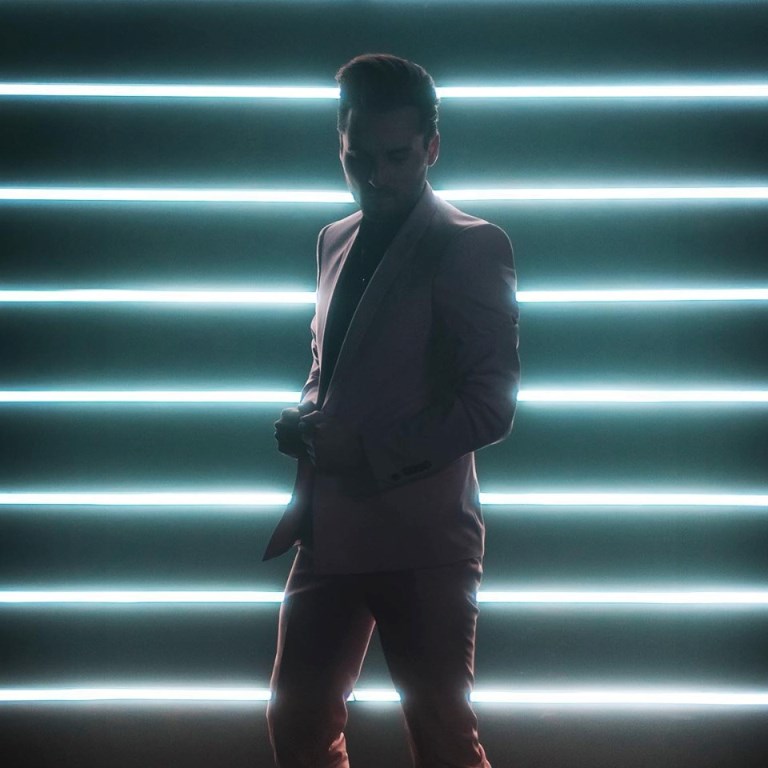 Although best known as the voice for FM-84, Ollie Wride has ventured solo with his recently released debut album 'Thanks In Advance', co-produced by Michael Oakley.
And while songs like 'Running In The Night' and 'Wild Ones' with FM-84 made him more widely known within Synthwave circles, 'Thanks In Advance'
explores more dynamic synth-led territory with an FM rock flavour, particularly in songs like 'The Driver', 'Miracle Mile' and 'Never Live Without You', although there are more balladic numbers too like 'Luna'.
A very immediate pop album with a suave presence and that classic MTV friendly feel, the positive acclaim for 'Thanks In Advance' has led to Wride announcing his first solo concert in London at Camden Assembly on Saturday 16th November 2019.
With only a few tickets remaining for the Outland hosted show, Ollie Wride talked about his career to date, both with FM-84 and solo, plus his future plans.
What led you to depart the UK for the USA, was it purely musical or was it more romantic, inspired by the films and TV shows of your youth?
Firstly, thank you so much for having me Chi and for your unwavering support. Just to clarify I am still a UK resident! I do however spend a large portion of my time stateside, predominantly due to work as well as some of my closest friends and colleagues are based there. You've got to go where the action is! As for being inspired by pop culture into taking the leap – doesn't everyone at some point in their youth fantasise about getting on a Jumbo Jet and making for the West Coast to go and carve a career in Rock n Roll… or "tech" nowadays?
Who are your key musical influences? ELECTRICITYCLUB.CO.UK can't help hearing Lindsey Buckingham in your voice but we mean that as a compliment 😉
That's a heavy compliment to drop, one that I shan't take lightly. You've hit the nail on the head with Buckingham, we're talking that kind of pedigree generally here. I'm transparent as far as the term "influence" goes, I wear them on my sleeve, I'm sure it would come as no surprise to some reeling off David Bowie, Bryan Ferry / Roxy, Peter Gabriel and QUEEN as key players. I could go on…
You're best known as the voice of FM-84, the project of San Francisco-based Scotsman Col Bennett, how did that association come about?
The genesis stemmed from when I was first made aware of the retro wave genre by my long time friend and collaborator Josh Dally back in 2015. I don't recall the precise ins and outs, but he was working with Jordy aka TIMECOP1983 on the 'Reflections'
record which would later become 'Let's Talk' and suggested I got involved.
I had just come out of a deal in LA, and being candid I was pretty jaded and burnt out… my only real concern was how was I going to make the next rent cheque, let alone get back in the saddle musically! However, Josh twisted my arm and Jordy and I quickly hit it off. 'Wild Love' was the result and reignited my enthusiasm.
Shortly after, I started to familiarise myself with the up and coming producers in the scene, one of whom happened to be Col (FM-84) and the 'Los Angeles EP', I quickly developed a large affinity with it. So much so, I paired one of my ideas to his instrumental 'Out Of Time' before we ever even spoke. The serendipity came when Col approached me to work on the record that would later be called 'Atlas', having heard 'Wild Love'. It was only by chance that we were huge fans of one another's work! The rest they say, is history…
So how would FM-84 tracks like 'Running In The Night' and 'Wild Ones' have evolved in the studio, and at which stage would you have been asked to get involved?
'Running In The Night' was the first song we wrote together, believe it or not! In that particular instance, Col had a pretty defined template that he had initially worked on with another writer, but to no avail. I took the instrumental and sat with it, reworking at the piano for about two weeks I recall.
Using the verse progression as a springboard, I had the chorus locked in pretty quickly after re-harmonising the chord structure to give it that sense of tension and urgency – it breathed a new lease of life into it I felt, although I was still unsure whether he'd go for it. Still, from there the verse lyric and melody soon emerged soon after. I handed the reins back to Col and he brought his production finesse, we're lucky to have that song.
A similar scenario with 'Wild Ones', an instrumental bed was already established to work from and I was given freedom to rearrange / change the chord structure so I could develop into the song – this dynamic has continued throughout the majority of our work together.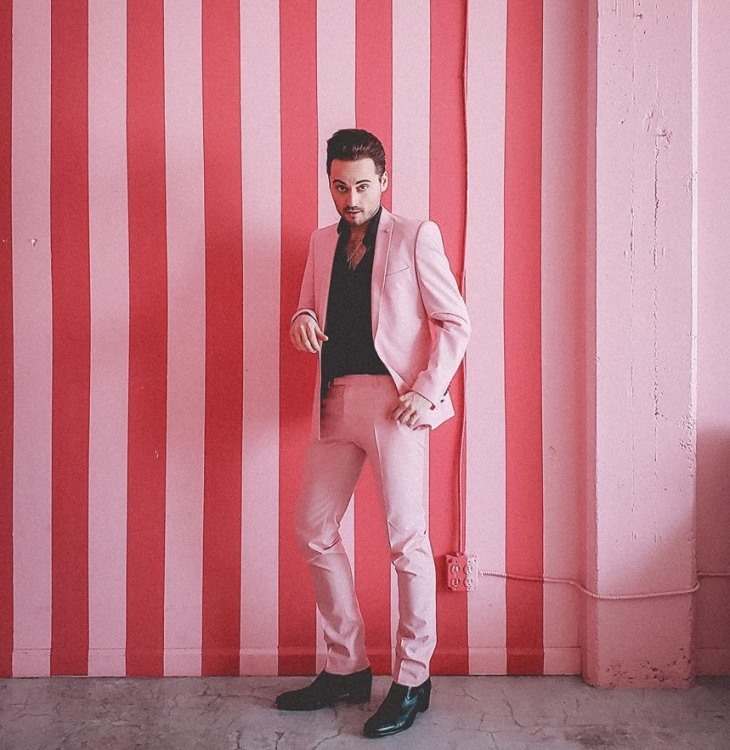 The success of FM-84 and the album 'Atlas' had led to you touring the world with them, but what inspired you to do a solo album, has that always been on the cards?
Well, it's important to highlight that I'm very fortunate to be a part of something that enjoys even a semblance of 'success' or should I say gives enjoyment to lots of people, particularly in what is still widely considered as a niche market. So honestly, I had no aspirations to deviate from something that I had already invested so much of myself into…
I give 110% of myself to whatever project I am involved with at the time – when 'Atlas'
took off and the response was so overwhelming, the only desire I had was to continue to build upon the work we had accomplished, making music that we love and inspires us first and foremost.
However, I am a workaholic and I detest prolonged periods of inactivity. I've been both marred by bad luck and great fortune, but managed to earn my crust as a writer and performer since I was 19, therefore I am always looking for the next song. Having pitched a few ideas for the next FM-84 record, it quickly became apparent that another thread was emerging, and one that was more in line with my direct influences, I wanted to pursue a concept I had in my head for many years, that occasionally seeps through in the FM-84 world but ultimately this required its own store front.
For 'Thanks In Advance', you've been working with another Scot in Michael Oakley… a coincidence or do you feel a spiritual affinity? Is there a secret stash of RUNRIG albums in your collection? 😉
Purely owing to Michael's wonderful nature and sharpened skill set! Well, aside from us developing a great friendship, we share a commonality in that we love melody, sincerity and well-made records. We've been working pretty closely for the past year and a half on one another's records. A sort of services trade if you will… he polished my productions / mixes and I gave him lyrics and melodies where he required. I feel we've developed a great understanding of what the other is searching for in our respective fields. Never treading on one another, but enhancing each other's vision. If that makes sense?
Your solo work has a more synth rock edge compared with the smooth atmospherics of FM-84, especially on songs like 'Never Live Without You' and 'Driver', please take us through how those two songs came together?
This relates to what I mentioned earlier in that this is a solo record through and through. Turning the lens towards my direct influences and the records that I fell in love with as a kid having raided and studied my Dad's record collection – like so many others did I'm sure. It's not a conscious decision, more a natural environment for me.
'Never Live Without You' was the second song I wrote for the record that was a clear front runner from the outset. I worked through 4 different versions before landing on what you can now hear… I wanted to channel the sentiment of Springsteen and Jeff Lynne, this pulsing rhythm combined with soaring vocal line.
'The Driver' was the last track I wrote for the record, which emerged from a 32 bar guitar pluck that Chris Huggett sent me in passing. So simple, yet oozing with menace, glam and swagger. I felt so inspired by the riff, I frantically mocked up a demo comprised of verse and chorus, both lyrical concepts are referring to rediscovering or maintaining sense of self / vision. I seldom write that fast, generally that's a pretty good barometer for a great succinct song.
How involved do you get in the instrumentation process?
Perhaps a common misconception about singers in general? But I'm involved from the ground upwards, I write, produce and arrange all of the material you hear on the record, as well as a lot of instrumentation and arrangement in FM-84, the majority of this I work on in my studio at home. I'm a total perfectionist and proud to be.
'Miracle Mile' sounds like it might have been inspired by a moonlit convertible drive? Was it?
That sounds wonderful, but I hate to disappoint, I gave up my car when the lease was up… 😉
I actually wrote the makings of it, when I was hard up, in LA living in an Extended Stay dive, between Ventura Blvd and the 101 for 5 months as part of the accommodation plan my then-label put me in.
Despite the musty marijuana that pervaded the air, cops turning up every other night to address domestic disturbances and an air conditioning unit that hadn't been serviced since 1997, I didn't mind it all that much, I convinced myself that I was living 'The American Dream' or a rendition. The song is loosely a true story about the lengths we go to, in an attempt to find what we seek.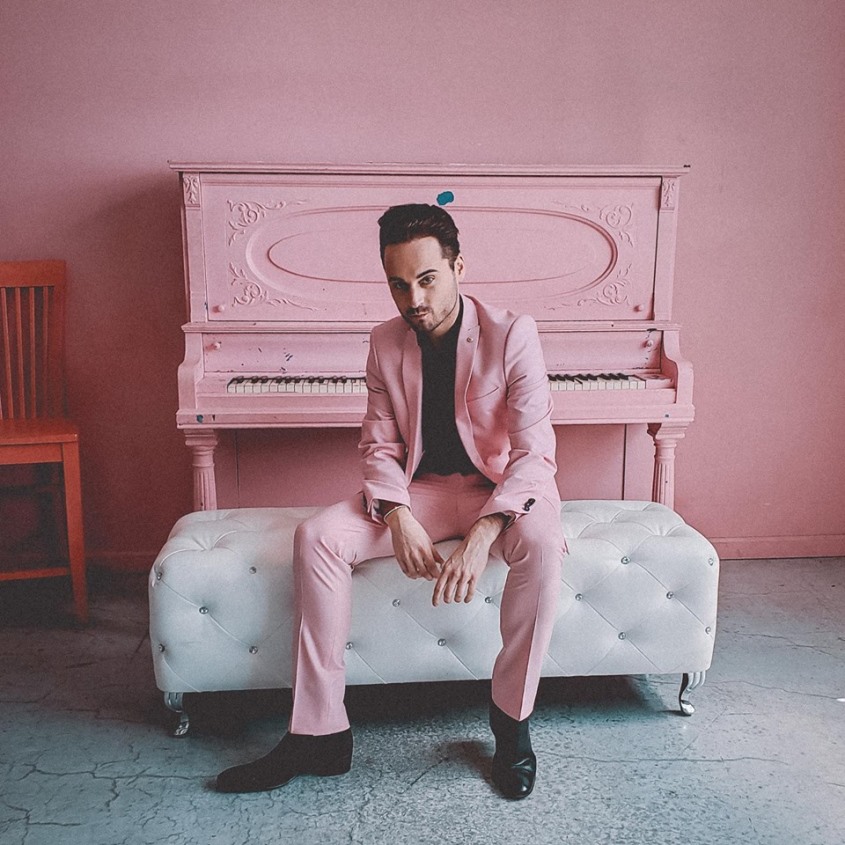 'I'm A Believer' embraces the influence of Hollywood-era Giorgio Moroder, do you have any favourite films of that period? 
Thank you! It was certainly a modest attempt to evoke a sense of nightclubbing in that era. I assume you're referring to 'Scarface' with the Moroder connection? I'm a sucker for a Gangster picture for sure. 'Goodfellas', 'Casino', 'The Godfather'… however specifically the early – mid 80s? 'Bladerunner', 'The Empire Strikes Back', 'Raging Bull' spring to mind.
Any hopes and fears about how 'Top Gun: Maverick' might turn out?
I have a heck of a lot of time for Tom Cruise, simply irrepressible, I have every faith in 'Top Gun': Maverick'.
You do love a power ballad, as 'The Rising Tide', 'Hold On' and 'Luna' show but you largely manage to keep the AOR thing in check? There's a flavour but not too much of it? Any thoughts?
I meant to take you to task on this! Haha! Do I? You can't have light without shade in my view! I can see why to an extent, slow burners / lower tempo numbers seem to default into that category – however it is not intentionally so… I feel 'Luna' is the only true embodiment on the LP.
Simply as it was intended as an open letter about two lovers who meet over the internet on opposite sides of the world with contrasting lifestyles, in the face of adversity and external pressures they reconcile their feelings to try and realise a future.
As far as AOR goes… well, I don't consciously steer towards or veer from anything stylistically. I approach each song from the stand point of, what is the message? Does it make me feel anything? Is it truthful? If those ingredients aren't present then I think labels are irrelevant, the song will invariably not make the grade!
Which have been your own personal favourites from the album and why?
That's like trying to select your favourite child? Perhaps it's unspoken? 😉
Well, 'The Driver', 'Miracle Mile' are stand outs for me, but 'The Rising Tide' is much more of a luscious contrast for me, untethering myself, a ROXY MUSIC homage come blue eyed gospel moment in the spirit of Peter Gabriel.
Without dissecting the message here, all I will say is lyrically the pen is turned directly on myself, an acknowledgement of the pitfalls and facing them with a grin come what may – vocally I went to town, it's definitely not a "sit back and relax" moment, I'm giving everything I've got in the tank which is both liberating and a real challenge I put to myself, I'm really pleased with the result.
'Thanks In Advance' is almost made to be performed live, was that something that had been a consideration during its production?
That's an excellent observation. Honestly it's never a conscious decision until after the fact… Songwriting and the studio is the factory, the stage is the test track and I adore that environment, it's a fight or walking a tight rope I feel to an extent. It's a privilege to be able to do and have the responsibility to ensure you have it nailed. Although, initially at least, I seldom consider the challenges of delivering half of my songs live! They're certainly a work out, but I do a huge amount of prep and rehearsal.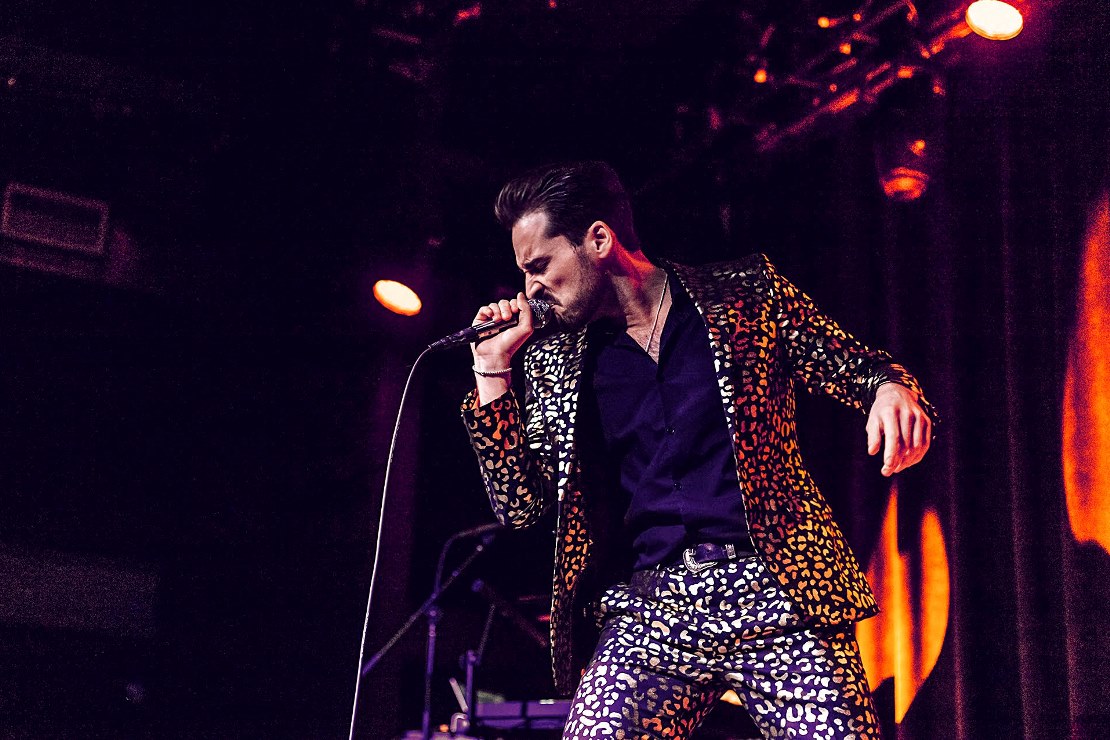 So how will your solo show in London this November differ from when people saw you fronting FM-84?
Well, it's imperative to highlight that I am always myself… authentic and sincere, what you see is what you get up there – it is my job to entertain you for an hour and a half for the price of admission. Aside from the glossy veneer, I'm looking forward to showing more of my chops as far as playing live goes.
I teased this on the recent FM tour we just wrapped with rolling out the Keytar during our cover of TEARS FOR FEARS, this will be an extension – yes you'll get the synths but it will be a live show, with real musicianship from real musicians, something that I am a huge advocate of and feel is lacking in the scene at least.
Synthwave, synthpop, popwave… do these terms and classifications matter, surely it's all pop music? 😉
I am by no means an arbiter of other people's tastes / views etc. I'm well aware, labels go with the territory, whilst I don't shirk away from them and I'm grateful to be even considered a member of any 'movement' – it is my personal view that rather than rush to create so many different sub genres and factions – why don't folks simply concentrate on the meat and potatoes here… creating the best possible music they can muster in the first place?
What's next for you musically, either solo or with FM-84 or anything else?
It's still early days for my debut LP, having only been released last week, the reaction has been overwhelmingly positive, exceeding my expectations… far more receptive than I expected truth be told. It's a pretty daunting prospect stepping out of the spotlight of an entity that so many people love and may associate you with – so first things first, I am likely going to be performing a few select shows starting in the UK and US subject to the album's trajectory of course! I already have tracks lined up for a possible second record… where they eventually land, we shall see.
FM-84 has been the main focus since I became a part, however it requires a huge team effort to see the second record across the line, so when the time is right and Col is ready, I will be there to play my part – if I'm still needed! In other news, I'm due to begin work with Michael Oakley on his follow up to 'Introspect'
shortly, as well as working with a few of peers within the scene with a possibility of the long awaited duet on the cards! 😉
---
ELECTRICITYCLUB.CO.UK gives its warmest thanks to Ollie Wride
Special thanks to Stuart McLaren at Outland
'Thanks In Advance'
is released by New Retro Wave, available in vinyl LP, cassette and digital formats direct from https://newretrowave.bandcamp.com/album/thanks-in-advance
OLLIE WRIDE plays London Camden Assembly on Saturday 16th November 2019 and Glasgow Classic Grand on Friday 10th April 2020
https://www.facebook.com/olliewrideofficial/
https://twitter.com/OllieWride
https://www.instagram.com/olliewride/
https://open.spotify.com/artist/1anhHn744LbctzF9EHpvea
---
Text and Interview by Chi Ming Lai
Portrait Photos by Randy Jacob
Live Photo by Electric Brixton
31st July 2019, updated 26th October 2019