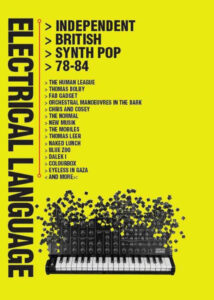 From Cherry Red Records, the makers of the 'Close To The Noise Floor' trilogy showcasing formative and experimental electronic music from the UK, Europe and North America, comes their most accessible electronic collection yet.
Subtitled 'Independent British Synth Pop 78-84', 'Electrical Language'
is a lavish 4CD 80 track boxed set covering the post-punk period when all that synthesizer experimentation and noise terrorism morphed into pop.
Largely eschewing the guitar and the drum kit, this was a fresh movement which sprung from a generation haunted by the spectre of the Cold War, Mutually Assured Destruction and closer to home, the Winter of Discontent.
As exemplified by known names like THE HUMAN LEAGUE, FAD GADGET, SECTION 25 and BLUE ZOO included in the set to draw in the more cautious consumer, this was pop in a very loose manner with melodies, riffs and danceable rhythms but hardly the stuff of ABBA or THE BEE GEES!
'Red Frame/White Light' by OMD was a chirpy ditty about the 632 3003 phone box which the band used as their office, while Thomas Dolby's 'Windpower' was a rallying call for renewable energy sources. Then there was the dystopian 'Warm Leatherette' by THE NORMAL based around two noisy notes and lyrically based on JG Ballard's 'Crash' with its story around car collision symphorophilia.
While those acts' stories have been rightly celebrated for putting the electronic avant pop art form into the mainstream, with any truly great compilation or collection, the joy is in finding the lesser known jewels.
Made primarily by the idealistic outsiders and independent experimenters from the lesser known side of Synth Britannia, 'Electrical Language' has plenty of synthetic material to rediscover or hear for the first time. Indeed, the more appealing tracks appear to fall into three categories; forgotten songs that should have been hits, oddball cover versions and largely unknown archive wonders.
Those forgotten gems include the exotic 'Electrical Language' title track by BE BOP DELUXE, documenting the moment Bill Nelson went electro. His production on the gloriously emotive 'Feels Like Winter Again' by FIAT LUX is another welcome inclusion to the set.
But the two best tracks on 'Electrical Language' are coincidentally spoken word; 'Touch' by LORI & THE CHAMELEONS about a girl's Japanese holiday romance is as enchanting and delightful as ever, while there is also THROBBING GRISTLE refugees CHRIS & COSEY's wispy celebration of Autumnal neu romance 'October (Love Song)', later covered in the 21st Century in pure Hellectro style by MARSHEAUX.
Merseyside has always been a centre for creativity and this included synthpop back in the day. 'I'm Thinking Of You Now' from BOX OF TOYS was a superb angsty reflection of young manhood that included an oboe inflected twist which was released on the Inevitable label in 1983. From that same stable, FREEZE FRAME are represented by the atmospheric pop of 'Your Voice'
Jayne Casey was considered the face of Liverpool post-punk fronting BIG IN JAPAN and PINK MILITARY; the lo-fi electronic offshoot PINK INDUSTRY released three albums but the superb 'Taddy Up' with its machine backbone to contrast the ethereal combination of voice and synths lay in the vaults until 2008 and is a welcome inclusion. The 'other' Wirral synth duo of note were DALEK I LOVE YOU whose 'The World' from 1980 remains eccentric and retro-futuristic.
Scotland was in on the action too despite many local musicians preferring THE BYRDS and STEELY DAN; although both 'Mr Nobody' from Thomas Leer and 'Time' by Paul Haig were detached and electronic, they vocally expressed minor levels of Trans-Atlantic soul lilt compared with the more deadpan styles of the majority gathered on 'Electrical Language'.
Under rated acts form a core of 'Electrical Language' and while THE MOBILES' 'Drowning In Berlin' may have come across like a 'Not The Nine O'Clock News' New Romantic parody on first listen, its decaying Mittel Europa grandeur was infectious like Hazel O'Connor reinterpreting 'Vienna' with The Master of Ceremonies at the Kit Kat Klub in 3/4 time!
NEW MUSIK's 'The Planet Doesn't Mind' probably would have gone Top 20 if had been done by Howard Jones, although band leader Tony Mansfield had the last laugh when he later became a producer working with the likes of A-HA and NAKED EYES. The brassy arty synthpop of 'XOYO' from Dick Witts' THE PASSAGE was immensely catchy with riffs galore, while POEME ELECTRONIQUE's 'She's An Image' offered stark European electro-cabaret.
Cut from a similar cloth, one-time ULTRAVOX support act EDDIE & SUNSHINE inventively (and some would say pretentiously) presented a Living TV art concept but they also possessed a few good songs. The quirkily charming 'There's Someone Following Me' deserved greater recognition back in the day and its later single version was remixed by one Hans Zimmer.
Meanwhile, the 4AD label could always be counted on more esoteric output and COLOURBOX's 'Tarantula' was from that lineage, but then a few years later perhaps unexpectedly, they became the instigators of M/A/R/R/S 'Pump Up the Volume'.
These days, modern synth artists think it is something an achievement to cover a synthpop classic, although it is rather pointless. But back in the day, as there were not really that many synthpop numbers to cover, the rock 'n' roll songbook was mined as a kind of post-modern statement. The synth was seen as the ultimate anti-institution instrument and the cover versions included on 'Electrical Language' are out-of-the-box and original, if not entirely successful.
Take TECHNO POP's reinterpretation of 'Paint It Black' which comes over like Sci-Fi Arthur Brown while the brilliant 'My Coo Ca Choo' by BEASTS IN CAGES (which features half of HARD CORPS) is like PJ Proby with his characteristic pub singer warble fronting SILICON TEENS with a proto-GOLDFRAPP stomp.
Having contributed a T-REX cover for the 'Some Bizzare Album', THE FAST SET recorded another. Whereas 'King Of The Rumbling Spires' on the former was frantic electro-punk, 'Children Of The Revolution' is far more sombre and almost funereal. Least desirable of the covers though is 'Happy Xmas (War Is Over)' by HYBRID KIDS.
Of the obscurities worth checking out, the rousing standout is 'Lying Next To You' by Liverpool's PASSION POLKA. A brilliant track akin to CHINA CRISIS 'Working With Fire & Steel' but with more synths and drum machine, it was recorded in 1983 but never actually saw the light of day until 2011 via a belated release on Anna Logue Records.
Delightfully odd, the VL Tone and organ infused 'Bandwagon Tango' from TESTCARD F is swathed with metallic rattles and possesses a suitably mechanical detachment. But with piercing pipey sounds and a hypnotic sequence, the metronomic 'Destitution' by cult minimal wavers CAMERA OBSCURA with its off key voice is one of the better productions of that type. Cut from a similar cloth, the perky 'Videomatic' by FINAL PROGRAM throws in some lovely string synths to close.
Swirlingly driven by Linn and her sisters, 'Baby Won't Phone' by QUADRASCOPE comes from the Vince Clarke school of song with not only a great vocal, but also the surprise of a guitar solo in the vein of ECHO & THE BUNNYMEN!
'The Secret Affair' from JUPITER RED is a great ethereal midtempo synthpop song also using a Linn, while 'Surface Tension' from ANALYSIS is an appealing club friendly instrumental that was largely the work of the late Martin Lloyd who later was part of OPPENHEIMER ANALYSIS.
Produced by Daniel Miller, ALAN BURNHAM's 'Science Fiction' from 1981 takes a leaf out of DALEK I LOVE YOU, while tightly sequenced and bursting with white noise in the intro, 'Feel So Young' by LAUGH CLOWN LAUGH has bubbling potential but is spoiled by some terribly flat vocals.
One of the weirder tracks is ELECTRONIC ENSEMBLE's filmic 'It Happened Then' which recalls Parisian art rockers ROCKETS; backed by a brilliant ensemble of synths, it sees the return of the cosmic voice from Sparky's Magic Piano and remember in that story, it could play all by itself!
Of course, other tracks are available and may suit more leftfield tastes… packaged as a lavish hardback book, there are extensive sleeve notes including artist commentaries, archive photos and an introductory essay by journalist Dave Henderson who cut his teeth with 'Noise', a short-lived 'Smash Hits' rival that featured a regular 'Electrobop' column covering the latest developments in synth.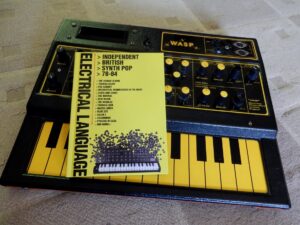 While worthy, the 'Close To The Noise Floor' trilogy could at times be very challenging, but 'Electrical Language' provides some accessible balance, allowing tunes and beats in. It captures an important developmental phase in music, when technology got more sophisticated, cheaper and user friendly, that can be directly connected to 'Pump Up the Volume'. Yes, this story is the unlikely seed of the later dance revolution, like it or not! And at just less than twenty five quid, this really is an essential purchase.
---
'Electrical Language'
is released as 4CD boxed set on 31st May 2019 and can be pre-ordered from https://www.cherryred.co.uk/product/electrical-language-independent-british-synth-pop-78-84-various-artists-4cd-48pp-bookpack/
https://www.facebook.com/closetothenoisefloor/
---
Text by Chi Ming Lai
23rd May 2019