One-time Leeds Polytechnic art students SOFT CELL set the blueprint for acts such as PET SHOP BOYS and ERASURE with their stark but danceable synthesizer driven pop and were undoubtedly ahead of their time.
Managed by Stevo Pearce of Some Bizzare Records who secured them a deal with Phonogram Records, Marc Almond and Dave Ball had an amazing run of Top 40 hit singles between 1981-1984.
Having entered into cultural folklore with their catalogue of classics such as 'Memorabilia', 'Tainted Love', 'Bedsitter', 'Say Hello Wave Goodbye', 'Torch', 'What!', 'Where The Heart Is' and 'Soul Inside', Almond and Ball will say hello and wave goodbye with a final concert at London's O2 Arena on Sunday 30th September 2018 and a soon-to-be-released celebratory 10 disc boxed set entitled 'Keychains & Snowstorms: The SOFT CELL Story'
.
Every recorded track from the duo's Phonogram-era is represented on 'Keychains & Snowstorms: The SOFT CELL Story' in some form or another, with all of the singles presented in their extended 12 inch format.
Meanwhile, there will also be tracks like 'Divided Soul, 'Somebody, Somewhere, Sometime', 'The Night', 'Monoculture', 'Desperate' and 'Darker Times' released  in 2002 following Almond and Ball's unexpected reunion as SOFT CELL.
Among the rarities included will be the debut SOFT CELL EP 'Mutant Moments', 'The Girl With The Patent Leather Face' from the iconic 'Some Bizzare Album', tracks recorded under production auspices of Daniel Miller, rarities, demos, BBC radio sessions, new remixes and live recordings.
On a sunny August day, Dave Ball took time out from preparations for the final concert and kindly chatted about the return of SOFT CELL and their past life of vice…
What concept did you follow for 'Keychains & Snowstorms' with regards the budget and restrictions you had?
It wasn't really so much how much budget we had, but how much material we had; things came out of the woodwork. We've got stuff from the very first ever show which we did in 1979 at Leeds Polytechnic for the Fine Art Department party right up to the present day really. There's rare mixes of quite well-known tracks and a performance from Los Angeles in which Michael Jackson was in the audience! So there's lots of rarities and oddities.
There's also a DVD which is most of our British TV performances on 'Top Of The Pops' plus 'Old Grey Whistle Test', 'Oxford Road Show' and even a programme called 'Supersonic'; 'Non Stop Erotic Video Show' is on there too.
It's got a lot of stuff, there's a great book that comes with it which has got quotes from people like Neil Tennant and Trent Reznor, so it's interesting … if anybody is a serious fan, I think it's a must! It looks beautiful, it was Chris Smith's idea to have the neon Revox, it's such as iconic image in its own right, Dave Chambers took the pictures. It's such a simple design but looks nice as a piece of art, you could have it on your mantelpiece.
Are you including Peter Ashworth's many photos of SOFT CELL?
The thing is, it's been such a productive time for us that Richard Franklin who did Marc's coffee table book, we've been working with him on one. I had a meeting over at Peter Ashworth's flat a few months back, he found a load of stuff from the early 80s, lots of test shots and polaroids, a bin bag full of them! So we sat there one afternoon by the river sipping champagne looking through these test sheets of amazing stuff that people have never seen. Now this is not tied in with the boxed set, this is like a separate project. The audio is the boxed set and the visuals will come out next year as a proper hard backed book.
Is there going to be a souvenir programme for the final concert?
Of course there will be a programme, that's going to be interesting… there's lots happening, Universal are going to be re-reissuing all the albums on vinyl while the final one 'Cruelty Without Beauty' which we did with Cooking Vinyl, that will be released for the first time on vinyl, which is ironic considering the name of the label *laughs*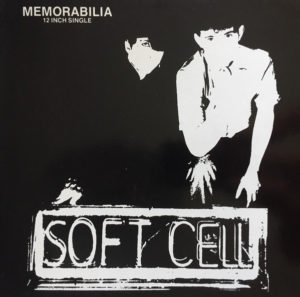 Your debut EP 'Mutant Moments' had a very art school vibe while the next single 'Memorabilia' b/w 'A Man Can Get Lost' was more clubby…
'Mutant Moments' was very homemade, very lo-fi and made on no money, done at art college. But we thought we needed a producer and we had the chance when Daniel Miller came along. We gravitated towards him because we loved 'Warm Leatherette' plus we knew Frank Tovey who was FAD GADGET, he did MUTE 002 which was 'Back To Nature'. We passed a cassette to Frank and asked him to play it to Daniel but at first, he didn't really get it.
Eventually we managed to persuade him to do a single in a 16 track studio in East London called Stage One where we recorded 'Memorabilia' and 'A Man Can Get Lost' … it was a bit confusing that because the 7 inch came out as 'A Man Can Get Lost' while the 12 inch came out as 'Memorabilia'!
And 'Memorabilia' became this big club hit, it even got in the American dance charts! I think that's why we got a chance at doing another single with Photogram because they were quite astonished and probably thinking "how are these two art school guys getting a record into the American dance chart?".
But we were very self-motivating… even with 'Mutant Moments', I managed to get three plays on Radio1 with no record label, management or plugger! We did the Futurama2 festival at Leeds Queens Hall in 1980, I had a test pressing with me just in case and lo-and-behold, I saw John Peel! So I made a beeline for him and went "Excuse me sir" while doffing my cap, "may I give you this?"… he was like "oh thanks" and put it in his filing cabinet *laughs*
I thought nothing more of it but he played 'Metro MRX' three times on his Radio1 show, all this on a chance meeting. So you never know your luck 😉
You did a re-recording of 'Metro MRX' that ended up being issued by 'Flexipop' magazine which sounds like it uses the same electronic rhythm track as 'New Life' by DEPECHE MODE?
That was done with Daniel Miller, his bass drum at that time was an ARP 2600, which was a semi-modular system which apparently he bought second-hand from Elton John which was used on tour! It's a fantastic synth, I'd loved to have had one!
Talking of ARP, I've just got an ARP Odyssey reissue which has an absolutely beautiful sound because we've got a bit of a deal with Korg so that's quite handy *laughs*
After 'Mutant Moments' and 'Memorabilia', did you notice that SOFT CELL were morphing into something much more synthpop, because the songs on the demos that are in the boxed set and which formed 'The Bedsit Tapes' did not end up on 'Non-Stop Erotic Cabaret'…
Yeah, 'The Bedsit Tapes' were all just little sketches and a lot were written by me at art college, they were just doodles really. When I met Marc, he was a performance artist and I was just doing weird synth music for him. But he asked if he could sing some of my songs, and I was like "great" because I'm not a singer and he looked fantastic, when I first met him I thought "that's a front man!".
So we started to think about how to get a sound; Marc had been working at Leeds Warehouse in the cloakroom and they were playing a lot of New York disco, so he was bringing these records home that he'd borrowed. So we were getting more and more into music with a heavy dance beat and heavy basslines.
That's how 'Memorabilia' came about, it was directly influenced by all that and us deliberately doing something a bit more clubby. I give Marc full credit for steering it there and suggesting we do something with more of a James Brown bassline. So I started noodling repetitively, it wasn't sequenced but it started sounding like those Techno records which came later. We inadvertently came across that sound and with Daniel's help obviously, we created something amazing.
You've talked about the rhythmic and art school side, but where did the tunes spring from?
Marc's always been the very big pop fan as have I, plus I'm a big fan of a lot of film music like John Barry. So we've always been strong on our melodies. I'd play a little tune and Marc would do something that counters it.
KRAFTWERK, YELLOW MAGIC ORCHESTRA and DEPECHE MODE are very melodic, the most successful electronic bands are all extremely melodic and fantastic. It's all very good listening to drones, I mean I love Brian Eno and even some of that has amazing melodies, but it's like being washed over in water colour.
I do like a powerful theme and I like the subject matter of a song to be powerful and to have some kind of a thematic quality with it, like a James Bond song such as 'Goldfinger', a very powerful musical element and a powerful vocal element.
Even on 'Mutant Moments', there's a track called 'L.O.V.E Feelings' which had a John Barry vibe, so it seemed to be there even back then?
There was this pub Marc and I used to frequent. On a Sunday evening, they had a singalong-with-the-organist night and there would be this old bloke with a Hammond organ and this drummer who had this round tom and he'd have his newspaper on that, doing the crossword with his pint and a fag in his mouth, playing the hi-hat and bass drum! And then there was this mad old lady who had drunk too much sherry trying to sing Shirley Bassey! I think Peter Kay captured all that with 'Phoenix Nights', so it was kind of like a p*ss take of that! You can hear Marc giggling at the end!
He did that a few times when we were recording, we were doing something recently going through some of our old tracks and I found a multi-track of a take of 'Tainted Love' and when Marc gets to the first chorus, he's in fits of giggles, I don't know why!
Despite being art school boys, did a new discipline have to emerge with 'Mutant Moments', just by the nature of having to choose four songs to record for an EP?
At that point, we went through what we'd got and thought those were the best four songs we had at the time, so that's why those ended up on it. It was never done as a commercial enterprise, it was more like a promotional thing and it did work because it got us on Radio1 and we started getting more and more gigs. It built very gradually over a two year period…
So this is where Stevo picked up on you?
Yes, that was after Futurama2, he wasn't there but asked if there were any interesting unsigned electronic bands there and people kept saying our name. So he got involved… he was very lucky, he was an opportunist really, but he had good ears and was putting together a compilation which became the 'Some Bizzare Album' which helped us immensely.
Us and DEPECHE MODE were singled out as the ones to watch. But unfortunately, we did this gig at Crocs in Rayleigh, Essex… DEPECHE MODE were the house band and SOFT CELL were the main act, we were absolutely appalling and they were fantastic! There were all these people from London like VISAGE and SPANDAU BALLET there to check us out and they were chucking pennies at us, we were dreadful.
But that's when Daniel Miller got involved because we knew we had to get the sound better, and as he'd signed DEPECHE MODE, we thought he might know what to do with us and luckily he said yes. We didn't want to create any rivalry but DEPECHE MODE were cool because their take on electronic music was different. We always got on fine with DEPECHE MODE.
Was this the night where legend has it, Tony Mayo from NAKED LUNCH took a dig at Marc?
I think he said "You're a load of sh*t", but then Rusty Egan said to Stevo to drop us because he thought we were rubbish! *laughs*
I've known Rusty for years and in fairness to him, when 'Memorabilia' came out, he changed his mind. He used to have two copies of it and keep it going for like half an hour, mixing into each other because he loved it so much. That really was the key track that changed the momentum upwards and obviously, what happened next is history as they say…
Do you remember much about the recording of 'The Girl With The Patent Leather Face' for the 'Some Bizarre Album'?
That again was done at art school with a couple of Revoxes, a toy Chinese instrument that I put a pick up on for that clanging sound, a Korg synth and a Rhythm Master drum machine.
It was a little black box that had the usual bossa nova / jazz / disco / pop presets, but only one or two of those were useable *laughs*
The guy who ran the sound studio in Leeds Poly was a guy called John Darling who's sadly no longer with us, he had a nice home studio in the Yorkshire Dales and a proper mixing desk, so we tried to polish it up as much as possible on zero budget. It came out as it was, so we were surprised when people like journalist Betty Page aka Beverley Gillick gave it a really good review!
Your drum machine journey has been quite interesting…
I bought a Boss Doctor Rhythm DR55 which was used on those BBC Radio sessions and the first time I used anything to do with Roland, because Boss was part of the same company.
When we did 'Tainted Love', we used a CR78 Compurhythm which had a monophonic output which our engineer Paul Hardiman cleverly managed to split the bass and the snare by gating one off the other so that they were isolated, it probably helped that it was quite a simple rhythm. The rest of the percussion came from Marc's Pearl Syncussion unit, a Synare which looked like a flying saucer and an Electro-Harmonix Crash Pad which had a trigger made out of cork! So all that zapping and sounds that are like smashing pottery on the segue of 'Tainted Love' with 'Where Did Our Love Go?' were done with those, alongside the live finger snaps. Simple but effective!
Then you moved onto a Roland TR808?
I think SOFT CELL were the first band to use a TR808 in the British charts with 'Bedsitter'.
As soon as 'Tainted Love' went massive, the record company said we had to do an album and our producer Mike Thorne was an Englishman who lived in New York, so he suggested recording it there… we weren't going to say no! So off we went to Manhattan for a few months. I took my little Korg SB100 Synthe-Bass which was the SOFT CELL bass sound on the first album.
When I got to the studio, I thought "what's that?"… Mike had bought one of the first 808s in America and I thought "bloody hell, that's amazing"! I immediately took to it and developed my own style. I loved it, it was instant, I had a feel for it.
Then we had the Synclavier which was the first time I'd seen a polyphonic digital synth… so I've got this dirty little bass thing with this amazing very early techno drum machine that no-one had really used before and we did 'Bedsitter', everyone was asking me "how did you get that sound?".
That drum machine, the bass synth and the Synclavier were seriously important to our sound and the whole first album. We also put on things like a Mellotron, a celeste, a bit of real piano and some real percussion, woodwind and brass. We found our sound very quickly when we worked with Mike in New York and we knew how to do it.
We had the songs, we never stopped writing and it was great to be able to hear them recorded properly. A lot of those songs we wrote at art school and been playing them for years so we knew what people liked, things like 'Bedsitter'.
After the 808, you moved onto the Oberheim DMX on 'The Art Of Falling Apart'?
Yes, I bought a DMX; we used a mix of that with the Linn Drum Mk1 and Mk2. But when I listen to those albums, I prefer the sound of the 808. I wished we'd carried on using it, but everyone was gravitating towards that more 'realistic' sound and the 808 was out of favour. Everyone wanted real snare and bass drum samples, Martin Rushent was using the Linn Drum with THE HUMAN LEAGUE. So it was the fickle world of pop y'know, so you tend to go with the flow on that… it was a bit stupid in that way I think.
SOFT CELL did some glorious 12 inch versions, in particular 'Bedsitter', 'Facility Girls', 'Torch' and 'Insecure Me', which are long songs with song parts rather than just extended versions…
We always wrote songs to be long versions… people would normally do a radio version and then re-edit that, we just did a really long version and then take the best bits to compress them into a radio version which I think worked quite well for us.
We always seemed to get good results and everyone comments on how our 12 inchers seem to flow, but that's because they're written as long pieces and not an assemblage.
Before 'Non-Stop Erotic Cabaret', you did a BBC Radio session for Richard Skinner. 'Seedy Films' was on it and underwent the biggest transformation because it was quite fast at first and didn't have the clarinet, what was it like doing those?
We were always very fast with Mike Thorne, he didn't like to work long hours but with the BBC Radio sessions, you had to work ultrafast because you basically had a day to do four or five songs. Luckily, we were very well rehearsed, so it was down to me to get stuff done as quick as possible. A lot of the energy and pace we were going probably led to us speeding the track up subconsciously!
I always used to enjoy those sessions, they were recorded in Delaware Road in Maida Vale with Dale Griffin who was in MOTT THE HOOPLE and had moved on to be an in-house producer for the BBC. We were really good friends with Richard Skinner and David Jensen who we also did a session for. I got on well with those two guys, you could have a drink with them in the BBC bar after 'Top Of the Pops', they were very approachable, really nice.
Songs like 'Chips On My Shoulder', 'Frustration' and 'Secret Life' hit a zeitgeist with Marc's lyrical observations?
There's always been a more fantastical underworld side with SOFT CELL, but there was a track which never came out called 'Bleak Is My Favourite Cliché' and it's still strangely relevant today. I look at Marc's lyrics now and they have a very keen sharp wit, I think he's an extremely excellent writer. I've always loved his lyrics and he just sees things from a very interesting point of view. It's taken me a while to get what he's saying .
The success led to SOFT CELL taking a darker path towards 'The Art Of Falling Apart' and then 'This Last Night In Sodom', how do you think you were developing musically to get into this grittier mindset that harked back to art school?
'Non-Stop Erotic Cabaret'
became a pop album, but by the time of 'The Art Of Falling Apart'
, we wanted to make something a bit more grown-up because we were getting a bit sick of being on TV programmes like 'Tiswas' and being perceived as lightweight pop fluff which we obviously weren't. When we did 'Old Grey Whistle Test' on the BBC in 1982, it was amazing the gravitas that programme had.
People started treating us as more of an albums band because before that, we were seen as a singles act. So when we made 'The Art Of Falling Apart', it was a statement and much more heavyweight and mature, we were taken more seriously I think.
Was this why you chose 'Numbers' as a single?
I think we were just being contentious! *laughs*
We were deliberately just trying to p*ss off the record company, because they were p*ssing us off! That's when Marc went mental after he discovered they were double packaging 'Numbers' with a free copy of 'Tainted Love' to try to boost sales. Marc went into the Phonogram office with Stevo and they went berserk, smashing up all the gold discs on the wall and chucking coffee at the A&R men… I wasn't there I'm glad to say, but this story is quite legendary in Phonogram circles *laughs*
Wouldn't it have been better to choose something more obvious like 'Forever The Same' or 'Loving You, Hating Me'?
We did a lot of things just to be awkward, we refused to play 'Tainted Love' live in America which was the only thing they knew by us, which was f***ing stupid! *laughs*
And then putting out a single about homosexual rough trade and how many people you've f**ked that night is not going to appeal to the little girls who buy pop records is it? But we didn't care at that point…
The final first phase SOFT CELL single was a cover of 'Down In The Subway', was that reflective of your state of mind at the time?
That was an early R'n'B track by Jack Hammer with some really clever heavy lyrics.
It was one that Marc discovered and I thought it had a great rhythm to it, it was very SOFT CELL because it was in that netherworld and had that dark element to it. It was still a minor hit!
But what amazed me was the album 'This Last Night In Sodom'
actually got in the Top10 despite being our least commercial album, it even has a track called 'Mr Self Destruct'!
It was wilfully self-destructive and we made a conscious decision that it was going to be the last album, we'd do a couple of final shows and call it a day, we'd just had enough!
So the 2001 reunion, how do you look back on that and the 'Cruelty Without Beauty' album now?
It was great because it was unplanned to reform SOFT CELL. I'd worked with Marc on a few of his solo things like 'My Hand Over My Heart', 'Meet Me In My Dream' and a remix of 'Waifs & Strays', but he called me up at my studio with Ingo Vauk in Kensal Road and asked if I'd fancy meeting up for a coffee to discuss writing some tunes for other people. After coffee, I suggested going to my studio so we did about three or four numbers and Marc did some vocals. When we listened to them played back, we looked at each other and went "it's SOFT CELL isn't it?" *laughs*
So we recorded an album 'Cruelty Without Beauty'
and started shopping it around, eventually Cooking Vinyl bought it and we toured it, playing festivals in Europe.
Then we went over to America but it was not exactly the most successful tour in the world, it was a bit of a disaster that one but you live and learn.
Then we came back from a festival in Venice and there were plans to do more shows and another record, but the awful motorbike accident happened and Marc was in a very bad way.
That was it almost, we sort of lost touch and didn't speak for about 15 years…
'Desperate' was one of the highlights from that period, a swipe at the X-Factor generation and you got in some more John Barry references with that 'Goldfinger' thing going on in there…
That's right, it's always lurking around somewhere, any chance! Marc's always had that social awareness and 'Desperate' was totally about celebrity culture.
But my favourite was 'Monoculture', although it's an agricultural term, Marc mentioned it in passing… I thought it was brilliant.
Those two songs sort of sum up that repetitive and boring blandness in pop culture, it's so safe and there's no real serious artists coming through. They've all got that really irritating electronic Country sound that's autotuned so they all sound like the same person, it's monoculture. They're desperate to be there for the opening of a can of lager! *laughs*
'Caligula Syndrome' was quite menacing…
That's about people like Saddam Hussain, it's to do with modern tyrants, it could be relevant today to people like Putin or even Donald Trump, they think they're emperors… I mean, Trump's apartment has gold plated everything. I've got this book of tyrants' home interiors, people like Hitler and Idi Amin, they all had these palatial places like Nero; 'Caligula Syndrome' is a reference to that and tyrannical behaviour.
How's the setlist coming along for the final show at the O2 Arena?
Marc did a survey of what were the most popular tracks and we can't please everybody all of the time, there's so much material. I think the show is going to be about two and a half hours long, so it will be quite taxing.
We've got backing singers, live brass and percussion, live synths, me and Marc… there will be nine people on stage and an array of engineers plus a lot of computer power on the mixing desk. And there's a visual show which should look amazing.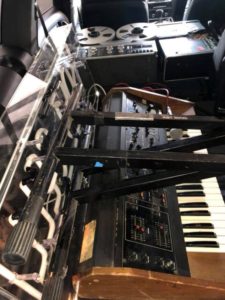 The SOFT CELL social media teased a photo of your old live rack with the Korg 800DV, is that going to be brought out of retirement?
We're actually making a documentary for BBC4, we did a little performance to camera and they wanted me to use my original synths at the Leeds Warehouse where we did our first proper shows. So the photo was just a reference to that really. That will come out some time after the show, they've not advertised when yet because we're still filming. It's quite in-depth and for once, I get to talk quite a lot! *laughs*
The boxed set has two remix discs, one is new versions using only original parts…
It was just tightening a few things up as a lot of the original stuff was all played manually, I didn't want them to sound too mechanical but it was to make them sound more punchy and modern without sounding completely rehashed.
There's one remix which Hifi Sean did of 'So' which was a B-side I knocked together for 'What', he'd been playing the original in clubs and it goes down really well with people into this Nu-disco stuff. So he did a dub mix of that and it got its first play on Radio1… for SOFT CELL to still be played on Radio1 these days is pretty amazing, considering we have the combined age of 120! *laughs*
Then there's this continuous dub mix entitled 'Non-Stop Euphoric Dubbing'…
That was meant to be more of a chill out sort of thing, you can just put it on and leave it in the background to get stoned to…
…I thought it sounded more like a horror film soundtrack!
I guess some people chill out differently! *laughs*
I could imagine a gothic ballet or dance commission coming out of this…
…now that's an idea! *laughs*
There's been a few theatrical things, there's a musical that's going to happen in London called 'Tainted', I briefly met the guy who's done it because he lives near me and he gave me his card. I'd forgotten all about it, but he said he'd spoken to Marc. I was talking to my manager about it yesterday and he said it was all in hand.
---
ELECTRICITYCLUB.CO.UK gives its warmest thanks to Dave Ball
Special thanks to Debbie Ball at Create Spark
'Keychains & Snowstorms: The SOFT CELL Story'
is released by Universal Music on 7th September 2018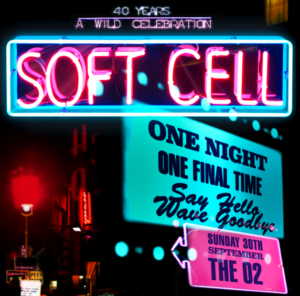 SOFT CELL play their final live concert at London's O2 Arena on Sunday 30th September 2018
https://www.facebook.com/softcellband/
https://twitter.com/softcellhq
https://www.instagram.com/softcellhq/
http://www.ashworth-photos.com
https://www.facebook.com/peter.ashworth.photography
---
Text and Interview by Chi Ming Lai
18th August 2018, updated 9th July 2021