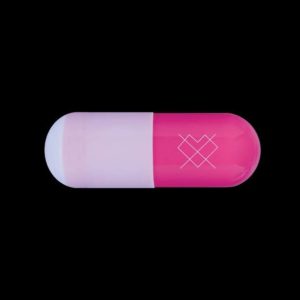 "It's a scary world out there"; words you can hear far and wide all across the globe, but when you enter the world of NIGHT CLUB, it can get scarier still.
For the twisted, dirty and sick, look no further than the bombastic American duo, where Emily Kavanaugh rules the roost with her aggressive vocal style, sugar coated at times, but don't be fooled…
Introducing the second album from the unusual twosome, which follows the acclaimed 'Requiem for Romance', NIGHT CLUB are on tour with none other than the mega Gods of heavy electronica, COMBI (f**king) CHRIST.
And from the onset, the heavily pitch shifted vocals on the first single 'Candy Coated Suicide' glide and slide over the gritty pop, tainted by dirt, which can be visually verified by the kinky video depicting rather unsavoury looking bunnies (yes, costume bunnies, and not so cute like Chandler in 'Friends'), as well as a teddy bear in chains and cuffs. As Kavanaugh describes: "like if an 8 year old and her stuffed animals discovered LSD and went on a solid 4 day bender". Say no more…
But the whole affair starts with the ominous 'Beware!', a delicate fairy tale which can fool one into thinking all is glossy and pink. Oh no, it isn't! The title track hits with the expected force, and even though the vocal is candy sweet a la Britney, the tone is what it says it is on the tin (even the kids choir will confirm it), and hey, after all "they only love you if you swallow".
With the NIGHT CLUB world being a tad 'Schizophrenic', it's no wonder it sounds like Spears' 'Toxic' at times. It's so LA baby! 'Your Addiction' hits with a majestic synth boom, which canvasses that sexy voice to perfection. Kavanaugh can make anything dirty and kinky after all, and she does it with style.
If LADY GAGA made it big with 'Do What You Want', NIGHT CLUB will make it huge with 'Blood On Your Blade', with its multitude of style shifts and wealth of influences.
In the meantime, 'Therapy (Get High)' spells out the need for drugs, where instead of the instant arrest, Kavanaugh is given a prize. A perfect alternative pop song, even if you won't play it to your kids. And although she doesn't really have many friends, as she points out in 'Therapy', she is graced with an 'Imaginary Friend'. And that goes something like vintage DM, so there!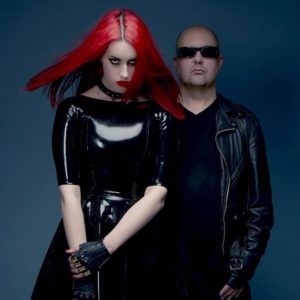 As for the bloodsucking monsters, 'Vampires' shows off the vocal wizardry from the Princess Of Darkness, as even with the life being sucked out of her, she's still the coolest.
Still, she will 'Survive' as she calms things down towards the end with a single piano substituting the synth for a while, leading the follow-up opus to its conclusion.
And what's the conclusion? 'Requiem for Romance'
was good, 'Scary World'
is scarier and better. Way to go Mr Brooks, and welcome back Miss Kavanaugh. Again, you haven't disappointed.
---
'Scary World'
is released by Gato Blanco in CD and digital formats on 24th August 2018, available direct from http://nightclubband.com/
NIGHT CLUB play Bar Sinister in Los Angeles with special guest NYXX on Saturday 25th August 2018
https://www.facebook.com/nightclubband
https://twitter.com/nightclubband
https://www.instagram.com/nightclubband/
https://soundcloud.com/nightclubband
---
Text by Monika Izabela Trigwell
Photo by Francis George
20th August 2018, updated 4th November 2018