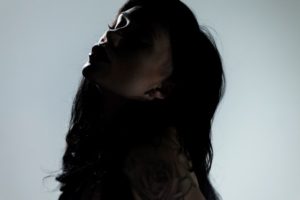 Seductive alternative songstress NYXX has been making a good impression of late, thanks to her new creative partnership with Daniel Graves.
As well the brilliance of his 'Rhythm + Control'
featuring NYXX's Britney-like vocal presence, the AESTHETIC PERFECTION main man has also lent his Industrial Pop touch to her tunes 'Diabolical'
and the new single 'Voodoo'
.
But NYXX is very much her own woman, like the Greek goddess of night she is named after, a figure of power and beauty, combining rock tension and pop prowess with a strong visual presence and her own self-designed line of chokers.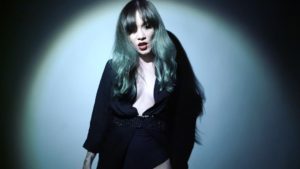 With a debut EP 'Nightmare'
already under her belt, the striking tattooed starlet is on an upward artistic trajectory that can only intrigue further as she delves into her dark psyche with greater confidence.
NYXX kindly chatted about how her music has flourished over the last 24 months.
Your early material like 'Wicked' was heavy rock, so what attracted you toward pursuing a more electronic pop sound?
I have a deep love for 80s metal. That song was a fun project with my friend Sabi Saltiel. We actually had forgot about it for a year and then rediscovered it in my archives!
But as far as moving more electronic, it wasn't a conscious effort. I have been writing pop-rock since, goodness, 13 years old! I feel my sound is still evolving, but only now do I feel like I've reached a point where I am confident in my abilities and potential and am making music that best represents me.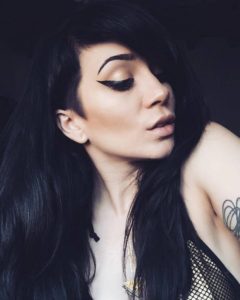 With your interest love of pop, did you ever consider going through the audition / reality show process before creating NYXX?
I have tried out for a couple. It's actually how I took the plunge into seriously pursuing music! Back in 2009, I was still in art school in Boston when a LA-based friend suggested I send in an audition tape to a new Randy Jackson show.
They wanted a PARAMORE type band, so I sent in a cover of 'Emergency' and the producers responded right away! They liked me, but since the live auditions were the next day across the country, I unfortunately wouldn't progress onto the next round.
Although I didn't make the cut, they did urge me to move to LA to pursue music. That was the first time I ever felt like it was something really attainable. That someone IN the industry saw the same potential in me as I did. But, honestly, I don't think a reality or competition show would be beneficial to me in any capacity.
What music in your life has influenced you the most in the concept of NYXX?
Just to clarify, there's no conscious effort going into my "branding", so to speak. It's just me. What looks, sounds, and feels right to me. But as far as my inspiration… everything from Top 40s to Otis Rush… from hair metal to ambient soundscapes… I grew up listening to blues, rock, hip hop, and, of course, pop.
How important has Daniel Graves been in helping you realise your vision, particularly on 'Voodoo'? What did he give you that you might have been unable to achieve on your own?
Daniel is amazing. 'Voodoo' was a joint creation. It would not be what it is without him. I came in with a sketch of a song, a melody and lyric of another song… the original sketch is a completely different sound. Daniel heard nuances in it and we built what is now 'Voodoo'. He puts that nice layer of glitter over everything. His writing and production skills paralleled to what whole TEAMS do for top labels… except, all wrapped up into one person.
Of course, you have appeared on several AESTHETIC PERFECTION recordings including the rather brilliant 'Rhythm + Control'; the 'Electro Version' was a favourite song of ELECTRICITYCLUB.CO.UK in 2017. How was it to record for you and how do you think it helped your international profile?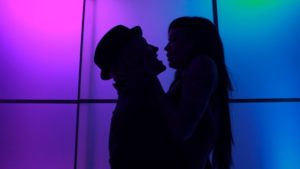 Thank you! I love 'Rhythm + Control'! When I first heard it, I said to Daniel "This is really good. REALLY good". It's just the next level. To record, it was streamlined. It was practically final when I came in. He's an incredible musician. It is evident that my collaborations with AESTHETIC PERFECTION have helped opened the international market for me.
'Rhythm + Control' had a great reception internationally and I am forever grateful for Daniel working with me. He sees that same aforementioned potential in me and pushes me to sit up straight when I'm doubting myself.
The development is quite easy to trace, as the signs were there on say 'Diabolical' which does have a haunting European quality about it?
I wrote 'Diabolical' with Daniel, so there you go! Ha ha! It started the same as 'Voodoo', I came in with the demo and we built upon it.
How do you look back on now on your 'Nightmare' EP, and what you've learnt on the way to get to where you are now?
Sometimes I cringe, sometimes I shimmy with excitement. I just look back and see where I want to go. I've learned so much about myself as a writer, artist and performer.
You direct your own videos, how important is the visual aspect to your music and are there any funny stories you can tell from filming on location?
The audio and visual have always been one in the same to me. My visual work has always involved music. I have been enjoying shooting video lately. It is a completely different beast than still photography. I distinctly remember in college saying, "Video?! I won't ever be doing video. I don't need to take it". Oh… how I regret!
As far as filming on location… it has got to be hilarious to SEE me filming. I'm usually dressed up, out in the woods, and running back and forth. I think the funniest story was in college, I did a series where I strung myself up into trees. I was shooting one day, all tied up into a tree, camera on a tripod, and a couple hiking happened upon me. They were concerned, then just creeped out.
With regards live performance, you're currently performing alone but where ideally would you like to take things presentation wise?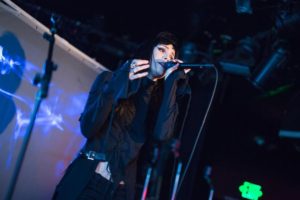 I have so much I want to do! I would love to have musicians to play with me, but I just simply can't afford that at the moment.
I would like to play keyboards, maybe guitar? I want to incorporate my stage props, lighting and visual elements. It's just hard to go full-on as an opener, because you don't have the room or time to have a lot of stuff on stage. One day soon!
You've shared the stage with our friends NIGHT CLUB who have similar dark electropop ethos, do you feel any affinity with them or other acts, or do you prefer to exist in your own bubble to extract the most from your artistic aspirations?
AHHHH I LOVE NIGHT CLUB!!! They're amazing artists and humans. I listen to them all the time. I wish I could see their faces more often! I love hearing and sharing other artists' work. I get inspired by others. It's important for artists to support other artists.
So what's next for NYXX? Another EP or will you do an album? Does the album format still have a place in today's music market?
Good question! I keep getting asked for a full length album, so it does still have a place. I do not have plans specifically to release another EP / full length… yet! January was insane for me, so, now I can finally focus on my writing. I'd like to write a good collection of new material. So, an EP may very well be in the cards!
---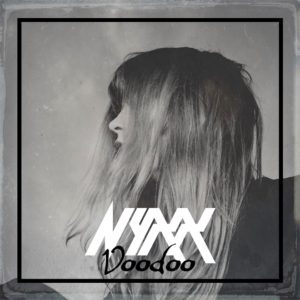 ELECTRICITYCLUB.CO.UK gives its warmest thanks to NYXX
Special thanks to Daniel Graves
'Voodoo'
is released as a download bundle by Close To Human Music through the usual digital outlets, also available direct from http://www.nyxxnyxxnyxx.com/
https://www.facebook.com/justnyxx/
https://twitter.com/nyxxnyxxnyxx
https://www.instagram.com/nyxxnyxxnyxx/
---
Text and Interview by Chi Ming Lai
8th February 2018