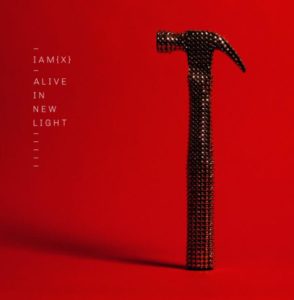 Since moving to sunny Los Angeles, Chris Corner is surely continuing his "public therapy". The music, which substitutes any drug, works wonders for the ex-shy and retiring member of SNEAKER PIMPS, come THE ALTERNATIVE ARTIST of today.
Corner debuted solo in 2004 and has since gained a faithful following within the fans of unusual synthpopia. Eccentric or not, the multi-talented musician has provided hungry audiences with offerings of unparalleled electronic wizardry, which come to life backed up by vivid visuals, elaborate costumes, and hauntingly unusual live performances.
'Metanoia'
with its 'Addendum'
marked the transition process IAMX underwent, moving from cold and gloomy Berlin in the search of inspirational metamorphosis to create a non-fuss record. The results shook both sides of the Atlantic, gaining the elusive Corner many fresh believers.
Following the success of both offerings, IAMX ventured into a popular trend of instrumental offerings, with his superb 'Unfall'
. As if he had anything else to prove, the Englishman in LA, showed how an album practically stripped of vocals, can work wonders amidst similar opuses from the likes of GAZELLE TWIN, APOPTYGMA BERZERK or BLANCMANGE.
Currently the sound manipulator is basking 'Alive In New Light'
. Continuing on the journey of self-rediscovery, IAMX is compelled to make music as "this album is about connecting, and it's a pain in the ass to do it through an album. Each time I do this, I feel exhausted but it's an impulse I can't stop. If you write your pain out, there's a venting. Happiness is a skill. I'm happiest activating skills that keep you balanced."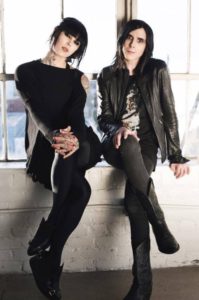 The long player, which Corner decided to record in California desert because "The desert is white noise. You can lose yourself in the details of producing, mixing; it's just silence", sees multiple collaborations with LA's celebrated artist slash tattooist Kat Von D, who provides vocal support on 'Stalker' amongst four out of nine tracks. The subject of love, seductive motifs and sexual obsession prevail, sung by both the master himself and the ink lady clad in red SM gear. The self-confessed "eternal fool" is enslaved with lust, he "will be your shadow, will follow you, never let you go".
'Stardust', even though kicks off gently, it flowers into a fast paced extravaganza of the celebration of love with its forceful rhythm. It's a perfect awakening and a suitable opener to what Corner utilises to shed his demons.
The familiarity of the signature IAMX sound bursts through the album's title track, which actually possesses musical elements resembling Martin Gore's cover of 'Stardust' from 'Counterfeit 2'.
'Alive In New Light' with its superb melodies, masterful vocals and the cleverest use of synths rises above most of Corner's contemporaries. The drum and bass pointers, ambient bubble punctuations and 'Stranger Things'-like arpeggios, alongside gripping jungle sequences create the atmosphere of hope, faith and belief. A belief that Corner's "public therapy" has reached new levels entirely.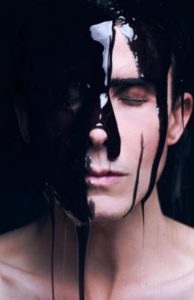 'Break The Chain', with its staccato rhythm, is a randomly urgent and immediate plea for freedom; it rushes through chasing the inevitable, it bewilders.
Corner is far from happy here; he feels he's "sinking with America (…), aching in the strangest places", he will "never break the chain", all engulfed in superb sounds, masterfully put together to create an effect of a heart aching appeal.
'Body Politics' hypnotises in its electro dance manner, bursting with obvious sexuality, while 'Exit' mechanically calms the atmosphere with seductive machines labouring away, heavily pushing forward, working in overdrive while utilising made sounds and voice manipulations.
If 'Bernadette' has come back, she's with 'Big Man', if in filigree tonality only. The obvious political connotations presented over Victorian circus music, are we all on the carousel of madness? "It's a miracle that we made it here", with the curious "privileged prick got to make us his bitches, we lap it up". What better way of summing up the ridiculousness of the world of today.
'Mile Deep Hollow' is a perfect dark love song. Featured in an episode of 'How To Get Away With Murder', aired last November, the alternative romance created a stir within Corner's fans, who described it as a lighter version of the tracks from 'Metanoia'. The hauntingly beautiful melody, twinned with lyrics full of emotion and affection ("thank you, you need to know that you dragged me out of a mile deep hollow, and I love you, you brought me home…") create an unforgettable masterpiece.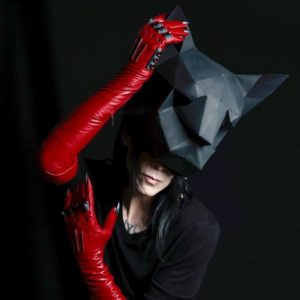 The simple piano entry into 'The Power And The Glory', which resembles a prayer bursting into stunning arpeggiated synth, brings back the familiar melancholia, closing the offering with a mixed emotion. Nothing is simple with Chris Corner, he's still in with the search of his elusive "guiding light".
'Alive In New Light', although still suitably dark, is speckled with hope, gratitude and glimpses of true happiness and, while IAMX continues to transform and evolve, his exploration of musical intricacies is ever growing and awe inspiring.
He's already proven to be a masterfully capable producer, wonderfully versatile writer and quirky lyricist; now with the ever expanding visual aspects of his art and personal merchandise items, Chris Corner is truly "alive in new light".
---
'Alive In New Light'
is released by Caroline International in CD, vinyl and digital formats, available from https://www.musicglue.com/iamx/shop
IAMX 2018 European tour dates includes:
London Electric Ballroom (3rd March 2018), Paris La Machine (5th March), Munich Strom (15th March), Vienna WUK (16th March), Prague Meet Factory (17th March), Dresden Beatpol (19th March), Hamburg Mojo (20th March), Berlin Kesselhaus (21st March), Lviv Malevich (24th March), Kyiv Bel Etage Club (25th March), St Petersburg A2 (27th March), Moscow, RU – Izvestia Hall (29th March), Istanbul IF (31st March)
http://www.facebook.com/IAMXOFFICIAL
https://www.instagram.com/iamx/
---
Text by Monika Izabela Trigwell
Photos by Gretchen Lanham
2nd February 2018