Remember, remember the 9th of November….
Anyone, who descended onto Camden's prime gig heaven, Koko on that very night, will. Koko, a historical venue, having been a theatre, cinema, The Music Machine, Camden Palace and refurbished in the noughties to house many an artist, suited the atmosphere of the night perfectly.
'Metanoia' is Chris Corner's sixth studio album as IAMX, was his hardest to turn out.
Afraid of being "burnt out" and briefly considering leaving music altogether, following a streak of depression, the artist left his seven-year base of Berlin for sunny LA. The realisation that he could create something special by addressing his emotional problems pushed IAMX to give birth to his best work to date. Far more synthy than its predecessors, his "public therapy" has continued with a full on tour of 'Metanoia', seeing North America and Europe bowing in front of the frail frame in awe.
Having just done a gig in Paris on the previous night and crossed the English Channel on a morning ferry, Corner and co were ready to rock Koko with extraordinary power. A far cry from his beginnings in SNEAKER PIMPS, now a fully reincarnated X, he knows how to make the audience go into a frenzy. The limited stage space, crammed with his two girl keyboard players Janine Gezang and Sammi Doll, Jon Siren's drum set and Corner 's central spot was a setting for something amazing.
The opening 'I Come With Knives', which also kicked off his 2013 'The Unified Field' album, dazzled from the beginning with the strong female backing vocal, promising an exhilarating experience from the onset. 'The Alternative' followed, with strong, inspired beats, bursting with added energy from the vibrant keyboards and mesmerising the desirous audience. The familiar melody of the exquisite 'Happiness' from his latest production invited the crowd to shout out the "liars" line eagerly, while one had a feeling of being shown around an art gallery, but with music.
The natural, genuine and hardly pushed frail frame of a man and his side-kick Janine, with their mad vocal set pieces continued with 'Mercy', 'No Maker Made Me', 'Volatile Times', 'Tear Garden' and 'Oh Cruel Darkness Embrace Me'. Then came his iconic and ultimate hit 'Spit It Out', a subject of many covers; this hysteric track has been given a modest makeover for 'Metanoia' tour, and appeared more mellow and subdued than its original version. Nevertheless, it created a stir in the audience, who by then, were ready to give Corner anything in exchange for another beautifully executed track.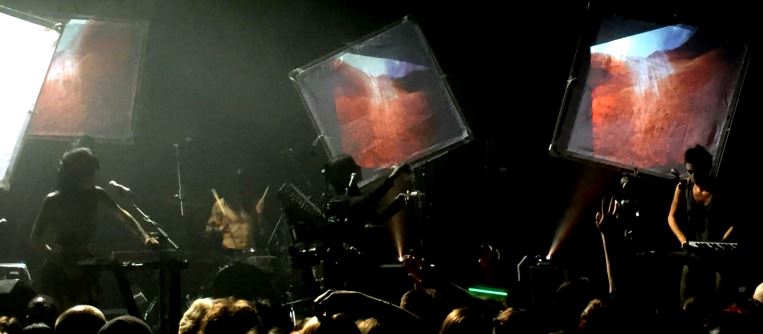 The crowd asked for and the crowd got 'Bernadette'; less cabaret in style compared with the 'Volatile Times' album version, with no guitars and just a minimal bass, it was hardly recognisable yet far better than the original. 'Surrender' and 'After Every Party I Die' came next, seeing the natural talent bare his pain in an atmosphere of systemic noise, telling the audience: "You f*ckers make this project alive" and creating an aura without the need to Elvis twerk or take his top off to impress.
'Aphrodisiac' followed with the weirdest video featuring eye ball licking activities (yes, DEPECHE MODE on 'Tour Of The Universe', that's beaten your 'Strangelove' toe sucking visual!), before finishing off with 'Your Joy Is My Low'.
The petite hooded creature of the darkness emerged one more time for the encore with the additional three mega tracks, 'Bring Me Back A Dog', the immense 'Kiss + Swallow' and 'I Am Terrified' before gently gliding back into the night. The audience, bewilderedly mesmerised and thrown into a dreamy mood floated out of the venue to the beats of 'Warm Leatherette' by THE NORMAL.
Corner sure puts on a show; even if it is on a tiny stage, he and his IAMX posse bring youth, vitality and energy onto the table, sounding vocally immaculate and musically just out of this world.
Many a weathered song writer, including those of major electronic bands, could take a leaf from his book, if only they were more honest with themselves.
It's got to be said that the sound in Koko can be hit and miss; however on this night it was superb. Corner's voice appeared impeccable as ever, with his range oh-so amazing, and sung to multiple microphones for the additional effect.
The drumming was adequately positioned to give canvas to the rest of the performance, but never overpowered, never took over and gently accented the electronic beats.
The scattered visuals with the weirdest of images at times, brought the production together into a hysteria. The feeling of watching a beautifully executed ballet or opera springs to mind; a theatrical experience with the little body diving into the audience at one point.
One thing is certain: Chris Corner creates a legitimate atmosphere that never turns into a limelight for him to step into. All is conceived and created, not contrived. HE IS THE X… HE'S BECOME THE ULTIMATE X NOW!
---
'Metanoia'
is released by Caroline International in CD, vinyl LP and download formats
http://www.facebook.com/IAMXOFFICIAL
https://www.instagram.com/iamx/
---
Text by Monika Izabela Goss
Photos by Keith Trigwell
15th November 2015