Following some singular adventures in the neo-stateside pop of 'The Same Road' and the experimental reggae of The One', avant-pop songstress FIFI RONG is back with a 4 track EP entitled 'Awake'.
She says: "Awake is about waking up to the truth after you have hypnotised yourself and deconstructing the paradoxes of human nature: subordination and rebellion, pain and joy, self-limitation and liberation".
Fresh from a series of special guest appearances with YELLO during their recent European live jaunt where she provided her dreamy elegance to their songs 'Lost In Motion' and 'Kiss The Cloud', the Beijing-born beauty is in a buoyant artistic mood.
Indeed, spending time with Dieter Meier and Boris Blank appears to have had an effect with the angelic air of the 'Awake' title track recalling the solid rhythmic charge of her Swiss collaborators.
Exotic and delightfully odd, the superb aural barrage of 'Attack' really is genre-bending, bursts of drum 'n' bass, techno noise, distortion, computer game bleeps and creepy vocal pitch shifts with rather crucially, a great melody as well.
The rhythmic ragga 'n' hum of 'Horizon' utilises its electronics to full effect, while Miss Rong adds a ghostly resonance, blurring the picture with soprano cut-ups.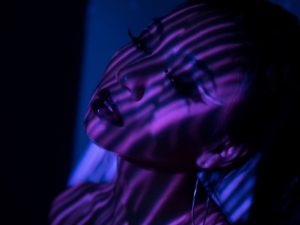 'Sin City' is straightforward Fifi as past listeners have known and loves her, with "the bleak darkness" shimmering alongside her wonderful voice and gentle percussion on the threes conjuring an unusual but divine sound.
Playful yet melancholic, accessible yet intriguing. After the singles trail of the last 18 months, it is great to again have a body of work to represent the current artistic mindset of FIFI RONG in 'Awake'. Curious? Yes, you should be! 😉
---
The 'Awake' EP is available as a CD or download direct from https://fifirong.bandcamp.com/album/awake
https://www.facebook.com/fifirongmusic/
https://www.instagram.com/fifirong/
---
Text by Chi Ming Lai
Photos by Pako Quijada
10th February 2018, updated 2nd March 2018