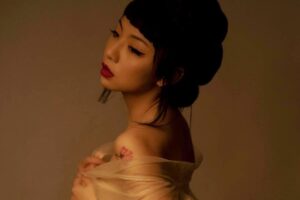 While Beijing-born avant-pop songstress Fifi Rong released her debut self-released album 'Wrong' in 2013, she actually made her first UK TV appearance on 'The Paul O'Grady Show' in 2008 as a member of THE TENORIONS.
Set-up by Yamaha to demonstrate their flagship portable electronic sequencer, when the trio disbanded, Fifi Rong relocated to Bristol in pursuit of her own sound.
Immersing herself in the world of trip-hop and working with the likes of Tricky, she came up with a sensual East West blend that placed her Chinese operatic trained voice within a modern technologically-driven musical backdrop.
One person impressed by her melancholic vocal presence was Boris Blank of YELLO who invited her to sing on the duo's 'Toy' and 'Point' albums. Performing at the Swiss electronic pioneers' live shows in Europe, she met Berlin-based British producer Mark Reeder who she later collaborated with on the track 'Figure Of 8', opening his 2021 'Subversiv-Dekadent' collection which also featured his remixes of YELLO and NEW ORDER as well as the Fifi Rong track 'Future Never Comes'
But Fifi Rong's ambitious second album 'There is a Funeral in My Heart, For Every Man I Loved' is very much her own work. Recorded in English and her native Mandarin versions, it sees her reconnecting with her heritage in a concept album about doomed romance, a favourite subject in Chinese mythology and theatre. Heavy in heart, her haunting vocals are the prime focus of this beautiful listening experience.
Fifi Rong kindly spoke to ELECTRICITYCLUB.CO.UK about the making of her second long playing work and why there has been a five year gestation period, plus her thoughts on art and commerce in the digital world….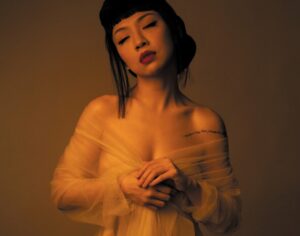 Your first album 'Wrong' was released in 2013, so why has it taken such a long time to follow-up with another long playing work?
I have made 22+ releases since 2013. The world of Spotify and playlist music don't really invite albums. So it's not the best way to go concerning exposure for every single song but I wanted to do it anyway and so people can always come back to this album in the future. A humble release without playing the 'game' so to speak.
It's not like you have been idle over these years, with various EPs, singles and collaborations with Mark Reeder, Lo and YELLO, but have all the different working methods and time constraints made things more challenging?
Yeah, definitely slowed the album down. Touring, one of deals like with W Records, and a Chinese EP release side-track excitement and all. Collaborated with over 50 producers over the years. It's been beautiful. No regrets.
The album begins with 'Out Of Clock', is running out of time our worst enemy?
Time is the most valuable assets to human lives. It's in true melancholic beauty to appreciate and mourn for passed time. The song is most singing about the heart is running out of love after being broken time and time again.
Having once said 'Love Is A Lonely Thing', now 'There Is A Funeral In My Heart, For Every Man I Loved'?
'Love Is A Lonely Thing' was going to be a part of this double album, but the album got too long so I had to let 'Love Is A Lonely Thing' be a single / EP leading into the album. They are very much on the same vibe.
You've delved into your Chinese heritage much more creatively than before, did you feel the time was right in many ways?
Yeah it's like I didn't miss Chinese food till much later in life here in the UK. Growing up through self-realisation, I feel the Chinese heritage part of me needed to be further developed. I miss China, my parents, and my root, and only writing in English is only half of me.
So were these songs written in Mandarin first?
No, English. I think in English, and then rewritten into Mandarin. I wouldn't be encouraged to do the other way round. I also FEEL in English, and I have the ability to turn something into Chinese. This is a recent ability I discovered I had 🙂
Mandarin is such a beautiful language? Do you dream in Mandarin?
Yeah it's beautiful. Hmm depends on if I dream about childhood or family. Then yes in Mandarin.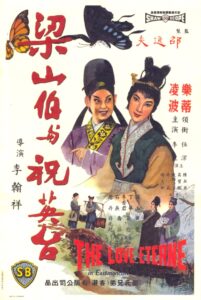 This album captures the notion of doomed romance…
Yeah, melancholic romanticism is almost an abstract feeling even without context I wanted to encapsulate. And I think I really have done it the way I wanted to. Very proud to a point I don't care if others don't like it. I'm just happy I did it.
Have you ever seen the 1963 Hong Kong film '梁山伯与祝英台', known in English as 'The Love Eterne' based on the legend of 'The Butterfly Lovers'? That was the first film I saw in Mandarin when I was a child!
Yes I have. That's very 'Romeo and Juliet'. Unfortunately, I never met someone I wanted to run away with. I only know how to bury them 🙂
Your voice is central to your music; how do you prefer to produce your vocals for recorded work, are there any particular tricks or equipment you can tell us about?
Yes the vocal production took hundreds of hours to compare itself to the big records out there. RX7, thanks to my friend Robert R Smith who introduced it to me, I would have manually edited all the imperfections out one by one. Also both my mixer Oskar Vizan and Robert told me to not record directly to the mic but to do an angle to avoid proximity effect whilst remaining intimate.
Was the album's concept quite traditional in that it is 12 songs with a similar theme, feel and tempo?
I'd say it's a concept album. And no. Traditional concept from my understanding (in recent times) is to have a BIG SINGLE, faster tracks to mix with some downtempo album songs. This is the opposite. I see it as sonic painting, fine art music that will really last, so I can't care less what the industry expects. But if you are talking about traditional in terms of PINK FLOYD times, then yeah, I fully respect that. But still, they had 'Money' that was a huge single, and my least fave on the album. They were pressured to make a single all the same.
So the stylistic jumping around of a modern pop album was not really figuring your mind?
No, I don't create within a framework of I should or should not and try to please a 'market'. I please me first and foremost, and like-minded people will come and find great value in it.
Most of the album's backing is very sparse, 'Beg For Me' in particular, how did you select the instrumental colours you wanted to use? Do you have any favourite VSTs?
Yeah Arturia is the most frequently used virtual instrument, and I have a tendency to go with dusty retro sounds. I was inspired by the Peruvian shaman who cracked my heart open with just Acapella. I wanted to use as little instrumentation as possible, but to make the double album interesting enough, I use some sounds to decorate the vocals. But like you said, this is a vocal-led album for sure.
'Dream On' captures some understated filmic drama, had there been any particular influences musically on this song?
Nah it's a song I've kept for very long… sometimes when the song is so significant, I don't know how the production falls into place. It has a spell on me though every time I listened to it, it took me away till the end and made me forget what I was looking for, such as a mistake in the mix etc. The song came from a dream, it had to be written, it begged itself to come out into the world. Putting on the clothes (production) for this song is just satisfying its own craving.
Do you have any particular favourite songs on the album?
'Another Me', 'Love Yourself First', 'Dream On', 'Beg For More', 'Stay Away', and several on the Chinese side of the album too. 'I'm Enough' is nice too.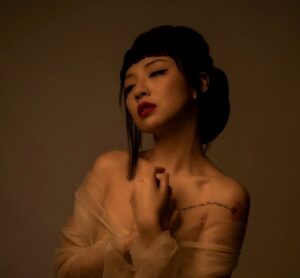 You've ramped up your fan engagement online, how have you found balancing the time meeting their requests and demands?
I've done far more than this for music. But I have opened my heart this year for my supporters, and enjoying the journey!
You've got involved in the brave new world of NFTs?
Involvement is an understatement. I'm in it full time now, I urge everyone to come with me and thank me later 🙂
What's next? Is a live presentation of 'There Is A Funeral In My Heart, For Every Man I Loved' on the cards?
Due to the unpredictability of the pandemic, live tour is not too likely, but maybe something small in London is possible. However, it's more likely to make it a virtual metaverse experience.
---
ELECTRICITYCLUB.CO.UK gives its warmest thanks to Fifi Rong
'There is a Funeral in My Heart, For Every Man I Loved' is available via the usual digital platforms and physically from https://fifirong.bandcamp.com/
https://www.facebook.com/fifirongmusic/
https://www.instagram.com/fifirong/
https://open.spotify.com/artist/64yPy2kBAhOJSRxOEtL3Qk
---
Text and Interview by Chi Ming Lai
Photos by Dylan Chubb
20th December 2021