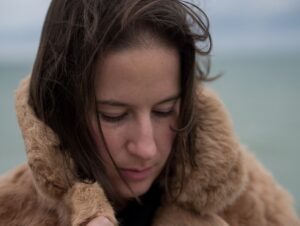 In these days of 40-something males in midlife crisis mode accumulating modulars and Moog Ones like some kind of penis extension, Hattie Cooke's attitude is wonderfully fresh and fiercely independent.
Hattie Cooke is proudly working class and the "Brighton Synth Queen" is of the view that electronic music should not be an artform restricted by background. And with that, she writes, records and produces her music at home using just GarageBand.
Hattie Cooke's eponymous 2016 cassette debut captured a traditional singer-songwriter with a Fender Telecaster who was partial to the occasional bit of synth assistance as on 'Song 14' and 'Shut Your Mouth'. The 2019 instrumental follow-up 'The Sleepers' was an imaginary film soundtrack with the dystopian John Carpenter-inspired tension of 'Evacuation' being a particular highlight.
With echoes of folkie Laura Marling's artier electronic duo LUMP with Mike Lindsay, Hattie Cooke's recently issued third album 'Bliss Land' combines the approaches of its two predecessors and is more intentionally pop than she has ever been before.
The nostalgic 'Youth' captivates via an introspective but accessible vibe reflecting on the excitement and urgency of those formative years; it's a remembrance that many may have felt in these pandemic times with their understandable anxiousness about the future.
An intimate gravitas comes with the expanded electronic texturing on 'Bliss Land' and this is undoubtedly stamped on its opening pair of songs. The hypnotic 'I Get By' is superb with ringing hooks, sweeping soundscapes and airy understated vocals that wouldn't sound out of place on an Italians Do It Better 'After Dark' compilation. Continuing that oblique aural connection, the darker "echo chambers" of 'Mistaken' are reminiscent of IDIB family member Tess Roby via her more danceable side project DAWN TO DAWN.
Droning with an impending doom, 'Invisible Lines' exposes Hattie Cooke's forlorn vulnerability while the delightful instrumental 'Fantasies' expands on the cinematic moods of 'The Sleepers' to reveal the origins of 'Bliss Land' as music for a label specialising in film soundtracks. However, guitars have not completely disappeared with 'Cars', not a cover of the Gary Numan No1 but Cooke's own take on indie synth with elements of THE CURE creeping in.
Born out of hushed anticipation and anxiety, 'Bliss Land' is a largely beautiful set of personal songs that capture the confined surroundings of its creation with hope and trepidation, embracing the fear embroiled in a now-changed world…
---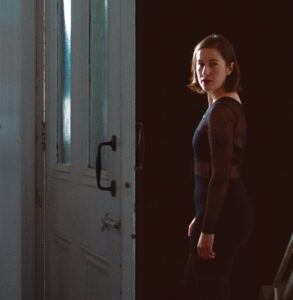 'Bliss Land' is released by Castles In Space and available as a CD, red vinyl LP and digital download direct from https://hattiecooke.bandcamp.com/album/bliss-land-2
Hattie Cooke will be opening for Alice Hubble at London Hackney Folklore on Thursday 7th October 2021
Hattie Cooke's Patreon is at https://www.patreon.com/Hattiecooke
https://www.facebook.com/hattiecookemusic
https://twitter.com/hattiecooke
https://www.instagram.com/hattiecookemusic/
https://hattiecooke.bandcamp.com/
https://open.spotify.com/artist/70bAR5vP3r1txDXLnNC3ee
---
Text by Chi Ming Lai with thanks to Adam Cresswell
Photo by Chris Standley
25th September 2021