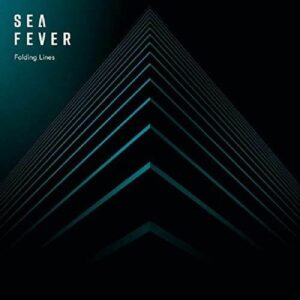 Manchester, so much to answer for…
SEA FEVER are a new but seasoned quintet whose musical family trees link up through their various associations with some of the city's best known bands such as NEW ORDER, THE SMITHS, SECTION 25 and THE FALL.
Comprising of Iwan Gronow, Beth Cassidy, Tom Chapman, Phil Cunningham and Elliot Barlow, their debut album 'Folding Lines' is the sound of a band instinctively working together, exploring the music that has inspired each band member to merge into a new whole.
Aiming to explore new sounds and unusual instrumentations, examples of this approach come with the sombre indie rock of 'Crossed Wires' where Phil Cunningham's guitar sounds are played through one of Tom Chapman's synths and 'Built To Last' which uses a string quartet to complement the virtual orchestra sound.
Similarly filmic, 'The Finder' takes inspiration from the soundtracks of Bernard Hermann, Georges Delerue, Ennio Morricone and Ryuichi Sakamoto, while a hammered dulcimer makes an appearance to add tension and mood to the dual vocalled 'Folding Lines' title track.
'Under Duress' also exudes a particularly expansive sound with electronics, strings and anthemic vocal lines like Björk's 'Homogenic' meeting a modern Mancunian Spaghetti Western soundtrack, while the buzzing electronically assisted indie rock of 'Afterthought' is equally spirited.
Two of the album's best songs are tightly electronically driven; 'De Facto' is a delightful indie-disco feast with an adrenalin rush guaranteeing dancefloor satisfaction. Meanwhile cut from a similar cloth, the slightly less frantic 'Le Coup' sees Beth Cassidy take the lead vocal over a blend of many Mancunian club influences.
Closing with a choir on 'Programme Your Life' recorded at the Royal Northern School of Music in Manchester alongside woodwinds and strings, 'Folding Lines' is an eclectic collection of music showcasing no particular sound or feel other than being SEA FEVER.
If you a fan of any of the bands that SEA FEVER are linked with, you will be sure to love at least 3-4 tracks. Although all the members have other bands to return to, album number two has already been written, so more is to come…
---
'Folding Lines' is released by Kartel Records on 22nd October 2021 in vinyl LP, CD and digital formats – pre-order from https://seafever.lnk.to/foldinglines
SEA FEVER play Manchester Night & Day Cafe on 22nd October and London Rough Trade East on 29th October 2021
https://www.facebook.com/seafeverband
https://twitter.com/SeaFeverBand
https://www.instagram.com/SeaFeverBand/
---
Text by Chi Ming Lai
Photo by Anthony Harrison
17th October 2021