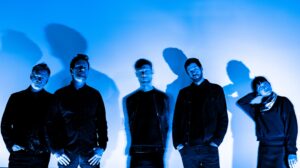 SEA FEVER are the new eclectic Manchester combo featuring second generation members of SECTION 25 and NEW ORDER, Beth Cassidy, Tom Chapman and Phil Cunningham.
Fronted by Johnny Marr band member Iwan Gronow, sticksman and BIMM Tutor Elliot Barlow completes the experienced quintet.
With their debut album 'Folding Lines' due out in the Autumn, SEA FEVER began their journey with the sombre indie rock of 'Crossed Wires'. Meanwhile the 'Folding Lines' title song offered some orchestrated filmic drama.
However 'De Facto' was a delightful electro-disco feast with a rhythm rush that screamed strobelights and likely to fill indie club dancefloors while also crossing over to lovers of synth. Cut from a similar cloth if less frantic is the upcoming album cut 'Le Coup'.
Overall, 'Folding Lines' is the sound of a band instinctively working together, exploring the music that inspired each band member to merge into a new whole. With the rousing new single 'Under Duress' breaking cover, Tom Chapman and Beth Cassidy chatted to ELECTRICITYCLUB.CO.UK about the making of the 'Folding Lines' album and the chemistry within…
So how does SEA FEVER differ from the other bands and projects you have been involved in?
Beth: This feels really different for me… the SEA FEVER set-up seems to flow in and out of these real intense periods of focus, working together, and then calmness.
Tom: SEA FEVER has a really good chemistry between all band members. We're all on the same page musically and pushing forward in the same direction.
Did you set out to present a particular sound? In terms of direction, were you setting out any particular templates or did anything go?
Tom: I wanted to explore new sounds and unusual instrumentations for this album, I also experimented with sampling beats and noises to generate unusual rhythms throughout the LP, but the key thing was to deliberately push myself out of my comfort zone with the songwriting.
How would you describe the band creative dynamic?
Tom: I'll usually come up with instrumental song demos that I will pass onto the rest of the band, it's a collective effort and only sounds like a finished SEA FEVER song once everyone have added their musical parts. We took a road trip to France during the writing process before lockdown, the idea was to immerse ourselves into the creative process without any distractions, we packed out the studio and instruments and headed to Brittany, it was intense but very prolific, 'Beleaguered Land' and 'The Finder' came out of that trip.
Was there anything that was brought to the table that perhaps wouldn't necessarily have been considered in another band or project?
Beth: I'm sure Tom had a vision in his mind of a set-up with two singers up front, working in tandem.
Tom: We made use of a choir on 'Programme Your Life' recorded at the Royal Northern School of Music in Manchester alongside a clarinet and a string quartet, I'd never tried anything like this previously on a song. A hammered dulcimer makes an appearance on 'Folding Lines', adding perfect tension and mood to the track. Phil experimented a lot with guitar sounds, he played his Gretsch through one of my synths on 'Crossed Wires'.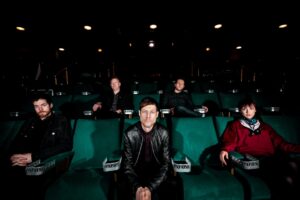 One of the influences mentioned in the SEA FEVER playlist is Neil Young's polarising 'Trans', what fascinates you about this record?
Tom: This is one of Phil's choices, he is a big fan of Neil Young's guitar playing and songwriting. I think he loves the fact it doesn't sound anything like Neil Young's previous releases, it sees him experimenting with vocoder on his vocals, it confused his fans at the time. Great album, a real hidden gem.
The new single 'Under Duress' has a particularly expansive sound with electronics, strings and anthemic vocal lines, had there been any particular inspirations here?
Beth: Iwan left these natural pauses throughout his vocal arrangement, so I filled them with subtle, sweeping harmonies. It seemed to balance things out really well. I was listening to Björk's 'Homogenic' album at the time. It was the first track we all worked on together actually.
Tom: I am proud of that one and the way it turned out, a lot of thoughts went into it. One of the first ideas we worked on as a group, it was a good indicator of what was to come musically. It's a beautifully crafted song with great lyrics and haunting melodies, great guitar work from Phil, and Elliot's drumming is class, it perfectly captures the essence of a modern Mancunian Spaghetti Western soundtrack with a beat.
There are quite a few string orchestrations on the album like on 'Built To Last', but with everything going on, were these synthesized by necessity or were you able to assemble the real thing?
Tom: They are combined. We used a string quartet on the album to complement the orchestra sound.
There are a number of blinders on this album, the club friendly 'De Facto' with its electronic sequencing in particular, what was the genesis of this and how did you achieve the balance between dance and rock?
Tom: I think being part of NEW ORDER really helps for that! The writing of 'Music Complete' was a big learning curve for me as a songwriter and producer, I picked up a lot from the studio experiences acquired working with Tom Rowland from THE CHEMICAL BROTHERS and the rest of NEW ORDER, all this was applied on this record. I was locked in my studio for days programming the sequencing on 'De Facto' with one synth triggering another, it was a bit of an experiment but came out really good in the end! We didn't want the final result to be a conventional structured song, it's more a melodic beat and bass generator with the sole purpose of dragging you onto the dance floor!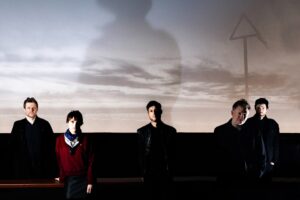 Another track in a similar vein but less frantic is 'Le Coup' which sees Beth take the lead vocal and is a blend of many Mancunian influences, how did that come together?
Beth: Haha, slowly…! It was a labour of love, a marathon of edits, back and forth over email. We figured out the general vibe and main vocal melodies quite early on, but then the main structure evolved quite a bit over time.
'The Finder' captures a solemn Spaghetti Western feel, did influences from cinema come into play when making the record?
Tom: Majorly yes! I've always been a big fan of film scores from Bernard Hermann, Georges Delerue, Ennio Morricone, Ryuichi Sakamoto to name a few.
Which are your own favourites tracks from the 'Folding Lines' album?
Beth: 'De Facto' is a banger to play live, it's fun and chaotic!
Tom: That's a tough one ! I like them all. I think the album is very coherent from start to finish and the interplay between songs works really well.
SEA FEVER were able to film some live performances which are now acting as trailers for the album, do you see the concert setting as the best way to experience the band?
Beth: From the offset, we always set out to play our songs live, you go through the writing and production process in a new band, and you never think in a million years that you won't physically be able to play live… it was such a weird time, and a real downer. We had all this new material that we were just sitting on for months! We're dead excited to play our first actual gig….
Tom: Absolutely, we can't wait to get out there and play some shows, songs take on a life of their own when played live. We keep evolving as a band in rehearsals and some of the song's interpretations are now different, it keeps the creative juices going and makes it interesting for us as a band.
Have you been able to get out to view the 'Use Hearing Protection' Factory Records exhibition at the Manchester Science + Industry Museum?
Beth: Yeah, it felt like a really comprehensive exhibition, unreleased posters I'd never seen before, loads of hand written ramblings, one of the Factory envelopes on display has my first home address scrawled across it… one person's junk is another person's treasure!
Tom: Not yet, it's on the "to do" list!
It's been a tough 18 months for many, what are your hopes and fears for the future?
Beth: I hope we can all enjoy live music and other arts events together soon. That beautiful connection you have with other people when you're experiencing something live together in that moment, it's priceless, it's like therapy for me. To watch and to play.
Tom: The last 18 months have been tough for many reasons, the lack of interest and support shown by the government regarding The Arts in general has added to the frustration to be honest! But on the positive side, it's shown us that music plays a big part in people's daily lives. Being a lockdown band or "Rockdown" as I like to call it without doing gigs has been a challenge to say the least, But musicians are resilient and where there's a will there's a way. My hope is that when things open up and gigs are fully allowed again, people will go mad for it!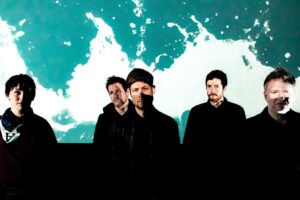 What is next for SEA FEVER? Will this just be a one-off adventure or will there be more music?
Beth: We're not going anywhere…. already writing new material!
Tom: One of the good things that came out of these lockdowns was the amount of time we got to spend in the studio writing and being creative, album number two is done, next is recording it. Loads more to come from us…
---
ELECTRICITYCLUB.CO.UK gives its sincerest thanks to SEA FEVER
Special thanks to Federica Furlotti at Kartel Music Group
'Under Duress' single is out now via Kartel Records, 'Folding Lines' is released on 22nd October 2021 – pre-order the album 'Folding Lines' from https://seafever.lnk.to/foldinglines
SEA FEVER will play Manchester Night & Day Cafe on 13th August 2021, the evening will also feature a DJ set by Stephen Morris and Gillian Gilbert – tickets available from https://www.gigantic.com/sea-fever-tickets
https://www.facebook.com/seafeverband
https://twitter.com/SeaFeverBand
https://www.instagram.com/SeaFeverBand/
---
Text and Interview by Chi Ming Lai
Photos by Anthony Harrison
5th August 2021