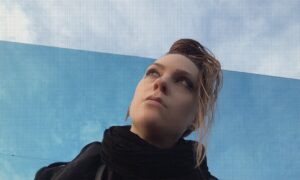 Brigitte Handley is the Australian singer-songwriter who was the guitarist in the self-explanatory alternative rock band DARK SHADOWS.
2013's 'The Boy From Berlin' indicated a fascination with Germany and after her first solo acoustic outings following the disbandment of DARK SHADOWS, Handley relocated to Cologne or Köln as it is called by the locals.
"When I began to explore ideas for the 'Köln Visions…' EP, I thought about how I could capture the moods and feelings that this city evoked in me when I first arrived as a stranger in a new land" she said; part of that new land was the murky world of synthesizers.
Like her fellow German-based Aussie Alison Lewis, Brigitte Handley possesses a resonant contralto delivery. Conveying the fear, uncertainty and wonder of a new artistic path with the help of the Sydney based creative collective MATAHARI RANCH, Handley explores electronics while remaining in touch with the post-punk influences of her former band.
A stark rap over a percolating backbone dominates the opener 'Köln' but on the sung choruses, a Doppler effect illustrates the tension of a U-Bahn ride in the cathedral city while icy string machines bolster the monochromatic chill; with Handley resigned to being "Alone again in Cologne again", this pronouncement of gloom is exactly what Shirley Manson would sound like if she did darkwave.
The impressionistic 'Daylight…' utilises an almost audible rhythm construction swathed in a dense collage of synths and vocoders to provide the minimum of glimmer like an aural metaphor for the uncertainty of the past 18 months. Meanwhile, 'Lament of a Lost Soul…' is a MATAHARI RANCH rework of the DARK SHADOWS song from 2011 and is unsurprisingly the most traditional song offering on the EP; rooted in folk with doomy tales of "long lost souls", it comes off well with a new foreboding drone accompaniment and minimal guitar.
With a shuffling swing, 'After Dark' is distinctly indie goth and is instrumentally so, before closing with the MATAHARI RANCH remix of 'Still Lives…' which presents the type of eerie cinematic ballad that Kat Von D wouldn't be unhappy to record herself.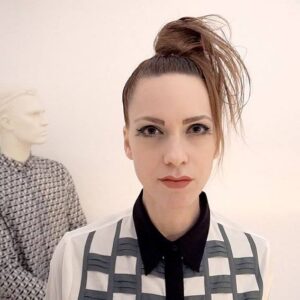 It is interesting to note that these two more guitar dominated songs that conclude 'Köln Visions…' have more dynamic presence than the first three electronica numbers which have a mushy DIY mix that lacks the impact of Alison Lewis' work as ZANIAS or LINEA ASPERA. Saying that, that opening trio capture a distinct claustrophobia whether intentional or not.
'Köln Visions…' is an intriguing mix of European electronic music and dark goth rock to document Brigitte Handley's current surroundings and state of being. She will find her feet as she develops her new sonic direction and this promising Maxi EP is a sign of more accomplishments to come.
---
'Köln Visions…' is released by Select-A-Vision as a 12" indigo blue coloured vinyl Maxi EP and download, available from https://brigittehandley.bandcamp.com/album/k-ln-visions-2
https://www.facebook.com/brigitte.handley
https://www.instagram.com/brigittehandley/
https://www.facebook.com/matahariranchmars
https://www.instagram.com/matahariranch
https://open.spotify.com/album/02ho2ptGTXF9ldmyoIz8f0
---
Text by Chi Ming Lai
9th August 2021