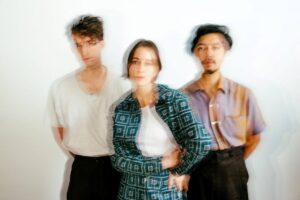 'This Fractured Mind' is the best of the three trailers released so far by NATION OF LANGUAGE ahead of their upcoming second album 'A Way Forward'.
Dealing with the spectre of unrealised dreams and jealousy towards more successful others, by the end of 'This Fractured Mind', any inferiority complex is countered with hopeful acceptance in line with the new album's optimistic title.
Vocally like a majestic cross between THE NATIONAL and A-HA, NATION OF LANGUAGE are led by singer /songwriter Ian Devaney; his wife Aidan Noell on keyboards and returning bassist Michael Sui-Poi complete the line-up.
Using a rigid motorik backbone and capturing a danceable ethereal shudder, 'This Fractured Mind' breathes new life via its sprightly synth tones in a reference to the past. Although there is also some frenetic bass guitar grit to provide a hint of claustrophobia, the machines that had only been friends previously have now become family…
Possibly the nearest act musically to the much missed MIRRORS at the moment, NATION OF LANGUAGE seem to get synthier with each release. 'On Division St' from their debut long player 'Introduction, Presence' revealed itself to be a second cousin to NEW ORDER's 'Bizarre Love Triangle' with its sharp synth lines and programmed bass triplets. But a late 2020 standalone single 'Deliver Me From Wondering Why' used a more blippy construction compared with the post-punk approach of their earlier work and explored the more experimental phase of OMD.
Ian Devaney's artistic epiphany came when he heard OMD's 'Electricity' in his father's car for the first time in years, having grown up with it as part of his domestic soundtrack. Inspired to write songs with modern monophonic synths like the Behringer MS-1, Moog Sub37 and reissued Korg MS20, he adopted a fresh beginner's mind towards the electronic pop form.
With such an affinity towards pioneering British new wave bands like NEW ORDER and OMD, NATION OF LANGUAGE's tour of the UK in early 2022 could be seen as a sort of spiritual homecoming for the Brooklyn-based trio.
---
'This Fractured Mind' is from the upcoming album 'A Way Forward' released on 5th November 2021, pre-order from the band's website shop or https://nationoflanguage.bandcamp.com/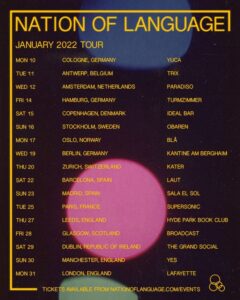 NATION OF LANGUAGE 2022 EU + UK tour includes:
Copenhagen Ideal Bar (15th January), Stockholm Obaren (16th January), Oslo Bla (17th January), Berlin Kantine Am Berghain (19th January), Zurich Kater (20th January), Barcelona Laut (22nd January), Madrid Sala El Sol (23rd January), Paris Supersonic (25th January), Leeds Hyde Park Book Club (27th January), Glasgow Broadcast (28th January), Dublin Grand Social (29th January), Manchester YES Pink Room (30th January), London Lafayette (31st January)
https://www.nationoflanguage.com/
https://www.facebook.com/nationoflanguage
https://twitter.com/notionofanguish
https://www.instagram.com/nationoflanguage/
https://open.spotify.com/artist/5JWBow4ywgKNQ5HBxY8hcz
---
Text by Chi Ming Lai
10th August 2021