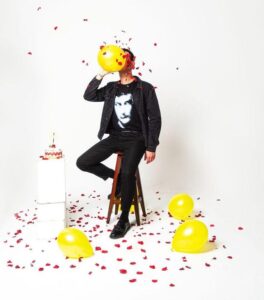 Istanbul-based JAKUZI released their debut album 'Fantezi Müzik' in 2017.
The musical vehicle of Kutay Soyocak, JAKUZI impressed with their 2019 second album 'Hata Payı' (translated from Turkish as "Tolerance") with the NEW ORDER influenced synth driven post-punk anthem 'Toz' being a key track.
JAKUZI release their first new music in two years with a two song EP 'Açık Bir Yara'. The best of the pair is the great new Italo flavoured song 'Hiç Işık Yok'. The usual cowbells are substituted by processed pots and pans, while the mix of classic brassy Italo tones and chilling synth pads blend to create something rather unusual and extraordinary.
The approach to the vocal intonation on 'Hiç Işık Yok' recalls the sinister but celebratory club romp 'Take Me To The Club' by MANNEQUIN from the Electroclash movie 'Party Monster'; it has been co-produced with Maurizio Baggio who mixed the most recent albums by BOY HARSHER and THE SOFT MOON. Working with the man from Vicenza, the Italian turned what had been a gothic futureless mood piece into a dark but catchy dance number.
Meanwhile the accompanying 'Açık Bir Yara' title song co-produced by Kerem Brumend takes more of a gothic vibe like an EBM flavoured DEPECHE MODE with Soyocak sounding perfect for its sombre mood.
Both songs show an increased use of electronics compared with JAKUZI's previous output and were written before the pandemic crisis, but their release is timely as they address the world's changing needs while many reconsider the priorities in their lives. Never afraid to address the sort of personal psychological and mental health issues not known for public discussion in Turkish society, JAKUZI continue to offer a voice of hope.
---
'Hiç Işık Yok' is released by City Slang as part of the 'Açık Bir Yara EP' bundle, available as a download from https://jakuzi.bandcamp.com/
https://www.facebook.com/jakuz1/
https://www.instagram.com/jakuz1/
https://open.spotify.com/artist/0xeyL5pfnTtx7LGpqLo4PG
---
Text by Chi Ming Lai
11th August 2021