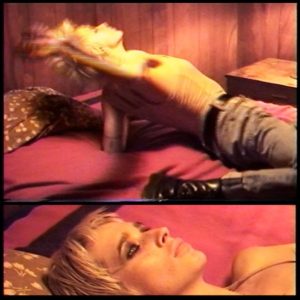 BOY HARSHER formed through an urgent need to produce and consume, so by the winter of 2014, Jae Matthews and Augustus Muller started to experiment with sound, video and text.
With just a few synths, a drum machine and a laptop, their second full length album 'Careful'
was conceived in Massachusetts, with the duo utilising their minimal electronics and intense demeanour to create a compelling narrative of a deteriorating family and a need to escape from it, expressing an understanding of love and loss, fear and joy, tenderness and pain.
An introductory mood piece 'Keep Driving' opens 'Careful' with a building percussive mantra, but the stark drama of 'Face The Fire' is eerie and unsettling while also accessible, with driving drum machine rhythms and cosmic synth hooks all present and correct, despite Jae Matthews' expressions of discomfort. Meanwhile, 'Fate' is a brilliant sister song to 'Face The Fire', coming over like ADULT. meeting THE KVB with hints of SAVAGES too.
'LA' features a wonderfully incongruous mix of icy string synths and orchestra stabs for an enticing display of mutant electronic disco, but brilliantly sinister thanks to its varied use of effects and Matthews' mournful demeanour. Things get even more urgent and frantic with the pulsating 'Come Closer', its rhythmically threatening backbone and fraught tension providing an uneasy but thrilling listen!
What is captivating about 'Careful' is the fabulous range of synthetic sounds on display, as exemplified by 'The Look You Gave (Jerry)', a perfect number for those seeking substance craving a darker edge to their synthpop… and yes BOY HARSHER are pop because they do have tunes, even if they dress them up in an appealingly unconventional and morose manner.
'Tears' follows the pattern laid down of 'Careful', strangely chunky and danceable with Matthews all deviantly alluring, while the more abstract 'Crush' takes proceedings down in a suitably claustrophobic manner. A steadfast hypnotism appropriately directs 'Lost' towards the final straight before a short cerebral conceptual piece for the closing title track.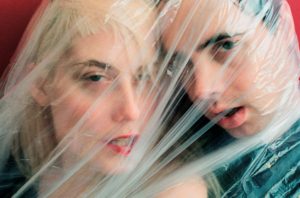 With 'Careful', BOY HARSHER have refined their template without losing any of their unsettling edge. This is the first really great album of 2019, with the six song sequence from 'Face The Fire' to 'Tears' particularly outstanding.
With that, the final third does suffer slightly in comparison but this does not detract from what an excellent work this is, a fine musical document confronting personal demons and traumas.
---
'Careful'
is released on 1st February 2019 by Nude Club Records in neon orange vinyl LP, CD, cassette and download formats, pre-order from http://www.boyharsher.bandcamp.com
BOY HARSHER play the following UK dates:
Bristol Lanes (24th February), Leeds Wharf Chambers (25th February), Manchester Soup Kitchen (26th February), London Heaven (27th February)
https://www.facebook.com/boyharsher
https://twitter.com/boyharsher
https://www.instagram.com/boyharsher
---
Text by Chi Ming Lai
Photo by Nedda Afsari
21st January 2019