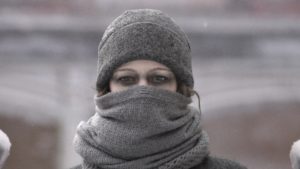 ELECTRICITYCLUB.CO.UK first spotted Swedish songstress Karin My singing with veteran combo TWICE A MAN on their 2015 poignant environmental catastrophe warning 'High In The Clouds'.
Indeed, her dulcet tones made their 'Presence'
felt on another pair of TWICE A MAN tracks from the same titled parent album.
Meanwhile she also contributed to two covers 'The Man in Grey' and 'Just A Sound In The Night' on Cold War Night Life's 'Heresy: A Tribute To RATIONAL YOUTH' compendium in 2016.
But with 'The Silence'
, she releases the first truly great song of 2019. Swathed in beautiful synths and embroiled in that wonderful Nordic melancholy, her gorgeous vocals evoke a forlorn abandonment just as winter sets in and confronts the dilemma of whether to give up…
The eerie snow laden video directed by Millfield cleverly utilises a miniature set and has haunting echoes of 'Den Lille Pige Med Svovlstikkerne', the famous short story by Danish author Hans Christian Andersen. In it, our heroine embarks on a chilling journey which sadly has no happy ending.
With roots in the folk tradition like Vince Clarke, Karin My composes using an acoustic guitar, a fact exemplified by a 2008 solo single 'Voice In The Wall'. But with a profound love of LUSTANS LAKEJER, DEPECHE MODE, RATIONAL YOUTH, MESH and KITE, her Korg MS20, Roland Juno 106 and Moog Little Phatty will usually find a way onto her productions.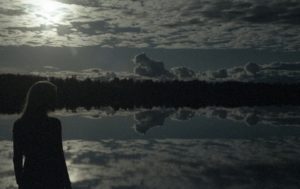 Also adept at cello, percussion and dance, the multi-talented singer songwriter describes herself as having a "Strong body, weak heart in a constant radiant of love and tears". 'The Silence' is the first of four songs by Karin My which are scheduled for release during the first half of 2019. With her honest heart in quality electronic pop music, she will be an artist to watch in the coming year.
---
'The Silence'
is available on most digital platforms via Ad Inexplorata
https://www.instagram.com/karinmymusic/
https://www.facebook.com/Ad-Inexplorata-361838160540139/
---
Text by Chi Ming Lai
16th January 2019