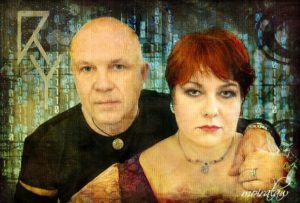 Montréal's RATIONAL YOUTH were founded in 1980 by synth enthusiasts Tracy Howe and Bill Vorn.
Along with PSYCHE and MEN WITHOUT HATS, they were among the trailblazers for electronic pop in Canada, a country that has more recently produced acclaimed acts such as GRIMES, PURITY RING, AUSTRA, TR/ST, ELECTRIC YOUTH, PARRALELS, MECHA MAIKO and LOLA DUTRONIC.
Later joined by Kevin Komoda, RATIONAL YOUTH quickly made an impression and supported OMD at Auditorium Le Plateau in March 1982. Shortly after, the trio released 'Cold War Night Life', one of the first ever Canadian synthpop albums. It was later to became a cult favourite in Sweden where its influence was readily felt in their domestic electronic scene. Indeed, a 1997 RATIONAL YOUTH reunion concert with Howe and Vorn took place in Lund, Sweden.
Today, Tracy Howe remains the main man of RATIONAL YOUTH with his wife Gaenor ably augmenting the line-up for recordings and live shows.
Featuring 'Here It Comes Again', an EP of new material 'Future Past Tense'
was released in 2016 and showcased 'This Side Of The Border', a burst of futuristic sci-fi electronica with a typically gloomy lyric from Howe that captured the tensions of the world's current socio-political climate. It's as if the fall of the Berlin Wall never happened and for that reason alone, RATIONAL YOUTH's observational ethos is poignantly relevant again.
Meanwhile this year, RATIONAL YOUTH recorded a charming cover of 'Flash In The Night' for the 'Night City Tribute' album to the popular Swedish new wave pop band SECRET SERVICE, the 1982 original of which was a No5 in France.
RATIONAL YOUTH will be playing live in London for the first time at Non Stop Electronic Cabaret on Saturday 29th September 2018. Presented by Cold War Night Life, the triple header will also feature PSYCHE and Swedish poptronica veterans PAGE.
Tracy Howe kindly chatted to ELECTRICITYCLUB.CO.UK following completion of this summer's 'Canadian Synth Legends Tour' with PSYCHE…
'Cold War Night Life' is considered a landmark in Canadian independent music and now a number of the song's themes have become relevant again?
Well they seem prophetic now because we seem to be at a similar point in history.
In 1982, it wasn't just the Cold War, it was the Cold War being fought by Reagan, Brezhnev, Andropov and Chernenko. The doomsday clock was pretty close to midnight. It felt very much like it does now, you know, a sense of impending doom.
Now we seem to have some sort of coordinated US-Russia global push toward authoritarianism and nativism, and rule by oligarchs, and the whole post-World War Two international consensus is being blown to bits. It feels like we are on shaky ground. The 'Cold War Night Life' album was about trying to enjoy life under trying circumstances.
What bands most influenced the sound of RATIONAL YOUTH?
Obviously KRAFTWERK, because when we started there weren't really many other models yet for an all synthesizer band; and also the early HUMAN LEAGUE, and post-punk artists like ULTRAVOX and MAGAZINE. We also liked KLAUS SCHULZE and TANGERINE DREAM, and projects like CLUSTER & ENO. Bill Vorn and I started the band because we both liked this music, and had synthesizers, and the idea was to combine some of the cool minimalism of KRAFTWERK with more specifically song-oriented composition and vocals.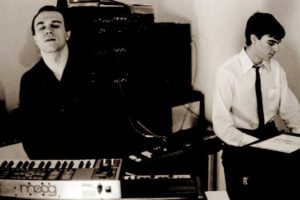 What particular synthesizers were you using for the 'Cold War Night Life' album and how did you find them to use?
It's quite a list. We had three Roland System 100s, and a Roland System 700. These were modular synths that were controlled by a Roland MC4 Micro-Composer, which was a digital sequencer that could output CV and gate to four monophonic synths.
So most of the sequenced stuff went through all that. We also had Roland and Korg analog sequencers that could be synched to that stuff too, and then we had a Roland CR78 first and then a TR-808 drum machine.
We also had a Roland SH5, Moog Source, a Pro-One, a Logan String Melody II and a Roland SVC350 vocoder. The sequencing with the MC4 was much more labour intensive and tedious than it is today with Logic or something, you basically entered the notes in one at a time with several steps involved in formatting that one note. On the other hand it was pre-MIDI so the clocks on those machines were fast and tight, really punchy.
As a one-time drummer, you must have found the Roland TR808 something of a revelation?
Well, I believe we bought one of the first ones to come into Canada. The programmability was mind-blowing, so intuitive, and it had a fair amount of storage. The CR78 had four memory presets and the rest was organ lounge accompaniment, so right away the 808 was liberating. The other thing was the sound, which we all know. I remembered how inspired we were when we got that thing. We plugged it in the first time and it blew our faces off it was so nasty. As time went on, we used Linns and so on, but now I keep coming back to 808 sounds. It kind of defined our sound in a lot of ways really.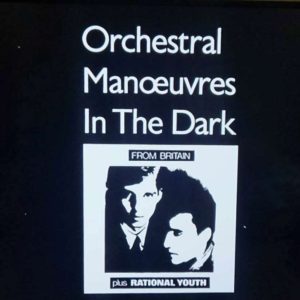 Can you remember much about opening for OMD at Montréal's Auditorium Le Plateau in 1982?
Yes, I remember being really nervous! It was a fairly large concert hall, a thousand seats or so, and this was going to be only our second-ever gig. I remember showing up while OMD's sound check was going on and before that I thought you know "'Enola Gay', 'Electricity', it's not THAT different from us", but they had a live drummer and they were sound checking his kick drum and floor tom through this massive PA and it sounded like the hammer of Thor, and I thought "hello, we're going to sound ridiculous next to this!".
As it turned out, it went over really well and people seemed to react to us in a way that indicated that they'd never seen or heard anything quite like it, and we got mentioned in the daily press reviews of the concert positively, so it was really a thrill for us.
'Holiday In Bangkok' is considered by many to be one of RATIONAL YOUTH's signature tunes but comes a few different versions, which one is the definitive one for you?
Arguably the first one from 1983, because it's got a harder edge than the 1985 one. They're essentially the same tracks, just mixed differently. I like the live version too.
The RATIONAL YOUTH back catalogue is rather awkwardly spread out over a number of labels, have you any thoughts on how the music industry has changed over the last 15 years in particular?
I honestly can't moan about how things are now, because we were actively (and idealistically) promoting the sort of deconstruction of the record industry that we see the result of now from the moment we started.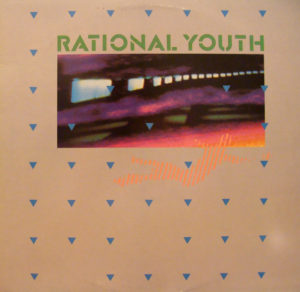 The way we recorded was a precursor to the in-the-box home recording that has democratised everything to do with the way records are made now. We would come into a recording studio with half of the stuff already programmed, set up the gear, tell the guy to press record and hey presto, there's half of the record recorded. They'd never seen that in Montreal before. It was already commonplace in London of course. And today, I'm very happy to be able to make a really decent record at home, and get somebody good to master it (and that process has changed too).
As for how it gets distributed, I suppose I am not thrilled about streaming, simply because of the miniscule remuneration artists get, but then I never made anything off records under the old model anyway, so what has changed? You know THE BEATLES' royalty rate for their first Parlophone record was a PENNY (1d) a side.
A nice thing about the way things are now is it seems as though the vinyl revival is for real. So the reward for me is being able to make real records, they may not sell lots, but we can keep doing it, and to me a vinyl record is a real artefact, like when a painter does a lithograph and prints a certain number of copies. You feel more like you created something tangible than an audio file on the cloud somewhere.
Why have you recently decided not to play the US for the foreseeable future?
We live in Canada, only 45 minutes from the US border. I actually knew Canadians who died fighting for the US-led coalition in Afghanistan. We spent a lot of blood and treasure over the last century being good little allies to them. Now this Trump regime is attacking us in trade disputes because they have decided we are a security threat to the US, and accordingly their Department of Homeland Security is going hardcore on the border (not the one with Mexico, the one with us) and have been harassing Canadians trying to cross.
This has gotten worse since Canada legalised marijuana, and they have been banning Canadians for life if they say the wrong thing. But more than that, we just see them veering very close to all-out authoritarianism, and this is not just a sneaky coup, they are doing this daily, and it's all out in the open.
The model appears to be something like Russia, where you have elections but you know, it's an authoritarian regime in thrall to oligarchs. It seems obvious to me. Certainly there is some resistance, but apparently 40% of Americans are 100% per cent behind this racist, theocratic regime that above all else seems to be hell-bent on destroying the environment of this planet with their systematic dismantling of any standards they did have. 40% is a higher level of electoral support than Adolf Hitler had when he became chancellor of Germany in a hung parliament. Remember when we used to always wonder how the Germans let Hitler come to power? Well, now we know.
So I could say it's like in the days of Apartheid South Africa and that "I ain't going to play in Sun City", or just say that, except for a few places on the two coasts where it might be nice to play, we can just as easily not go there, and go somewhere nicer.
'This Side Of The Border' from 2016 seems to have prophetically summed up this situation?
Yes, because we like to think that in Canada, we try to have an inclusive society which is more egalitarian, with a greater sense of collective responsibility, than on the other side of the border. And I'll admit that we Canadians are second to none in the holier than thou department, but we have our own Boris Johnsons and Donald Trumps too, although they don't hold sway yet. That's why the song says "Maybe here on this side of the border, there is still a chance that things can change".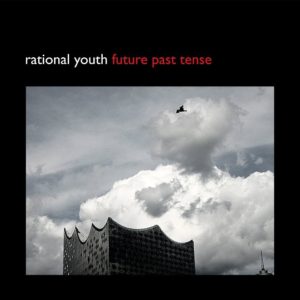 'Future Past Tense' was the first longer form collection of all-new RATIONAL YOUTH material for many years, was it a cathartic experience to channel some of that midlife angst?
Oh yes, unquestionably. It really was very much that. And getting back to your very first question, it just feels right to be doing this now, whereas for many years it didn't make any sense to me to do it.
Thank God people who always liked us stayed with us and were there to welcome us back.
Has the album as a vehicle had its day, are EPs and singles the way to go?
I'm not sure about that. I think in mainstream pop music albums are much less important now, especially since so much of it is consumed online, but for our sort of music I think all three formats have a place.
For me, if it's an LP or an EP, it's got to have a fully formed identity. Our last record was an EP, and we deliberately wanted it to be, so that it could be a 10 inch. We just really wanted a 10 inch record, so the form was important conceptually. The next one will most likely be a full-length LP, but that doesn't mean we won't do another EP. I've always loved EPs though. I have all these vintage EPs by THE SHADOWS, THE BEATLES and CILLA BLACK which are 7 inch 45s with four tracks on them.
RATIONAL YOUTH remain popular in Scandinavia, why do you think your music has an enduring appeal in that region?
Well that's an easier question than how they latched onto us in the first place. I think the Swedes have a natural affinity for synth music, and pop music, and thus, synthpop. And for whatever reason, the generation who were in their teenage years in the 1980s have passed it on to their children. And the older ones are incredibly loyal, and if they loved you then they love you forever. And perhaps they relate to it because bands like COVENANT have always said nice things about us being an influence and that contributes to it. It's really a second home for us.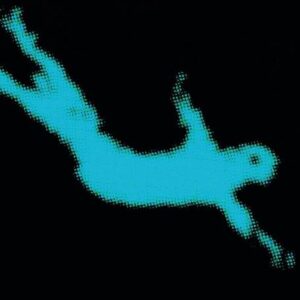 What did you think of the 'Heresy: A Tribute To RATIONAL YOUTH' collection' put together by the Cold War Night Light website which you also contributed to?
It was absolutely a treasure and such an honour, the sort of thing you would never imagine would happen.
And there were so many great versions of our songs, some of them were better than our version to be honest!
Just a lovely package too. We are not worthy.
How do you feel about playing in London for the first time alongside PSYCHE and PAGE this September?
I've dreamt of playing in the UK since I was a kid. I used to sit in school at the back of the class making up imaginary tours, where I'd be in a band playing such venues as De Montfort Hall in Leicester, The Cambridge Corn Exchange and Leeds Polytechnic *laughs*
Alas, RATIONAL YOUTH never made much of dent in the British market, but I'm absolutely thrilled that we're finally coming, even for one show. I once told Robert Marlow that I was determined to sing in London one day, even if I had to bellow 'My Yiddishe Mama' out on the pavement in the Old Kent Road, so we're really looking forward to this.
Of course, it's always great to hook up with our pals from PSYCHE, and it will be great to see Eddie Bengtsson again. We've played with SISTA MANNEN PÅ JORDEN several times, but never with PAGE, so that will be a treat as well.
For those discovering you for the first time, what three songs you would suggest people check out to get a feel for what RATIONAL YOUTH are about and why?
I'd say 'Coboloid Race', which is from our first single in 1981 and shows that we sort of prophesied industrial synth music back then; 'Saturdays In Silesia' from 'Cold War Night Life' because it shows our pure synthpop side; and 'This Side Of The Border' from 'Future Past Tense' because it shows what we sound like now and how that stacks up against our older material.
What's next for RATIONAL YOUTH?
We're working on a new album, and it's about half done. Then we have a very high resolution, multi-camera video of a show we did in Germany and we're going to figure out some way of releasing it. A few years ago one would have thought a DVD but they probably don't sell at all anymore, so maybe we'll put it on iTunes or something. Then in the new year, we have a number of live things coming up.
We're going to Mexico in March and there's talk of expanding it to Peru and Colombia. Then we have some exciting things in Europe to come. Who knows, maybe somebody will want us to come back to the UK.
---
ELECTRICITYCLUB.CO.UK gives its grateful thanks to Tracy Howe
Special thanks to Simon Helm at Cold War Night Life
'Future Past Tense'
is still available as a CD or download from https://rationalyouth.bandcamp.com/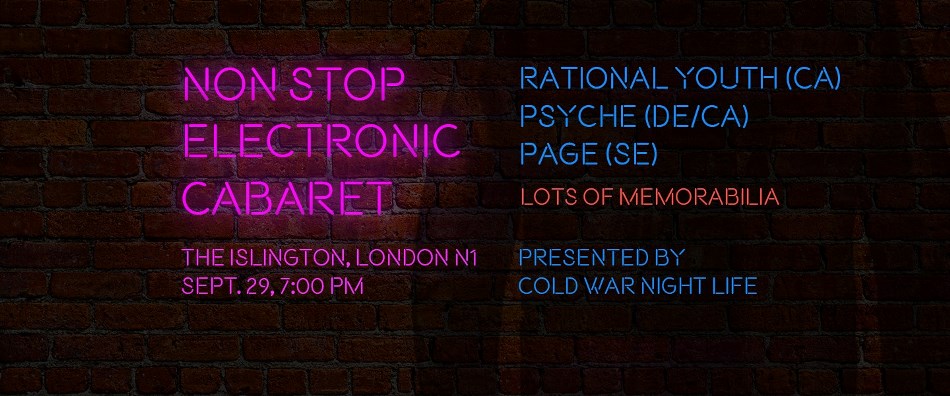 RATIONAL YOUTH, PSYCHE + PAGE will play 'Non-Stop Electronic Cabaret' on Saturday 29th September 2018 at The Islington in London. Presented by Cold War Night Life – tickets available from https://billetto.co.uk/e/non-stop-electronic-cabaret-with-rational-youth-page-and-psyche-tickets-300983
https://www.facebook.com/RationalYouth/
---
Text and Interview by Chi Ming Lai
30th August 2018