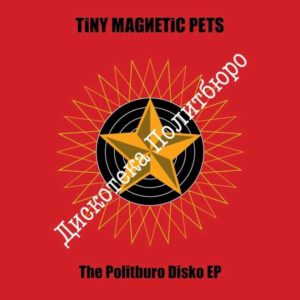 An interim collection of tracks before TINY MAGNETIC PETS' third album 'The Point Of Collapse' is released, 'The Politburo Disko' EP follows on the Dublin trio's previous Cold War themed offerings 'The NATO Alphabet' and 'Stalingrad' released in 2016 and 2014 respectively.
A wealth of quality material emerged from those standalone statements of interregnum, notably 'Everybody Knows', 'Klangfarben', 'We Shine' and 'On An Inter-City Train'. Following on as part of a now extended play trilogy, 'The Politburo Disco' EP is no different.
'Enigma Code Variations 1 & 2' is an instrumental that provides an eerie artful collage of arpeggios to start before 'Blitzed', a surprising tune with  an uptempo thrust. Despite the rock edge, it still maintains Paula Gilmer's alluring sophisticated poise alongside Sean Quinn's rawer dual vocal, with some punchy metallic energy and subtle pentatonic phrasing.
Perhaps more in line with what might be expected from TINY MAGNETIC PETS, the musically Numan-esque 'Non-Aligned' is a marvellous moodier cousin of 'Control Me' with polyrhythmic live fills from Eugene Somers during several unexpected time signature variations which verge on prog. Meanwhile a lonely electric piano shapes 'A Strange Kind Of Loneliness' around some ambient synth with airs of Brian Eno which allow Gilmer to take centre stage.
With a primitive rhythm box leading into 'The Politburo Disko' title track featuring a cacophony of buzzing keys, sonar bleeps and Russian dialogue, quite what Leonid Brezhnev would have made of it is another matter.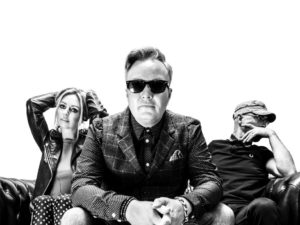 But anyone who loved the sort of oddball electronic instrumentals that used to make their way onto B-sides during the 'Synth Britannia' era will love this.
While tracks from 'The Politburo Disko' will not be on 'The Point Of Collapse' which is currently being mixed by OMD soundman Chicky Reeves, it nicely fills the gap before fabulous songs like 'Falling Apart In Slow Motion' and 'Sexy Choc' finally get unleashed to the wider public.
---
'The Politburo Disko' EP is released on 21st January 2019 and can be pre-ordered from Bandcamp at https://tinymagneticpets.bandcamp.com/album/the-politburo-disko-ep
TINY MAGNETIC PETS 2019 live dates include:
Glasgow Audio (24th May), Liverpool Sound (25th May), London The Islington (26th May) – tickets available via https://www.happyrobots.co.uk/tickets
https://www.tinymagneticpets.com/
https://www.facebook.com/tinymagneticpets/
https://twitter.com/TinyMagneticPet
https://www.instagram.com/tinymagneticpets/
---
Text by Chi Ming Lai
17th January 2019, updated 9th April 2019