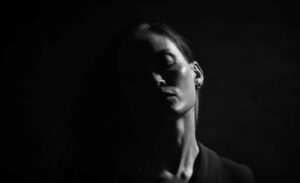 Zoe Zanias, the solo alter-ego of Alison Lewis has released two EPs 'Extinction' and 'Harmaline', both written and produced in Berlin.
With influences as diverse as MADONNA and DEAD CAN DANCE, her solo work has been in more abstract territory compared to the minimal synth of LINEA ASPERA with which she made her name.
While LINEA ASPERA have reunited following a seven year hiatus, in between Lewis was a member of KELUAR and running her label Fleisch Records. But more recently, Zanias has been her main focus with the debut album 'Into The All'
coming out in 2018.
Generally working alone from her home studio and only collaborating via Dropbox, Alison Lewis is very much an independent artist, deeply immersed in her thought and creative process, driven by her interest and studies in anthropology and archaeology. And with these two particular EPs, Lewis has undoubtedly stepped up a gear.
The proximity of their release appears to make 'Extinction' and 'Harmaline' companion EPs, but both differ considerably in concept as bodies of work. While 'Harmaline' comprises of introspective songs focussing on personal relationships, the dystopian 'Extinction' looks at the scary prospect of environmental catastrophe caused by climate change.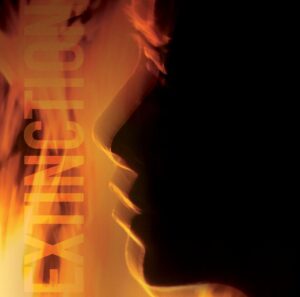 Composed in Berlin but mixed in Queensland, Australia as the bushfires were burning, 'Extinction'
is a dark, hard hitting statement capturing Lewis' anxiety and anger at the human race's arrogance towards life on earth.
"I channeled in 'Extinction' this ambivalent mixture of hope and despair that I feel towards our species that is growing day by day." she said on her Facebook page.
The thundering title track does not mask Lewis' pain and despair, in a bout of atmospheric body music which is both highly emotive and thought provoking.
Telling home truths and using sections of Greta Thunberg's notable "How dare you?" speech, 'Carbon' is a ferocious techno attack on billionaires and corporations selfishly putting greed first, while bursts of screeching frogs act as aural symbolism that surely the survival of the earth is more important than capitalism.
'Endling' carries a mighty EBM flavour, capturing a hypnotic gothique and Lewis in a forlorn anguish that is simultaneously unsettling and beautiful, the shattering percussion in the company of piercing processed samples of an Eastern Whipbird, an insectivorous passerine native of Australia.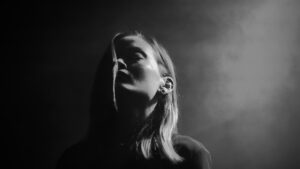 Beginning with a spacey rumbling squelch and countered by eerie angelic falsettos over a four-to-the-floor beat, '(There Is No) Mothership' is a dense instrumental statement which Lewis says is "a wordless reflection on our vulnerability as inhabitants of a single planet with no current means of escape"; the message is certainly in the music, uncomfortable but strangely captivating.
After the haunting spectre of 'Extinction', 'Harmaline'
is no more cheery, inspired by a psychedelic-induced ego death and painful personal relationships; but what the two EPs have in common is existential uncertainty. Using more minimal instrumentation in a manner more akin to LINEA ASPERA, it sees Lewis using her music as her own therapy.
The melodic darkwave of the 'Harmaline' title song sweeps over danceable metronomic beats, while the solemn 'Limerence' sees the howl of a chopping violin penetrating the house derived rhythms in a song about unrequited love.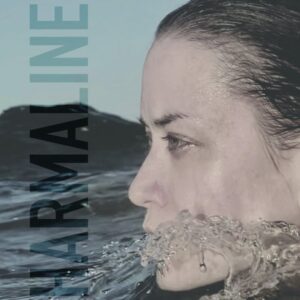 Pained in the aura of Lisa Gerrard, 'Excision' recalls elements of THE XX and plays with analogue drum machine snaps and the harsh graphic viewpoint that failed love can be compared to a tumour that needs removing.
A drowning drone acts as an unconventional intro to 'Ameliorate' which then unexpectedly morphs into Vangelis with its sweeping overtones. But as the noise percussion kicks in unison with a pulsating synthetic bassline, it moves round in a three chord structure like THE STOOGES 'I Wanna Be Your Dog' while Lewis admits "I can't resist it. This is going to hurt".
Equalling her work with LINEA ASPERA, 'Extinction' captures the world's looming catastrophe if warnings are not heeded, while 'Harmaline' highlights the tensions of isolation and deterioration within what is supposed to be the confines of a loving union.
This is all heavy stuff but it makes for outstanding thought-provoking art. With Lewis' two cathartic creations, her own conscience is now clear.
---
'Extinction'
+ 'Harmaline'
are both available as downloads direct from https://zanias.bandcamp.com/
https://www.facebook.com/zoe.zanias/
https://www.instagram.com/zoe_zanias/
https://www.patreon.com/zanias
https://open.spotify.com/artist/6ouPbOWchZ9U2ojCpMF9Vv
---
Text by Chi Ming Lai
Photos by Simon Helm
18th April 2020