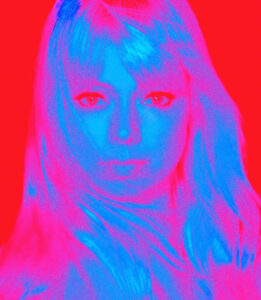 In Autumn 2019, CHROMATICS broke a seven year silence between albums with the release of 'Closer To Grey'.
However, scrutiny revealed 'Closer To Grey'
to have a 'VII' subtitle in blood red on the artwork, despite it being their sixth long player. That was because an album called 'Dear Tommy' had been announced in 2015 and yet to be released as album number six.
Legend has it that producer and Italians Do It Better head honcho Johnny Jewel decided he wasn't happy with the record, so destroyed all 15,000 CDs and 10,000 vinyl copies that had already been pressed.
One record that suffered a similar fate was 'Techno Pop' by KRAFTWERK which was actually advertised in the German press in 1983 before being delayed and reworked. It was then released as the disappointing 'Electric Café' in 1986 with some additional new tracks, while its original lead single 'Tour De France' was omitted. Then in a bizarre revisionist twist, it was remastered and renamed 'Techno Pop' with a slightly amended tracklist in 2009!
The 'Dear Tommy' saga has become much talked about by observers and fans with speculation rife that it had been shelved. But in the interim, the quartet of Johnny Jewel, Ruth Radelet, Adam Miller and Nat Walker have continued to release singles while also touring the world.
The 'Dear Tommy' announcement has been trailed by a purple hazed video for a great new airy synth driven song entitled 'Teacher'
, of which Johnny Jewel says "The apple obscured in fog is enigmatic & open to the interpretation of the viewer. Are we sinking into the unknown or rising from beyond the grave?"
As with KRAFTWERK, the original 'Dear Tommy' lead single 'Shadow' has now been dropped from the revised tracklist having become ubiquitous, thanks to its inclusion' in 'Twin Peaks: Revisited'; also missing are 'Cherry', 'Camera', 'In Films' and 'I Can Never Be Myself When You're Around' which have all now been previously released in one form or another.
But included are the previous singles 'Time Rider' and 'Just Like You', while many of the eighteen tracks announced appear to be completely new with only a few like 'Fresh Blood', 'She Says', 'Endless Sleep' and the title track remaining from the original 'Dear Tommy'.
A release date for 'Dear Tommy' has yet to be confirmed so this saga could go on. However with so much expectation, this album is in danger of underwhelming audiences like 'Electric Café' did. With that in mind, it therefore something of a strange coincidence that CHROMATICS and KRAFTWERK had both been due to perform on the same bill at London's All Points East festival in May.
---
'Teacher'
is released by Italians Do It Better via the usual digital outlets
https://italiansdoitbetter.com/chromatics/
https://www.facebook.com/CHROMATICSBAND/
https://twitter.com/chromatics
https://www.instagram.com/chromaticsmusic/
https://www.instagram.com/italiansdoitbetter/
---
Text by Chi Ming Lai
22nd April 2020