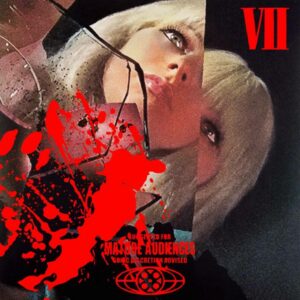 Oregon-born CHROMATICS have undergone multiple line-up changes since their first release 'Chrome Rats vs. Basement Rutz', as well as style shifts and near death experiences.
Needless to say, the now foursome Johnny Jewel, Ruth Radelet, Adam Miller and Nat Walker are back from a seven year hiatus with a powerful vengeance in form of 'Closer To Grey'.
Since their fifth studio opus, 'Kill For Love'
, the band had been planning outing number six, entitled 'Dear Tommy'.
Singles like 'Shadow', 'Just Like You', 'In Films', 'I Can Never Be Myself When You're Around' and the eponymous 'Dear Tommy' had been showcased, but the album never materialised.
It has been revealed that Johnny Jewel, for whom "music is medicine", had destroyed all physical copies of 'Dear Tommy' following a near-death experience while swimming in Hawaii. What was supposed to follow, was a re-recording of it and its subsequent release.
Instead, listeners have been surprised with a new long player 'Closer To Grey', branded as "VII", suggesting that all the material on 'Dear Tommy' could still see the light of day. Still, the newest release sounds nothing like the sample songs from the elusive missing number six.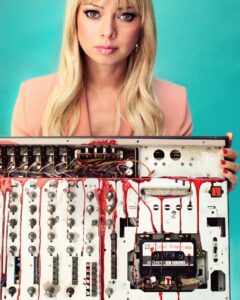 The biggest shift for the group came on their highly acclaimed third studio release 'Night Drive', where they left their punk sound behind, wowing with competent songwriting, good enough for extensive motion picture use.
More recently the one and only David Lynch employed Jewel and co to perform 'Shadow' on the 'Twin Peaks' revival series, where the Roadhouse welcomed the band for a live performance.
With their newly found momentum, CHROMATICS air 'Closer To Grey', welcoming the colours of fall with a very poignant cover of Simon and Garfunkel's 'The Sound Of Silence' as the album opener.
With its mellow hues, an airy vocal by Radelet and a black record noise, the track welcomes the found again nostalgia and an underlying feeling of dread, which has become the band's signature.
'You're No Good' shifts the tempo however, introducing a very electronic poppy number, glittering with catchy hooks and sparkling progressions. The album's eponymous song ushers the gentle guitar and ringing bells over an easy going, lazy summer feel, drifting away into synthy 'Twist The Knife', which is very LADYTRON meets early CLIENT. The weightless 'Light As A Feather' uses the power of layered multi-voice to create a delicate canvas à la Sarah P.
'Move A Mountain' continues the fragility of vocals over sparse melody, while 'Touch Red' brings in sensual textures, stroking the surface with minimal touch, intercepting every breath and every movement. Heavier artillery is brought out on 'Whispers In The Hall' with a ringing synth line and pulsating elements, which multiply to be brought into an extravaganza of electronic noise, only mellowed by the ethereal vocal of Radelet.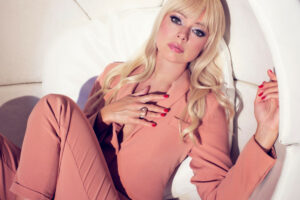 The second cover on the project comes in the form of JESUS & MARY CHAIN's 'On The Wall'. While with less guitar and much more ambient feel, the track keeps its mellow appearance.
The closing 'Wishing Well' wraps up the dreamy affairs with more calmness and delicacy, leading into sweet nothingness.
Is the material on 'Closer To Grey' worth the seven years' wait? Some may find it unlikely, but let's not forget the singles from what would have been the album number six, 'Dear Tommy', which were aired during that period.
The seventh opus is certainly mellow and airy, but it has some harder elements alongside pure pop numbers which can be widely enjoyed. The amazing voice of Ruth Radelet weaves in and out of adept electronica, making 'Closer To Grey' a success and a record that is both easy listening and suitable for a weathered synth connoisseur.
---
'Closer To Grey' is released by Italians Do It Better, available digitally from https://italiansdoitbetter.com/product/chromatics-closer-to-grey/
CHROMATICS 2019 European tour includes:
Copenhagen Grey Hall (4th October), Stockholm Berns (5th October), Oslo Rockefeller Music Hall (7th October), Berlin Astra Kulturhaus (9th October), Vilnius Art Factory Loftas (11th October), Warsaw Praga Centrum (12th October), Vienna Arena (14th October), Prague MeetFactory (16th October), Munich Muffathalle (17th October), Cologne Carlswerk Victoria (19th October), Dublin Vicar Street (22nd October), Manchester Albert Hall (23rd October), Glasgow SWG3 (24th October), Bristol Anson Rooms (26th October), London Roundhouse (27th October), Antwerp Trix (29th October), Amsterdam Paradiso (30th October)
https://italiansdoitbetter.com/chromatics/
https://www.facebook.com/CHROMATICSBAND/
https://twitter.com/chromatics
https://www.instagram.com/chromaticsmusic/
https://www.instagram.com/italiansdoitbetter/
---
Text by Monika Izabela Trigwell
Photos by Johnny Jewel
3rd October 2019, updated 4th October 2019