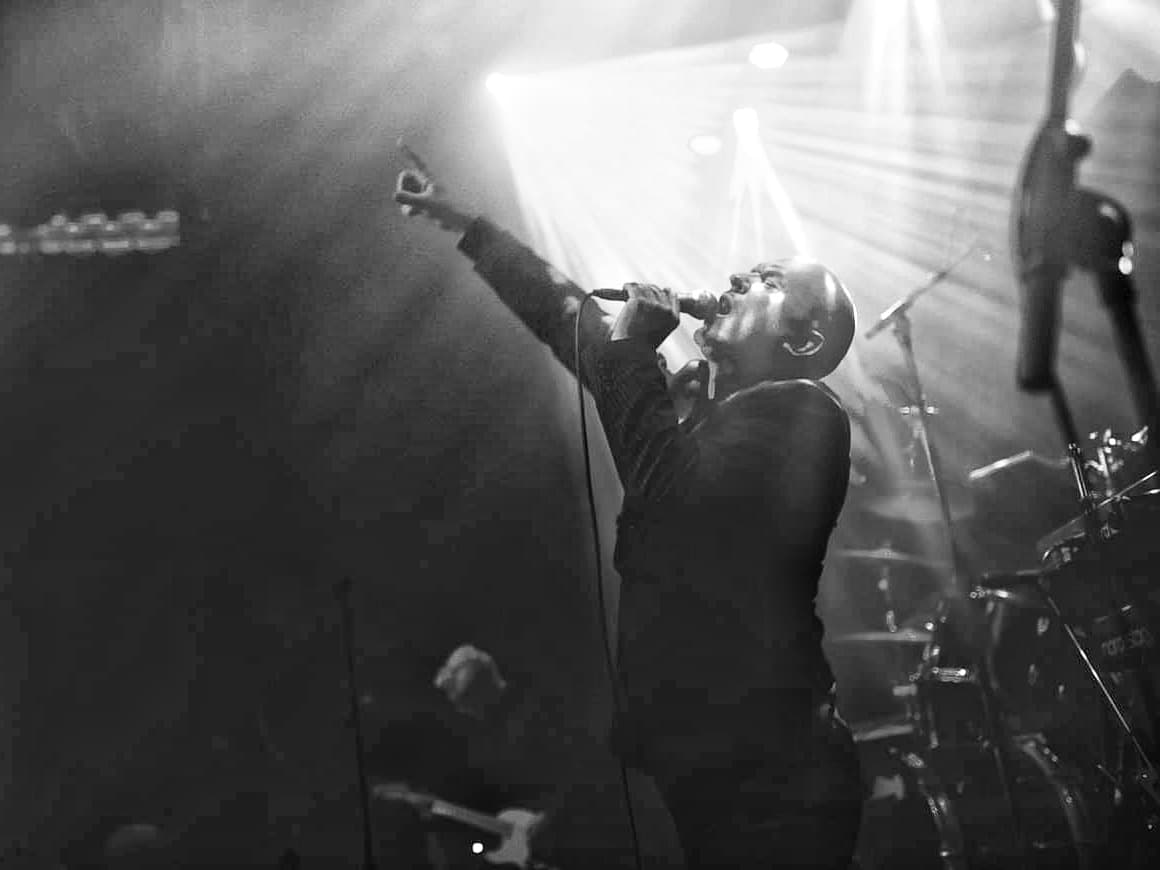 Two of Sweden's best loved acts of a more synthy disposition LUSTANS LAKEJER and PAGE gathered together at Malmö's Babel for a celebration of classic songs and artistic progression.
Located in the shell of an old brick-built church, while Babel's soundsystem and views of the stage were superb, its tedious entrance infrastructure left a lot to be desired as a large number of music fans were still left queuing in the rain as the evening's music proceedings began.
PAGE released their first single 'Dansande Man' in 1983 and while line-ups have varied over the decades, the duo of Eddie Bengtsson and Marina Schiptjenko is universally seen as the classic incarnation. But while Bengtsson has often been considered Sweden's answer to Vince Clarke, more recently he has been re-exploring the post-punk synth innovations of TUBEWAY ARMY and ULTRAVOX.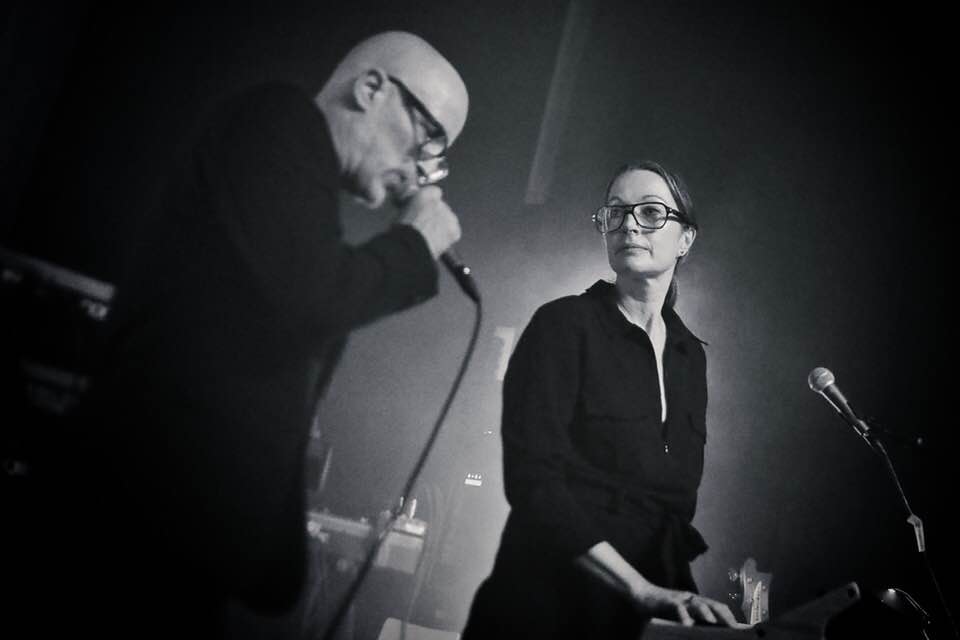 2017's 'Det Är Ingen Vacker Värld Men Det Råkar Vara Så Det Ser Ut' even featured a cover of 'Tracks', but it was 2018's 'Start' EP and the new album 'Fakta För Alla' that saw PAGE totally get into the Moog.
And it was to a smoke machine on overdrive that Bengtsson and Schiptjenko arrived on stage for a lively poptronica set mined mainly from those three recent releases.
'Krasch' and the 'Fakta För Alla' title song set the scene and armed with a Little Phatty and Sub 37 respectively, Bengtsson and Schiptjenko indulged in a spot of delightful Moog wars with oscillators set to stun. 'Kloner' and 'Start' continued the riff laden pleasure of principle while with washes of string machine and piercing vibrato, 'Blöder Du' came over more introspective.
'Som ett skal' from 2014's 'Hemma'
and 'Kom så andas vi' from the 2010 comeback record 'Nu'
illustrated PAGE's enduring knack for a good synth tune, while the more recent 'Första Smällen' provided some spritely poptronica to continue that tradition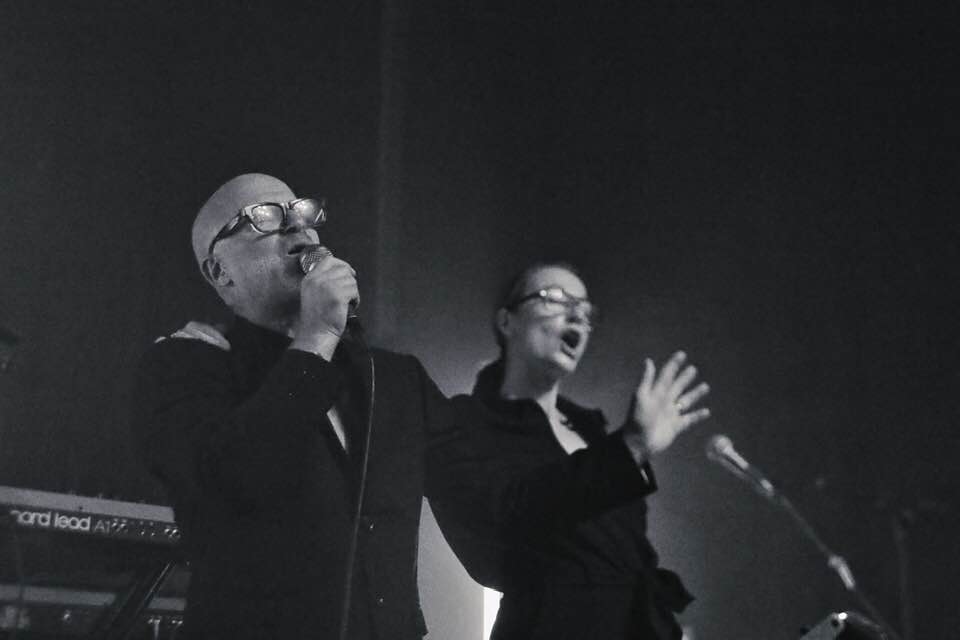 But when Bengtsson went to reimagine Gary Numan meeting Billy Currie on 'Puls' with his Sub Phatty on an ARP Odyssey aping setting, the keyboard was just slightly too off-tune to continue playing it.
Despite playing only 21st Century PAGE material, the duo finally conceded with an oldie in 'Förlåt' from 1995, its space march chants drawing participation and appreciation from the audience to close their set.
Although PAGE's set attracted a good attendance despite the delays of getting into the venue, it began to pack considerably as the pre-show music offered the likes of VISAGE, DEPECHE MODE and THE HUMAN LEAGUE, with the crowd comprising of old and new romantics, the presence of young Lustans Lookalikes being very much in evidence.
While Johan Kinde is the only founder member of LUSTANS LAKEJER, he was accompanied by drummer Christer Hellman who played on their gold third long player 'En plats i solen'
produced by Richard Barbieri of JAPAN.
Meanwhile, there was also long standing sidemen bassist Julian Brandt and Anders Ericson on guitar, plus keyboardist Tom Wolgers who joined in 1981 for their second album 'Uppdrag i Genève'
and took the band in a more electronic direction, before returning the fold in 1999.
The mature quintet were augmented by two younger keyboard players Fredrik Hermansson and Lisa Lindal, the latter also providing some sumptuous backing vocals. Tonight's set was to celebrate the 20th Anniversary of 'Åkersberga'
, LUSTANS LAKEJER's comeback album which saw Kinde adopt a more crooner friendly, laid back demeanour.
Opening song 'En kvinnokarls död' evoked the cinematic moods of a Nordic Noir drama, while the brilliant 'Cynisk' realised Kinde's concept of what Barry White would sound like reinterpreting 'Walking In My Shoes' by DEPECHE MODE, complete with guitar solo.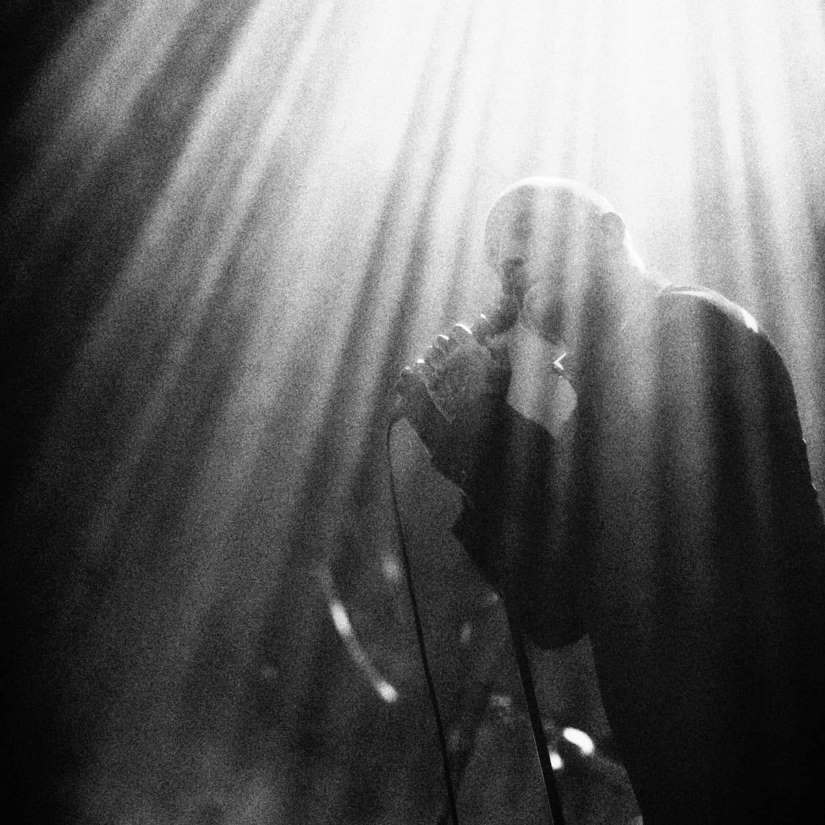 The epically orchestrated 'För njutningen, för spänningen' captivated with its chanson influences. But spicing up the tempo, 'Vackra Djur Gör Fula Saker' pulsed like ULTRAVOX in recognition of the classic unga moderna template which made LUSTANS LAKEJER's one of the most popular bands in Sweden. 'Här & Nu' played with stylish Svenka reggae with Julian Brandt particularly starring, but the rhythmic 'Som en dröm' brought in a Mediterranean tinged dance flavour which set the hearts racing.
Meanwhile, indulging in some Scott Walker fantasies and referencing the mannerisms of 'Deadlier Than The Male', detuned synth arpeggios provided an interesting avant counterpoint to Kinde's smoother vocal overtones on 'Begär har förgiftat mitt blod'.
The Latin template returned for the bossa nova driven 'En natt som denna natt' before closing the 'Åkersberga' segment of the set with the filmic ballad 'Samma gamla sång'. The Babel had no backstage area as such, so rather than trudge through the audience and return again for the encore routine, LUSTANS LAKEJER retained their positions for a performance of old favourites.
'En Främlings Ögon' from 'En Plats I Solen' exuded its JAPAN influence with its ring modulated synths and Hellman's distinctive Simmons drum mantra, while the superb sequencer driven 'Diamanter' partied like it was 1982, drawing one of the biggest cheers and the first audience singalong of its evening.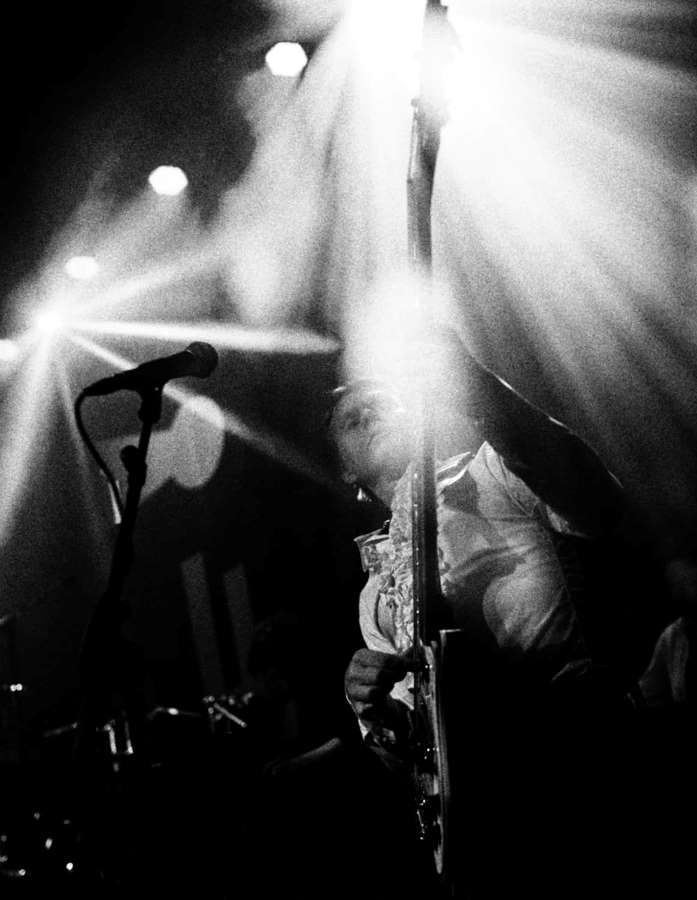 Kinde even threw in a few of his old New Romantic arm sways and in an amusing S&M bromance with Anders Ericson, percussively whipped him to a frenzy! A new synth dominated song 'Svarta segel' got its live premiere and with its dark lyrical gist, reflected on the current madness in world politics. Launching with the distinctive clatter of a Compurythm, 'Stilla nätter' allowed Kinde to revisit his earlier Sylvian-Le Bon cross.
Meanwhile from the same 'Uppdrag I Genève' long player, the more frantic electro 'Män av skugga' amusingly came over a bit like finding Jona Lewie having a party in Ikea. Finishing the evening with the marvellous syncopated disco of 'Rendez-Vous I Rio', it was a reminder as to how LUSTANS LAKEJER laid claim to releasing a song referencing Brazil's second-most populous municipality before DURAN DURAN.
In all, it was a glorious evening featuring the best in classic Swedish pop as influenced by Synth Britannia, rich in hooks, tunes, melodies and mood without the need for a translator; tack tack! ???
---
LUSTANS LAKEJER 'Åkersberga' is reissued as a vinyl LP, available via their Facebook page
https://www.facebook.com/LustansLakejer/
https://www.instagram.com/lustanslakejerofficial/
https://open.spotify.com/artist/3oB3e3MPyQBX5NttDmNUNN
PAGE 'Fakta För Alla' is released by Energy Rekords as a CD and vinyl LP, available from https://hotstuff.se/page/x-7640
https://www.facebook.com/PageElektroniskPop
https://www.instagram.com/page_svensk_pop/
https://open.spotify.com/album/6LvrfFcS2FXlRiQBrRtpvp?si=4rkmExzsQ_ecq0MaSNUp_Q
---
Text by Chi Ming Lai
Page Photos by Simon Helm
Lustans Lakejer Photos by Petter Duvander
4th October 2019