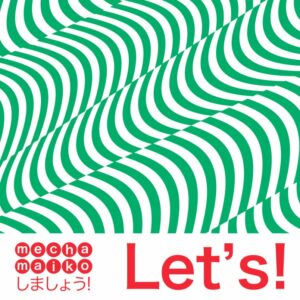 Hayley Stewart and Jared Nickerson had a good thing going with DEAD ASTRONAUTS.
But it was Stewart's solo debut 'Mad But Soft'
that turned heads in the circles of care-free synthwave. A self-confessed lover of Japanese culture, the Canadian songstress adopted the name of MECHA MAIKO and started creating little electronic gems, mixing sweet and poppy naive synth with the nostalgia of the classic era.
Her first creation wasn't by any means amateur; on the contrary, it showcased slick synthpop candies with interesting twists, promising more was to come from the super talented lady.
And then the Canadian Geisha didn't disappoint. Her five song EP 'Okiya'
proved that the girl was so much more than candied synth wave. In came experimental sounds, quirky drum patterns and eloquent progressions, presenting a truly different side to MECHA MAIKO's world of synth.
The Canadian electronic scene appears ever united with the likes of PARALLELS or DANA JEAN PHOENIX working together, and the latter has collaborated with Stewart, praising the artist in her endeavours.
And what does the Toronto based star do with it all? She goes off and makes another album. 'Let's!'
will surprise again and potentially steal the top spot for many this year. It's enough to hear the opening 'Apathy' to prove that Stewart is not scared to use all sorts of influences to get what she wants. Nobody else has mixed the sound of swing into their electronic tunes, and the idea could seem ridiculous until you hear this track. Thrown together with a slight sprinkling of Japanese instrumentation, she goes for the kill.
VANDAL MOON lends his voice on the super electronic 'Meet Me At The Arcade' loaded with gaming noises and robotic progressions. 'End Of Your Life' brings back the sweet music MECHA MAIKO presented on her first opus, it's far more grown up now however, even though she still sounds as delicate and gracious as she did before.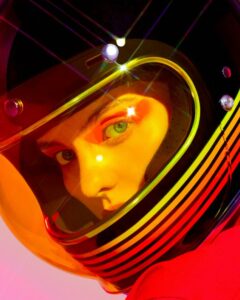 A true oriental floor stomper comes next in the form of 'Trust'; "Trust" her to make something so catchy, so captivating, so fast pacing.
'Change Alot' is a semi-paced ballad with vintage PET SHOP BOYS piano, while 'Phones' is heavily influenced by heavy club beats interspersed with classic elements; it's MECHA MAIKO's own 'Rhythm Is A Dancer'.
She's very much 'Alive' and kicking, as she throws in a sparkly gem song after song, and this one is a superb combination of fabulous vocal and superb programming.
'I Can't Wait' brings things to a halt with a slower paced, wonderfully poignant story, which floats cleverly into 'Oddities', with its massively original tribal beats.
The closing 'Be The Reaper' bubbles away with soft vocals and enchanting musical elements, drawing in and pulling under. Another easy listening pearl, it shines on a bed of gritty electronic ocean floor.
For some artists, album number two can be a tricky endeavour, but this simply wasn't the case here with MECHA MAIKO. If her debut opus was splendid, the following EP quite magnificent, 'Let's!' is truly superb.
Varied, interesting and very grown up, this will be the album to look out for this fall. Stewart has outdone herself here, proving that the Canadian synth ladies rule above all.
---
'Let's!'
is released by ORO Records, available from as a digital album from https://mechamaiko.bandcamp.com/
https://www.facebook.com/mechamaiko/
https://twitter.com/mechamaiko
https://www.instagram.com/mechamaiko/
---
Text by Monika Izabela Trigwell
Photo by Duncan Foy
9th October 2019, updated 20th March 2020