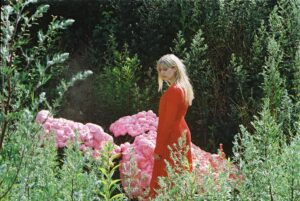 This is the story of the classically trained German chanteuse who moved to Scandinavia and found success in a Danish girl group.
And when she made the move into creating something solo, she became inspired and sought the help of a Norwegian who lived in Berlin. Copenhagen resident Greta Louise Schenk found wider fame in her adopted home as a member of IDA RED.
But with her FARAO produced debut EP 'Ardent Spring – Part I', she has entered the dreamy synthpop universe also occupied by her Norsk collaborator where her angelic vocal tones can shimmer and shine.
Inspired by seasonal changes, Schenk said: "Spring to me is often where I take my time to think and where my head is filled with chaos and new ideas bloom. Especially the spring in Berlin and Copenhagen has inspired me – the very contrast between nature (which is constantly changing) and hard concrete (which pretty much remains as it is)."
Opening with the gorgeously wispy air of 'Spin', the magnetic allure of Chinese singer FIFI RONG also looms. Meanwhile the filmic 'Ardent Spring' title song captures the delightful oddness and crystalline soundscapes of IONNALEE, although with a looser rhythmic backbone and in a more understated manner.
'Bad Lovers' plays with aspects of synthwave with electronic percussion and guitar making their presence felt, but the eerie choir sounds and layered voices keep proceedings distinctly Nordic, something not totally unsurprising with FARAO at the helm.
However 'White' pierces in a more sinister manner and counterpoints the dreamier trio of tunes that comprise the first half. With its chromatic overtones, hypnotic arpeggio and lightly swung rhythmic backbone, played by a loud rock band, this could be MUSE.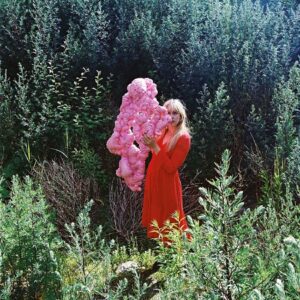 Driven by a subtle Motorik beat, the uptempo swirl of 'Baby' is fabulously cosmic pop that recalls ANI GLASS, another independently minded synth songstress with a girl group past. Closing with 'Wilderness', it beautifully captures the emotions of regret and turmoil while maintaining hopes and dreams, with Schenk expressing darkness and light in equal measures.
Kitsch, cool, weird and ethereal, this is an impressive debut body of work by GRETA; if this is what 'Ardent Spring – Part I' has to offer, then there is much to look forward to with 'Ardent Spring – Part II'.
---
'Ardent Spring – Part I' is released as a download EP by Celebration Records, available direct from https://gretagretamusic.bandcamp.com/
GRETA 2019 live dates include:
Copenhagen Musikcaféen (18th October)*, Aarhus Radar (19th October)*, Frederiksberg Country Club (9th November), Odense Cirkus Dynamo (23rd November), Copenhagen Trinitatis Church (10th December)
*with PENNY POLICE
https://www.facebook.com/greta.geschenk/
https://www.instagram.com/greta.geschenk/
http://celebrationrecords.dk/work/greta/
https://open.spotify.com/artist/6qcpBIlSWMhas6waVUKCbK
---
Text by Chi Ming Lai
10th October 2019