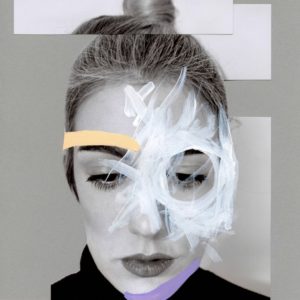 With the release of her debut EP 'Ffrwydrad Tawel', ANI GLASS has added a gorgeous ethnic resonance to the aesthetics of modern synthpop.
The stage persona of Cardiff-based musician, photographer and artist Ani Saunders, she sings in her native languages of Welsh and Cornish to provide a politically charged soundtrack for the times. Having served her apprenticeship as a member of the Andy McCluskey managed GENIE QUEEN and then THE PIPETTES with her older sister Gwenno under the production guidance of the late Martin Rushent, she became a member of indie band THE LOVELY WARS before eventually releasing her first solo single 'Ffôl' ('Foolish') in 2015.
But it was her follow-up single 'Y Ddawns' ('The Dance') that made its presence felt as a wonderfully exhilarating pop art adventure, swathed in synths and emblazoned with hope. A new single 'Generaduron' ('Generators') has just been unleashed and with the recording of a full-length album currently in progress, ANI GLASS kindly chatted about her artistic ethos and musical journey…
The new single 'Generaduron' is quite different from the material on your debut EP 'Ffrwydrad Tawel', what was the inspiration and why the 'new direction'?
Until relatively recently, production was something that I always appreciated and admired but wasn't something I thought I could do or wanted to do for that matter. I felt it was always attached to people, or dare I say men, who were far more technical or interested in the process than I was and so for years it didn't even cross my mind. However, from my experience, when you get a bit older you lose a bit of that self-consciousness and self-doubt that you drag around during your early twenties and I just thought to myself "What the hell, I want to make my own record and I know how I want it to sound" … and so here I am. 'Generaduron' ('Generators') is me at the start of my journey.
It's a taster for your debut long player, do you have a theme or concept for it yet? How's it coming along?
I've recently embarked on a Masters course at Cardiff University studying Urban and Regional Development, and as a result, reading the works of people such as Jane Jacobs and Jan Gehl has really impacted on the way I view city and urban living which in turn has had an impact on my approach to music. A lot of us live in cities now and although we live in different places, many of our experiences are the same. In short, my album has a very loose concept about a day in the life of a city girl and all that comes with it. It will have all that you expect from a busy city – fast-paced, slow, abrupt, noisy, happy, joyful, sad, chaotic and peaceful. I have a fair amount of work yet to do but it's well on its way.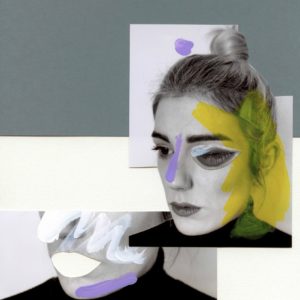 Do you think the album still has a place in modern music consumption?
Absolutely. There's a strong sense in society that we're all searching for somewhere or something to belong to. I don't think it's a new thing, perhaps it's just become a bit more prominent in recent times. But as a result, I think music has a strong role to play in helping people to feel like they're a part of something, that they belong or that they're understood and so that's where I think the album comes in. The way I see it, a good single or a song is like a holiday but a great album is like a home and we all need one of those.
The 'Ffrwydrad Tawel' EP took a while to come together, how do you look back on it and what it achieved for you artistically?
It was really important for me to create and present a solid body of work on which to build on and working with producer Haydon Hughes (W H Dyfodol) was a brilliant experience, especially with regard to creating a sonic statement.
I'm ever so pleased with how it turned out, there will always be parts I would want to change or improve but I don't see that as a weakness, it's an important part of developing as an artist.
'Y Ddawns' was a fine statement of hope, but also had a great rousing tune?
I wrote 'Y Ddawns' ('The Dance') after reading 'We' by Yevgeny Zamyatin. It was a dystopian vision of the future created partly in response to my experience in THE PIPETTES – it was, in essence, my version of a space-age pop tune. My favourite songwriter of all time is Paul McCartney – he was the reason I picked up the bass and started writing music. His wonderful ability to take melodies to places you don't quite expect is always something I try to aspire to and it was certainly something I had in mind when writing 'Y Ddawns'.
The pulsating 'Geiriau' recalled Moroder–era SPARKS but was about reconnecting with your Welsh and Cornish heritage?
Although 'Geiriau' ('Words') is about by personal journey of moving to England, questioning my identity only to return and re-connect to my Welsh and Cornish roots, I feel that it's also symptomatic of what is happening to us all. It feels as though the whole world is going through some sort of an identity crisis and some of the results of this are quite frightening (Brexit, Trump etc).
My personal and political reaction to this has been to delve into my cultural heritage – to gain a deeper understanding of my past, to learn to appreciate the value of language and culture in order to take ownership of my identity. This journey has not been about looking inward or become insular, but understanding myself and my place within a culture in order to best placed to understand others. The UK has a terrible reputation for its weak linguistic skills, the numbers studying foreign languages is decreasing year upon year and so we're losing our ability to understand the value of 'other' and so it can't be a coincidence that as globalisation grows and language skills decline, tension is increasing.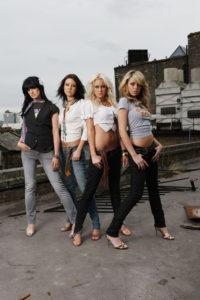 Had you found yourself becoming detached as you immersed yourself in the pop world when you were in GENIE QUEEN working with Andy McCluskey and THE PIPETTES working with Martin Rushent? Is it like living in a bubble?
Quite possibly, although it didn't feel like that at the time.
I absolutely love pop music, and although I don't like a lot of chart music at the moment, I will always defend it.
The dynamics of GENIE QUEEN was what you would consider 'traditional' for a pop band – very little creative involvement and input from the artist themselves whilst THE PIPETTES was the exact opposite; complete artistic control.
Those experiences were invaluable but although they perhaps existed within their own bubbles, I think I'm probably in as much of a bubble now. My motivations and perspective may differ but my commitment is still unwavering and I'm conscious that I will have to remain vigilant to ensure that my focus does not encourage a blinkered vision.
I use my Chinese name Chi Ming Lai rather than anglicising myself and taking a Western first name, to preserve my cultural heritage. So was singing in Welsh always going to be an essential component of ANI GLASS? What does it mean for you?
I think it was an essential. When you consider the slow decline of your native language, you begin to question your role in either helping to reverse or speed up this process. I've always felt that learning the language is important, however if there is no living culture to talk about, then what is the language for? There is no question that understanding the past is important but the present is equally as important if not more so. It was with this in mind that I decided that Welsh and Cornish would have to be my focus – I wanted to contribute to these living cultures, to add an extra voice and narrative. Although it is entirely possible, I think it would be very difficult to be a Welsh or Cornish language musician or artist and for it not to be a political act.
More artists are starting to sing in their native languages again, do people just need to get a bit braver?
I'm not sure if it's about being brave, it's more about recognising what you're really in it for.
Of course, if you sing in Welsh as opposed to English, your potential reach is considerably smaller but on the other hand you also have a much smaller chance of being drowned out in a sea of noise.
A lot of modern Welsh music is still predominantly male rock and guitar focussed (though this is slowly changing) and so any diversion from this does tend to raise a few eyebrows which of course I love! I think the main thing is being true to yourself and if that means singing in a language that fewer people understand, then so be it.
Patriarchy is a theme you have dealt with in your songs. With all the recent stories of abuse and harassment in the entertainment world, what do you think needs to be done within the music industry to provide a safe comfortable environment for women to work in as equals?
I think there needs to be a more honest and open discussion within the industry with both women and men leading discussions. Most of what I've personally encountered is (or was) so normalised that you would be made to feel that any reaction, other than to brush it off or worse still, to laugh along, would be seen as disproportionate. I think these are some of the most difficult things to address and recognise because it is so ingrained in our culture, it involves everybody, our whole dynamic system is warped and needs to shift. Women in the industry are not 'women musicians' or 'girls in tech', we're just musicians and technicians. That's the equality we must strive for.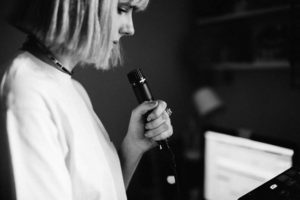 Apart from finishing your debut album, what's next for ANI GLASS?
I'm really excited about curating the presentation of this album; conceptually and visually. I have a lot of ideas about how I might involve and engage with people who may not be instinctively interested in Welsh electronic music.
It's quite an exciting time to be making music in Wales – something is afoot; I couldn't tell you what it is but I think it's going to be exciting and I really want to be a part of it.
---
ELECTRICITYCLUB.CO.UK gives its warmest thanks to ANI GLASS
'Generaduron' is released as a download single by Recordiau Neb
'Ffrwydrad Tawel' is still available as a download EP from https://aniglass.bandcamp.com/
https://www.facebook.com/aniglasscymru/
https://www.instagram.com/anisaunders/
---
Text and Interview by Chi Ming Lai
8th January 2018