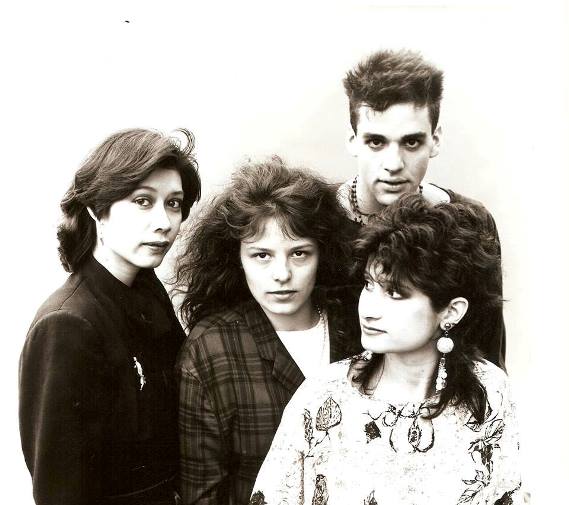 Philadelphia and subsequently New York City are home to BOOK OF LOVE.
The band, which created a stir with American synth music crowds, came into being in 1983 when Susan Ottaviano joined forces with Ted Ottaviano (no relation) in Philly, later recruiting Jade Lee and Lauren Roselli Johnson.
The name was adopted from a song by THE MONOTONES and soon the entire crew worked out of New York.
Citing influences from anyone from Bowie, through COCTEAU TWINS, THE RAMONES, OMD to DEPECHE MODE, the quarter started writing their own material, and equipped with few demos, notably 'Boy', hoped for a label to take an interest.
And a label did… not just anyone but Sire Records, whose president at the time Seymour Stein loved the tubular bells and happy go lucky melody of the track. 'Boy' went on to become a notable dance hit, positioning itself at number 7 on the Billboard Dance Chart. Furthermore, it gave the band such success and exposure, that the group happily left their day jobs to dedicate themselves to the craft of music exclusively.
And that's how their love affair with DEPECHE MODE took off. Having met Basildon's finest, BOOK OF LOVE were invited to support them, not only on 'Some Great Reward' Tour, but to return for the 'Black Celebration' live shows as well.
BOOK OF LOVE's second single 'I Touch Roses' was an instant head turner, with the additional kudos of being remixed in its single version by none other than Daniel Miller of Mute. The innovative feel to the song opened more doors for the group and enabled them to get a go ahead from Sire to finish the album. Delicately placed bells, chimes and quirky synth worked wonders for the moody vocals of Ottaviano.
By then the eponymous 'Book Of Love' was also recorded, bearing more alternative influences alongside the synths. With a nursery rhyme feel, and musicality recalling JOY DIVISION, it grabbed instantly, providing a fresh substitute to what was out there at the time, and yes, the bells were there too!
The album came, heralded with 'You Make Me Feel So Good', a typical dance oriented synth tune with a twist thanks to the vocals encapsulating a merger of SIOUXSIE & THE BANSHEES, KATE BUSH and all the BANANARAMA girls.
Self-confessed admirers of art, BOOK OF LOVE named the second single from the opus after an Italian artist Amedeo Modigliani. 'Modigliani' features wonderfully arpeggiated synth, delicate choirs and a plethora of noisy synth thrown in for good measure with a very PET SHOP BOYS-esque ending. A version was used in an episode of 'Miami Vice' and the 1987 film 'Planes, Trains and Automobiles'.
Touring with the mighty DEPECHE MODE and didn't leave much room for any studio work, therefore the continuum 'Lullaby' was recorded after the 'Black Celebration' Tour was completed. Mark Ellis aka Flood took the reins of production, fresh from working with ERASURE and U2.
The title track introduced somewhat folky elements to its composition and featured a gentler approach to the whole enterprise. The influences from ERASURE and DEPECHE MODE are clearly palpable, without stripping off the absolute uniqueness of what BOOK OF LOVE were about.
'Pretty Boys & Pretty Girls' which was the first single from 'Lullaby' openly tacked the hot topic of AIDS. The plea to practise safe sex was a novelty in synth music, and it was warmly received, given the candied feel of the track and its easy listening qualities. As the tubular bells were essential in BOOK OF LOVE's proposition, a snatch of MIKE OLDFIELD's classic composition also found itself on the production.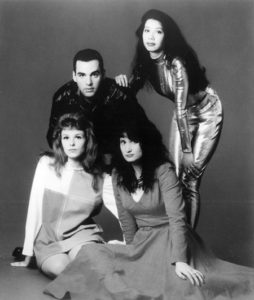 'Witchcraft' presented a notion of sampling, with the original series 'Bewitched' in its heart. Consisting the peculiar rapping from all the three girl members, combined with simple melody and candid vocals, it was the only single to fail to chart.
'Candy Carol' was the third album, released in 1991, and with the changing musical landscape and introduction of new genres, there was a need for Ottaviano and co to provide a quirky alternative. Inspired by carols and the need for a decent melody, tracks like 'Alice Everyday' and 'Counting The Rosaries' performed by Lauren Roselli or 'Sunny Day' with harps, bells and simple guitars added up to an uncomplicated proposition against rap, hip hop and the raise of Seattle's grunge.
Ted Ottaviano produced the fourth BOOK OF LOVE's album 'Lovebubble' himself, with the band members doubting their place in the current musical climate, and the record proved to be the quartet's last. 'Boy Pop' was a big dance club hit and an ode to gay love, while 'Sunday A.M.' represented a beautifully sculptured melody and gentile additions.
'Hunny Hunny' brought the tempo up to speed with a punctuated arpeggiated synth beat a la ERASURE, American style. 'Chatterbox (Pt 2)' was a part of the double single with Jade Lee on vocals.
BOOK OF LOVE have previously released couple of 'Best Of' style compilations and now, Susan and Ted Ottaviano are back by popular demand, releasing and touring 'The Sire Years: 1985-1993', with all the aforementioned tracks and more, to relive and enjoy the quirkiness, simplicity and joy of their heyday.
If you weren't a fan back then, or it slipped your radar, jump on the bandwagon now, because BOOK OF LOVE are just what the doctor ordered.
---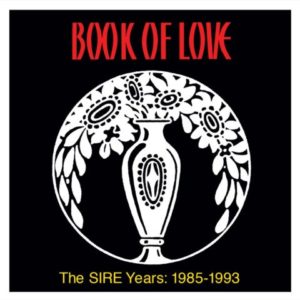 'The Sire Years: 1985-1993'
is released as a CD by Note For Note Music on 19th January 2018
BOOK OF LOVE play Miami The Kitchen Club (13th January), Orlando The Social (14th January), Seattle The Crocodile (9th February), Dallas Granada Theater (16th February), New Orleans One Eyed Jacks (24th March), Atlanta Aisle 5 (7th April), Denver Herman's Hideaway (21st April)
http://www.bookoflovemusic.com
https://www.facebook.com/bookoflovemusic/
https://twitter.com/bookoflovemusic
https://www.instagram.com/bookoflovemusic/
---
Text by Monika Izabela Trigwell
10th January 2018