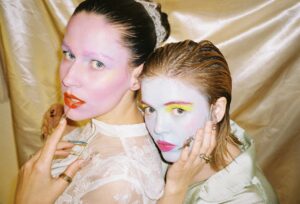 The delightful Berlin based Nordic duo ULTRAFLEX are back and this time, they want you to 'Relax'!
Kari Jahnsen and Katrín Helga Andrésdóttir had made music under their respective solo monikers of FARAO and SPECIAL-K. But they came together as ULTRAFLEX in 2020 for a sexy sport and fitness inspired disco debut 'Visions Of Ultraflex' as they felt "the need to stop being miserable and do something fun for a change."
For their glittering new single 'Relax', the playful pair turn to Autonomous Sensory Meridian Response (or ASMR) for inspiration. During the worldwide pandemic and its prolonged confinement, the need to unwind was a given. Oddly satisfying videos of makeovers, making ramen, zit popping and playing with slime became popular as they triggered a tingling sensation on the scalp before moving down the back of the neck, providing calmness and relaxation in a number of viewers.
"Get your dose of tingles" say ULTRAFLEX about their ASMR inspired video for 'Relax', made in collaboration with nail-artist Lisa Mård, jewellery designer Margrét Unnur Guðmundsdóttir, make-up artist Jana Kalgajeva and cinematographer Ingrid Loftsgården.
For ULTRAFLEX, the audio and visual aspects to their art cannot be separated; they said to ELECTRICITYCLUB.CO.UK in 2020 that "We felt like the music wasn't complete without a visual universe surrounding it".
So as ULTRAFLEX continue from where they left off, "Throw on a G-string and some high heels, find a bottle of body lotion and lather up whilst listening to the sound of bells, chimes, shimmery synths and authoritarian command / creepy psychiatrist order to take it easy".
---
'Relax' is released by Street Pulse Records and available on the usual online platforms
https://www.facebook.com/ultraflexband
https://twitter.com/ultraflexband
https://www.instagram.com/ultraflexband
https://soundcloud.com/ultraflexband
https://open.spotify.com/artist/0GX25ns6c6gNoBmZyb0Sqg
---
Text by Chi Ming Lai
Photo by Julius Rueckert
13th March 2022