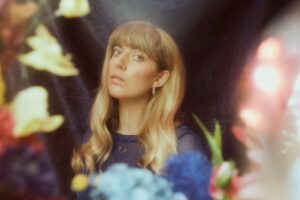 German songstress Greta Louise Schenk found wider fame in her adopted home of Copenhagen as a member of IDA RED, but always had an inherent desire to do something on her own.
The first GRETA release 'Ardent Spring – Part I'
was an impressive collection of six airily melancholic songs that were simultaneously kitsch, cool, weird and filmic.
Working with the Berlin-based Norwegian producer Kari Jahnsen, better known to the wider music world as FARAO, the collaboration allowed Schenk's angelic vocal tones to shimmer and shine within a gorgeously dreamy synthpop universe, as on the gently Motorik 'Baby' and the forlorn moods of 'Spin'.
Greta Louise Schenk kindly found some time to talk about seasonal changes, vintage Soviet synths and the understated magnetic allure of GRETA.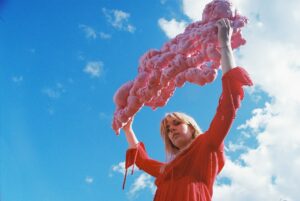 So why is spring the best season for you?
Spring for me is not necessarily the best or easiest season, but it definitely is the time of year that inspires me the most. I get very moved by nature blossoming and everything getting reborn in a way, which makes me think about life's cycles. That often results in a strong need to create, redefine myself and "live" a little more again after a long and dark winter.
What inspired the move to Scandinavia to pursue your dream of a music career?
Because I grew up in northern Germany, Denmark has never been far away. Right before finishing high school, I visited a friend who was a part of the music scene in Denmark. It seemed so much more open and inspiring and made me decide to apply to a music school in DK and drop my plans of studying classical music in Germany. I got accepted, moved to DK and here I am.
Who were the artists you loved which influenced you the most?
I think it's difficult to say who influenced me the most, because I listen to a lot of music and often first find artists that could have been my influences after someone named them as a reference to my music. I think I get inspired mostly by the people I work with and who are a close part of my process.
While making 'Part I', I listened a lot to: COCTEAU TWINS, KATE BUSH, ABBA, TAME IMPALA, BEACH HOUSE and the intro song to the movie 'Never Ending Story'.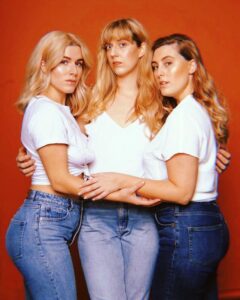 You are a member of the girl group IDA RED, but how did the idea for a solo work come about?
Since a very young age I have performed my songs solo on piano. So GRETA as a solo artist has been existing for a long time.
After I stopped playing with my first solo project WHO IS LOUIS, I felt like something new needed to happen. IDA RED was at its early stages at that time and it was very refreshing and inspiring to create everything together as a group. But I soon recognised that I also needed my own space as a solo artist.
I felt a need to go back to my roots and write songs on the piano again. With WHO IS LOUIS, my interest for synthesizers and arranging my songs started and I developed that with my new songs. I slowly created this solo alias, a new project with my own name, where I could go after all my artistic visions and express myself musically and visually. Of course going to Berlin and recording with FARAO has been an essential part of this.
What fascinated you about FARAO's music to ask her to collaborate with you?
I was blown away by the whole sound. The super interesting rhythms, the detailed arrangements with so much to experience and yet as clear as glass, the catchy and moving melodies, the organic and electronic sound textures. I felt like FARAO would understand my music and would be able to add a little more structure and edge. She did more than that and working with hear really opened my ears and my mind.
How would you describe the differences in the process of making music between IDA RED and solo?
While IDA RED is a combination of three different backgrounds, three women and three voices where we create everything together and always compromise from start to end, GRETA is 100% me. This is my safe space and place where I can outlive all my ideas, it is also a lifelong searching and finding.
Although I love to work together with a lot of different people and also do that a lot later on in the process, I mostly like to work on my own when it comes to songwriting. This is a very vulnerable space where I want to be in control and be able to first create a foundation and then invite other people into my process.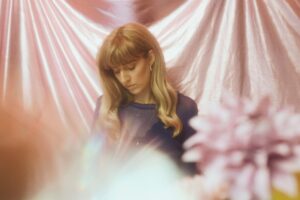 What is the creative dynamic between you and FARAO, how much takes place together in the same room and how much remotely?
Our process is actually very compact and intense. Like one or two weeks in a row, several times a year. I think 'Part I' was recorded over 4 weeks in total. I bring my songs as demo recordings and then we sort out, record new stuff, replace and layer on top.
We rarely write extra stuff, our process is all about the sound and production, structure and dynamic. We are very focused when we work but also have a great time playing around with sounds, eating Berlin's great Asian food and dancing to disco tunes in the breaks and weekends ?
The mix process is remote, so is everything that follows the recording, like music videos and stuff like that.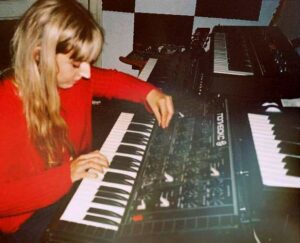 FARAO has a nice collection of vintage synths including some from the former Soviet Union, how did you find these to use, did you have a favourite one you kept going back to?
We used all of them all the time and I was in synth heaven. They add so much texture, warmth and edge to every production. I absolutely fell in love with them! My favourites are the Polivoks, Yamaha CS-15 and Korg Delta.
Both 'Spin' and the 'Ardent Spring' title song have this beautiful melancholic quality, is it more natural for you to produce something sad but dress it up with melody?
It definitely has been that way for a long time, maybe because I started writing therapeutic ballads on my piano when I was a child.
Right now, I am more fascinated by rhythm and bass lines and then create melodies on top of that. But I guess what really fascinates me is the combination of contrasts, creating layers, also with feelings and emotions, and giving my listener the opportunity to read into my music.
I would say that all my new songs are "happier" or definitely groovier but they always have a hint of melancholy in them.
So is 'Bad Lovers' autobiographical?
Yes…. ?
'White' is perhaps the most unusual song on the EP, with its rhythmic structure and chromatic overtones, it could almost be an art rock number?
True, I often wonder how this song came out of me. I actually wrote it on my Irish bouzouki, which may explain the chords. I was listening a lot to LANA DEL REY and it was quite a dark time in my life. This song is one of my favourites to play live. With that and 'Baby', it is so easy for me to go into that feeling again and I love to fully live it out on stage.
Which are your own favourite songs on the EP?
I can't choose. Some of those songs have been with me for a long time. Developing, changing and moving along with me. Maybe 'Bad Lovers', this one is my instant Berlin-feeling in a song for me.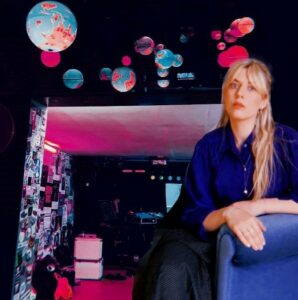 Will there be an 'Ardent Spring – Part II'?
Yes definitely! And I am already slowly and secretly working on something that right now is called 'Part III'…
What is next for you?
A lot, I have some very special concerts coming up for the rest of autumn and December. One of them is an audio-visual concert with visuals especially created / designed to my music. In November I will go to Berlin to write new music and then I am slowly getting ready for a crazy exciting 2020…
---
ELECTRICITYCLUB.CO.UK gives its warmest thanks to GRETA
Special thanks to Nicki Bladt at Celebration Records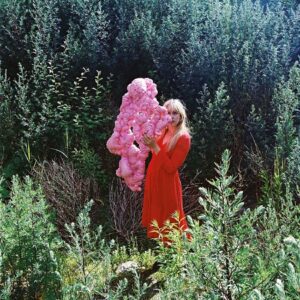 'Ardent Spring – Part I'
is released as a download EP by Celebration Records, available direct from https://gretagretamusic.bandcamp.com/
GRETA 2019 live dates include:
Frederiksberg Country Club (9th November), Odense Cirkus Dynamo (23rd November), Copenhagen Trinitatis Church (10th December)
https://www.facebook.com/greta.geschenk/
https://www.instagram.com/greta.geschenk/
http://celebrationrecords.dk/work/greta/
https://open.spotify.com/artist/6qcpBIlSWMhas6waVUKCbK
---
Text and Interview by Chi Ming Lai
7th November 2019