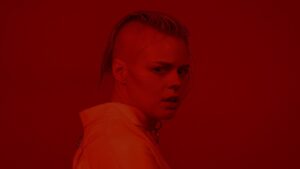 In just a few years, REIN has become an icon and secured her position as a musical pioneer.
REIN's self-titled EP was released in 2016. Together with her second EP, 2017's 'Freedoom'
, she renewed and breathed life into the Swedish electronic music scene, making it her own.
With her raw, energetic electro, which has roots in Electronic Body Music but has transcended the genre, she has attracted a new audience to the alternative dancefloor.
Her unique sound and style led to P3 Gold-nominations in the categories, "Newcomer of the Year" and "Dance Act of the Year."
'Off The Grid'
is the first single from the forthcoming debut album from REIN. Co-produced with Carli Löf, it marks an energetic return for the Swedish artist. It is also sees her songwriting reach new levels.
REIN took a few moments from editing her intense new video to talk ahead of her upcoming London Electrowerkz show on SATURDAY 30TH NOVEMBER 2019.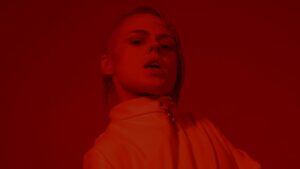 What is the inspiration behind the new single, 'Off The Grid'?
It deals with a transition point in my life which began two years ago, but from a Matrix perspective. I took the decision to free myself from a lot of things that broke me down mentally.
I came to the realisation that I did not have a life which was my own and took the decision to move, start new collaborations and to shape myself. 'Off The Grid' is about being true to yourself and going your own way; believing in your own strength again. How I took back the power of myself and my music. How I woke up from the Matrix.
Should an artist use the mainstream in a subversive way? Is there power in pop?
Well, that is an interesting question. Pop, itself, is everywhere. No one can really hide from it. You can even hear a pop structure in heavy music that isn't mainstream. In my opinion, everybody is free to do whatever they like. I don't like the word,"mainstream" because it has such a negative feeling.
But, if you take Kurt Cobain as an example, he loved ABBA; and, when you listen closely, you can hear that there is a pop structure in the songs from NIRVANA – even if the sound is heavy, if you know what I mean? It doesn't have to be black or white, you know.
We should ask, "What is pop?" It's like asking people, "What is art?"
Power is music – and the message you bring into it – within a structure. Or, it doesn't have to have a structure at all and can be more free, like BJÖRK. There are really no rules – it is all about touring enough and whether the people like it. People have the power over music; and, unfortunately, it's a lot of kids. That's why music all sounds the same today – with too much Autotune and poor hooks.
What is the story behind the new music video for 'Off The Grid'?
I'm basically trapped in a government experiment from the future – or in the Matrix – but I was the one who woke up and tried to break free.
How important is the visual element to accompany your work, both for your image and for live work?
I have always loved fashion. I want to look like my music.
How is your debut album coming along? What can you tell everyone about it?
It's a psychological, sci-fi, thriller masterpiece that I have been working on for 2-3 years. I have surpassed myself. It's going to be iconic. It's coming out in 2020! It's more personal this time, and I have developed myself musically.
It is more dynamic, melodic, with more analogue synthesizers then before; but, at the same time, it's darker than before. I want to give people inspiration, hope, stimulation, and authentic art that speaks to them – hopefully, as much for as it does to me.
I have collaborated with Carli Löf, who is my co-producer. He has worked with ROBYN, BOYS NOIZE and LADY LESHURR, who is a big female rapper in the UK. He has also DJed a lot in London, I have heard.
---
ELECTRICITYCLUB.CO.UK gives its grateful thanks to REIN
https://www.facebook.com/reinofficialmusic/
https://www.instagram.com/_reinofficial_/
https://open.spotify.com/artist/081nh5DBAXiKgJhOlqgU2V
http://www.coldwarnightlife.com/2015/10/26/here-comes-the-rein/
---
Text and Interview by Simon Helm and Chi Ming Lai
9th November 2019, updated 19th November 2019