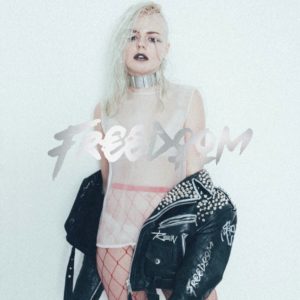 Paul Rein is Sweden's pioneer of Italo disco, no less, and had been quite popular in his country, as well as writing for world renowned artists like Christina Aguilera or Jessica Simpson.
But his daughter Joanna certainly got her musical bug, when the electronica loving dad took her to see KRAFTWERK at the age of thirteen. Joanna Reinikainen never quite fitted into her peer group and discovered that the love of harsher sounds was what she's all about. NITZER EBB's stomping EBM beats are what has been inspiring her own direction, however her true start was providing vocals for THE OPERATING TRACKS' 'Testify'.
Actively trying not to be classified into a particular genre, Reinikanen released her first 'Rein'
EP, which hit the Swedish market with a bang and creating quite a stir, thanks to strong melodies and some powerful lyrical content.
And now follows EP number two, entitled 'Freedoom'
. The heralding single 'C.A.P.I.T.A.L.I.S.M.' only shares its title with ROTERSAND's last album, even though the tendencies could be similar. Shouted out and angry, forward and right-in-your-face is what REIN goes for here.
Accompanied by the rather poignant video, showcasing all the wrongs connected with modern law, human rights, poverty, war and above all, how "we are the slaves of money", it's all wrapped up around a heavy EBM beat as a manifestation of youthful rebellion. It definitely isn't an encrypted political statement; REIN goes for the throat.
'Misfit' is equally fight inducing, but far more musical while '(You Call It) Democracy' calls for the "change of our system" with deliberate tempo changes, depicting the delusional distribution of wealth in the world. 'Bruises' introduces more personal lyrics, starting off fairly lightly, but soon developing into the foot stomping EBM with pronounced bass and not-so-crooning synth.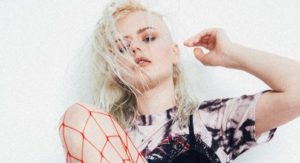 The closing track, 'Nasty Woman', written with Nina Mariah Donovan, is a feminist manifesto against the lack of equality. It's neither retiring, nor is it subtle. If anyone needed the issues spelt out, it certainly happens here. All interlaced with bass heavy synth providing the canvas for the shouted out words, the very last lyric hits the American president with a proclamation that "our pussies aren't for grabbing".
If you like subtle, you're not going to enjoy REIN; she's definitely not for the shy, retiring type. Unlike the forefathers of synth, with DEPECHE MODE, ERASURE, OMD and PET SHOP BOYS, all going for a more encrypted political messages, REIN spells it out, not worried of being misunderstood or pillared. It's a bit of a "if you don't like it, f**k off" kind of message, all loaded with explosive synth, boots to the floor rhythm.
If you love straightforwardness and heavy EBM, you're in for a treat.
Paul Rein, your daughter certainly is a rebel!
---
'Freedoom'
is released by Playground Music and available via the usual digital platforms
REIN plays TEC006 at Electrowerkz in London on SATURDAY 30TH NOVEMBER 2019 – tickets available now direct from https://billetto.co.uk/e/tec-006-with-rein-se-special-guests-tickets-381506/
Please note that Electrowerkz requires mandatory photo ID for its events so NO ID, NO ENTRY – the organisers cannot take responsibility if entry is refused
TEC006 Facebook event page at https://www.facebook.com/events/360347931569962/
https://www.facebook.com/reinofficialmusic/
https://www.instagram.com/_reinofficial_/
https://open.spotify.com/album/1ZXCCiBFeKGz0Z3AA2StTB
---
Text by Monika Izabela Trigwell
19th May 2017, updated 25th September 2019