THE RADIOPHONIC WORKSHOP was the legendary group of musicians / engineers that were set up in a BBC department 'Room 13' to provide music and sonic effects for radio and television programmes.
Most famous for Delia Derbyshire's iconic interpretation of Ron Grainer's 'Dr Who Theme', the collective also scored the music for 'The Hitchhiker's Guide to the Galaxy' and 'The Living Planet'. Due to financial constraints, the Workshop was wound down in 1998, but in 2009 several ex-members including Peter Howell, Roger Limb, Dr Dick Mills and Paddy Kingsland, along with "long-time associate composer" Mark Ayres reunited for some live shows.
'Burial In Several Earths' sees the first official studio release since 1985 with the music being inspired by an unfinished poem by Sir Francis Bacon. The spirit of Workshop co-founder Daphne Oram lives on within the album as she once treated a section of the Bacon work as a manifesto for the operation and its commitment to producing innovative electronic avant-garde sound.
The reunited collective's manifesto for 'Burials In Several Earths'
was to "…see what happened if we allowed people to react together with their machines in a very unplanned and spontaneous way" with "the computers and sequencers switched off" leading to a "very human interaction between all of us".
The album also features guest appearances from Martyn Ware and Grammy-award winning mixing engineer for THE CHEMICAL BROTHERS, UNKLE, and NEW ORDER, Steve 'Dub' Jones.
Ware discussed the making of the album with ELECTRICITYCLUB.CO.UK recently and the very improvised nature of most of the compositions featured, saying "No words were spoken as to what we were going to do, it was completely spontaneous. At first, it felt incredibly awkward and childish in a strange sort of way, but as things loosened up a bit and we played off each other in a classic 'jazz' style, what emerged was spasmodically transcendental."
With the opening eponymous track clocking in at close to nineteen minutes and a subsequent pair of twenty plus minute tracks, you know that this album isn't going to be one that requires a cursory listening. The epic piece seamlessly moves through several sections from peaceful piano through to howling EMS synth freakouts.
Cyclical piano starts 'Things Buried in Water' with background siren-like synths, and an echoed guitar texture adding to the atmosphere. At this point, this appears to be the most melodic track so far until a huge blast of white noise materialises at around the four minute mark to disturb the peace. Halfway through, an octave / filtered arpeggiator riff comes in with an ever-increasing tempo, but drops out of the mix pretty much as quickly as it appears.
'Some Hope of Land' is another challenging piece, constantly evolving with a mix of JOHN CAGE inspired ambience and blippy sequencer parts. The ending of the track is almost an electro-blues section, with the kind of guitar riff that Martin Gore would be more than happy to rock out.
In comparison, the short four minute 'Not Come To Light' is more concise and is split between full-on analogue distortion, through to a beautifully pristine synthetic aesthetic.
'The Stranger's House' starts with an echoed Virgin-era TANGERINE DREAM-style sequencer pattern; short fragments of electronic sound punctuate before a deep JOHN CARPENTER-esque bass joins the mix. Three minutes in and a thinly EQ'd guitar helps to give the track a Krautrock feel, whilst the bass reveals itself as a sequencer pattern itself when other notes are additionally triggered. The additional of more real piano really evokes the playing of Edgar Froese and the mixture of live instrumentation and synthetics works brilliantly here.
With acts like Tim Gane's CAVERN OF ANTI-MATTER perpetuating the influence and sound of THE RADIOPHONIC WORKSHOP in recent releases, it's undeniably brilliant to still have several original members creating vibrant and challenging electronic work.
In places this is not an easy listen, but with repeated revisits 'Burials In Several Earths' is a rewarding album and one can imagine the makers of the album having a huge amount of fun making it.
---
'Burials In Several Earths'
is released by Room 13 Records as a 4 x 10" vinyl boxset, double CD and download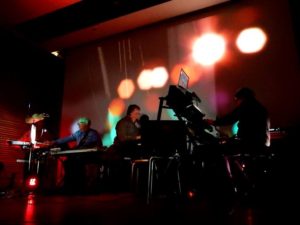 THE RADIOPHONIC WORKSHOP play live in Surround Sound at the IMAX Theatre in London's Science Museum on Friday 16th June 2017. The evening will also feature an onstage panel Q&A hosted by Dr Tim Boon – tickets are available from http://www.sciencemuseum.org.uk/visitmuseum/Plan_your_visit/events/exhibition_events/radiophonic-workshop
http://www.theradiophonicworkshop.co.uk/
https://www.facebook.com/theradiophonicworkshop/
---
Text by Paul Boddy
20th May 2017