The decade you either love, or love to hate…
The Southbank Centre's year long 'The Rest Is Noise' festival concluded its musical journey through the 20th century with a special event entitled '19 eighties: the rhythm of a decade' which saw classical meet synthpop. Broadcast live by BBC Radio3, the evening was hosted by journalist, cultural commentator and ZTT strategist Paul Morley in the company of the BBC Concert Orchestra.
Featuring the work of contemporary composers such as Andrew Poppy, Sir John Tavener, Steve Martland and Michael Nyman as well as tracks from THE ART OF NOISE and the synthpop era arranged in a special orchestral suite by Anne Dudley, it was billed as "a one-off documentary soundtrack to the decade you either love, or love to hate".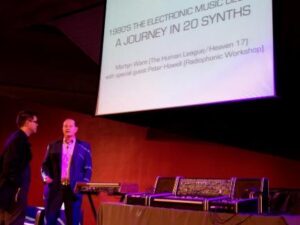 It is well documented how ELECTRICITYCLUB.CO.UK feels about that decade, or rather how it has been generalised. While some of the greatest and most innovative pop music ever produced came from between 1980-1989, the decade also gave rise to some of the worst.
So to have lazy journalists glamourise about how it was one wonderful party for all is not only ignorant, but extremely insensitive to those who suffered in the era.
Music was often an escape for these troubles and for every pioneer who pursued artistic values as a reaction to the system, like today in our X-Factor / Heat magazine driven society, there were corporations and aspiring celebrities prepared to go to the lowest common denominator in order to get rich quick.
But the biggest gripe ELECTRICITYCLUB.CO.UK particularly has is how the synthesizer has been marginalised as a by-product of that era, only be used now as an instrument to reflect nostalgic intent or mock rather than pushing boundaries and encouraging forward thinking. Comments from unenlightened observers who think of Alison Moyet's 'the minutes' album as being "80s sounding", rather than a songwriter's experiment in modern electronica, are an example of the imbecilic attitude at large.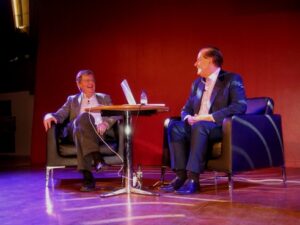 So it was apt that to start the evening in the foyer of Southbank Centre's Queen Elizabeth Hall, HEAVEN 17 and BEF's Martyn Ware gave a talk entitled 'A Journey In 20 Synths'.
The Nile Rodgers of Synth Britannia was joined by the BBC Radiophonic Workshop's Peter Howell with the pair leading an informative and lively discussion about the electronic music decade. Interestingly, most of the chat focussed around equipment from the decade before.
It all started with an instrument that was first launched in 1971, the Stylophone 350s. Ware commented that he thought he was Brian Eno when he got one. Next up was the EMS Synthi 100, one of those huge telephone exchange beasts that have gone down in legend; Howell recalled it had a knob called 'Option4' which wasn't actually connected to anything and often used by members of the BBC Radiophonic Workshop to trick difficult TV producers into accepting their soundtracks by offering tweaks in their presence… "Oh! Hang on, it just needs some more Option4"!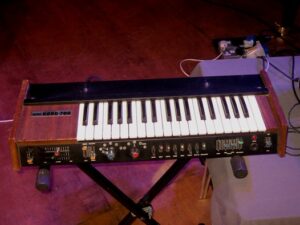 Ware then gleefully talked about the Korg 700s and Roland System 100, the two synths which effectively helped realise his post-punk musical vision. First manufactured in 1974 and 1975 respectively, these two were the rhythmical powerhouse of THE HUMAN LEAGUE's first single 'Being Boiled' in 1978.
Affection was also bestowed on Roland's Jupiter 4 from 1978 (described by Ware as his "dream synth") and the Linn LM1 which Ware said was the "best drum machine ever".
Asked by a member of the audience whether he liked Oberheim gear, Ware commented that he was not a big fan of American synths as they were designed for musicians, with the filters not being particularly extreme enough for experimentalists. Howell highlighted that one of the beauties of synthesizers was being able to change timbre and tones mid-composition, thus enabling the creation process to be taken into a direction that would not have been possible using acoustic instruments such as guitar or piano.
After adding that he had three Roland TB303 Basslines which were all stolen from the studio because they were pocket sized, Ware groaned as the subject headed towards digital synths of the period.
The Roland D50 from 1987 provoked an interesting debate with Howell in favour of its possibilities while Ware bemoaned the fact that he traded in his Jupiter 8 for a Yamaha DX7!!! Howell then admitted that he used the DX7 as a controller keyboard for the recent Radiophonic Workshop live shows. But both agreed that with FM synthesis, everyone fell into the preset trap and started to use the same sounds… the result inevitably being that pop music became much more homogenised in the latter part of the decade.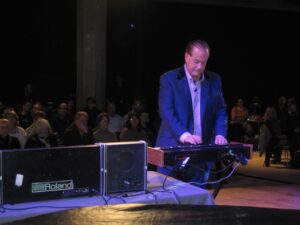 Following a comment that the Korg M1 was the worst synth ever designed, Ware walked over to fire up the Roland System 100 and Korg 700s he had brought with him to demonstrate to the receptive audience.
Using the original patches from 'Being Boiled', the familiar industrialised rhythm poured from the expanded System 100 driven by its 104 sequencer module. After some temporary 103 Mixer glitches, Ware stood behind the Korg 700s for a run through of the song's distinctive bass riff
TheKorg 700s' dual oscillators rumbled the plush confines of the Queen Elizabeth Hall. It was an entertaining and accessible presentation with Ware and Howell articulating their thoughts without too much technical talk in a humourous manner.
And so onto the main event; Paul Morley introduced the evening's proceedings as "using words and music to summon up memories of that decade, to eradicate some others" and "to try and work out what the hell happened there…"
The 'rhythm of a decade' concert itself began with '32 Frames For Orchestra', a piece conceived by one time ZTT artist Andrew Poppy as "merging Beethoven with The Velvet Underground".
In an onstage chat with Morley, Poppy reflected a spirit of adventure that shared an affinity with the innovators of Synth Britannia before taking to the piano himself for a rendition of 'Almost The Same Shame'. There then followed touching tributes to the recently departed composers Sir John Tavener and Steve Martland. The solemn tranquillity of Tavener's 'The Lamb' captured the sadness of the era eloquently while Martland's powerfully rhythmic 'Remix' represented how he felt classical music could be given a broader audience, a stance reflected in his commitment to music education and as a curator of the short lived Factory Classical label.
Celebrating THE ART OF NOISE and ZTT's 30th Anniversary, an announcement came forth via Morley in his usual, wittily provocative style: "thirty years after our first record 'Into Battle' which was neither an album nor a single, which was really a series of musical movements in the abstract, each of which lasted different lengths from the quite short to the fairly long, the time has perhaps come for a reunion… this is our reunion, hidden in the middle of something else altogether!"
The orchestral premiere of THE ART NOISE's debut 1983 EP 'Into Battle' specially arranged by Anne Dudley was a delight, coming over at times like a lost Bond film soundtrack. The EPs two best known tracks 'Moments In Love' and 'Beatbox' each had their component parts reinterpreted by classical instruments as "memory of a memory"; the distinctive bassline of 'Beat Box' was represented by French horns while the iconic vocal samples of 'Moments In Love' had their places taken by an ensemble of violins.
After the interlude, classical music's link to synthpop was emphasised further before the Grand Finale with a recital of Michael Nyman's 'Chasing Sheep'. Itself based on Purcell's 'Prelude to Act III, Scene 2' from 'King Arthur', it was recently used by PET SHOP BOYS as the basis of their 'Love Is a Bourgeois Construct'. A duo with links to many involved in THE ART OF NOISE including Anne Dudley, plus of course Trevor Horn and JJ Jeczalik, all were in attendance for this spirited evening. Engineer Gary Langan was in the audience too, making it a full reunion of THE ART OF NOISE in spirit if not performance.
To conclude the concert, Anne Dudley took to the piano for the much anticipated 'rhythm of a decade'. While Paul Morley narrated his musings on Thatcher's Britain, he was accompanied by an orchestral soundtrack arranged by Dudley… and what a soundtrack! Beginning with her own familiar intro to 'Two Tribes' before segueing into the beautiful pentatonic melodies of 'Merry Christmas Mr Lawrence', there then followed a significant number of synth classics transcribed for everyone's listening pleasure.
From the dystopian shrills of 'Underpass' and 'Fade To Grey' to the euphoric club tunes of 'Pump Up The Volume' and 'Pacific State', each had been carefully chosen by Dudley for their distinctive riff laden elements to complement the dynamics of Morley's monologue.
The biggest surprise came with a blast of SOFT CELL's 'Sex Dwarf' while 'Mad World', 'Situation', 'Love Action', 'True Faith' and 'Blue Monday' all figured in proceedings alongside more conventional numbers of the period such as 'Back To Life', 'Let's Dance', 'Ghost Town' and 'Running Up That Hill'. It all worked together marvellously for what was slowly emerging effectively as a spoken word art piece accompanied by music.
Overall, Anne Dudley's orchestral interpretations were a great success, much more so than say OMD's hit and miss experiment with the Liverpool Philharmonic immortalised on the ironically titled 'Electricity' DVD. As for Morley's narration, for those who have loved his commentary over the years, this was perfect entertainment but for those who have found him an irritant, this would have been an intrusion to the music.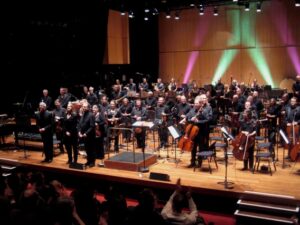 The evening was a triumph that reflected on that decade as not being the cheesefest it has often been portrayed as by the media and the public at large.
The fact that these synthesizer tunes (which have often been derided as not being real music) have been able to be orchestrated by one of modern pop's most successful arrangers is a testament to their value and integrity. Yes, the rhythm to a decade but also a rhythm to many more…
---
Special thanks to Victoria Taylor and Camilla Dervan at the BBC
http://martynwareblog.blogspot.co.uk/
https://www.peterhowell-media.co.uk/
http://www.theradiophonicworkshop.co.uk/
---
Text by Chi Ming Lai
2nd December 2013