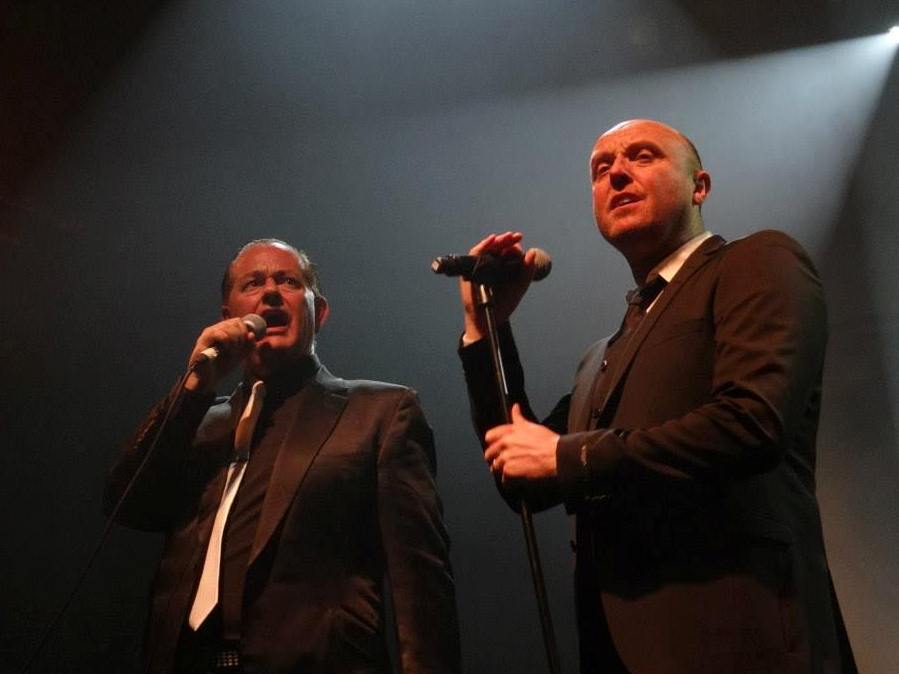 The Way It Was In The Past, A Long Long Time Ago… Virgin Records continued its 40th Anniversary celebrations with a special concert at London's Koko featuring HEAVEN 17 and SCRITTI POLITTI, two of the label's funkier exponents of electronic pop.
Billed as 'Martyn Ware Presents…', while HEAVEN 17 were the headline house band for the night, the song choices focussed on his early career including his time as a founder member of THE HUMAN LEAGUE.
Signing to Virgin Records in 1979, during this period with Ian Craig Marsh and Phil Oakey, he was involved in the making of two seminal synth works 'Reproduction' and 'Travelogue'; the latter bore the legend "Contains synthesizers + vocals only" on its back sleeve in response to QUEEN's "no synthesizers" pronouncement on their albums.
Under the A&R directorship of Simon Draper, the label had the vision and foresight to realise that THE HUMAN LEAGUE's sound was "the future of pop music". But the lack of commercial success at the time led to a split in 1980 with Phil Oakey who then recruited two girls Joanne Catherall and Susanne Sulley to record the massive selling 'Dare'. Meanwhile Martyn Ware and Ian Craig Marsh formed BRITISH ELECTRIC FOUNDATION and its pop subsidiary HEAVEN 17 featuring Glenn Gregory; the highly acclaimed debut LP 'Penthouse & Pavement' was the end result.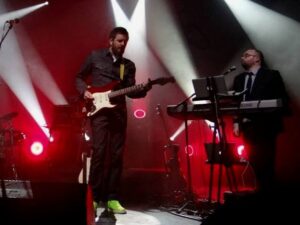 Before this retrospective show began, first there was a rare live appearance by SCRITTI POLITTI, the politically aware musical collective led by Green Gartside.
Their 'Cupid & Psyche 85' was one of Virgin's biggest sellers in 1985.
But ever the passive rebel, Green started with 'The Sweetest Girl' from Scritti's debut 'Songs To Remember'… released on Rough Trade!
After a crisp performance of that cult classic which was later covered by MADNESS, he recalled how the tune had been written in a Communist League squat just round the corner from Koko… "Happy times" he quipped! He then followed it with 'A Day Late & A Dollar Short' which was written on a beach in LA… "Happy times" quipped Gartside again, the irony not lost on him!
From the "reggae / pop / post-modernism" of 'The Word Girl' and the rock infused 'Umm' to the rap influenced 'Die Alone' during which Green treated the audience to his Moss Def impersonation, the sound was punchy and dynamic.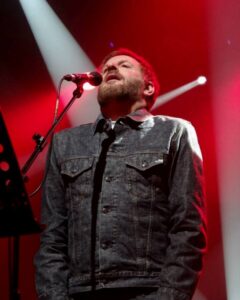 Of course, the dynamics came to the fore with two of Scritti's biggest hits 'Wood Beez' and 'Absolute'. Both Arif Mardin productions were faithfully reconstructed in that memorable sub-ART OF NOISE stylee for the eager Koko crowd.
Throughout, Green's distinctive raspy timbre was in fine shape and although comparatively stage shy, his down-to-earth demeanour was warm and appealing. SCRITTI POLITTI should go out on the road more often because based on the crowd's reaction, this performance was met with much gleeful approval and enthusiasm.
In the pre-show build-up, HEAVEN 17's MD Martyn Ware had promised renditions of songs from his tenure with THE HUMAN LEAGUE.
Although several early League staples such as 'Being Boiled', 'The Black Hit Of Space' and 'Crow & A Baby' have been regular fixtures in HEAVEN 17's live set for several years now, tonight's celebratory atmosphere was the perfect occasion to dust off a number of fine but little heard examples of electronic innovation for a concert setting.
Thus, one of THE HUMAN LEAGUE's earliest compositions 'Circus Of Death' opened the set. In its 'Reproduction' form with its spoken introduction by LWT announcer Peter Lewis, the clattering dystopia and narcotic doom delivered charismatically by Glenn Gregory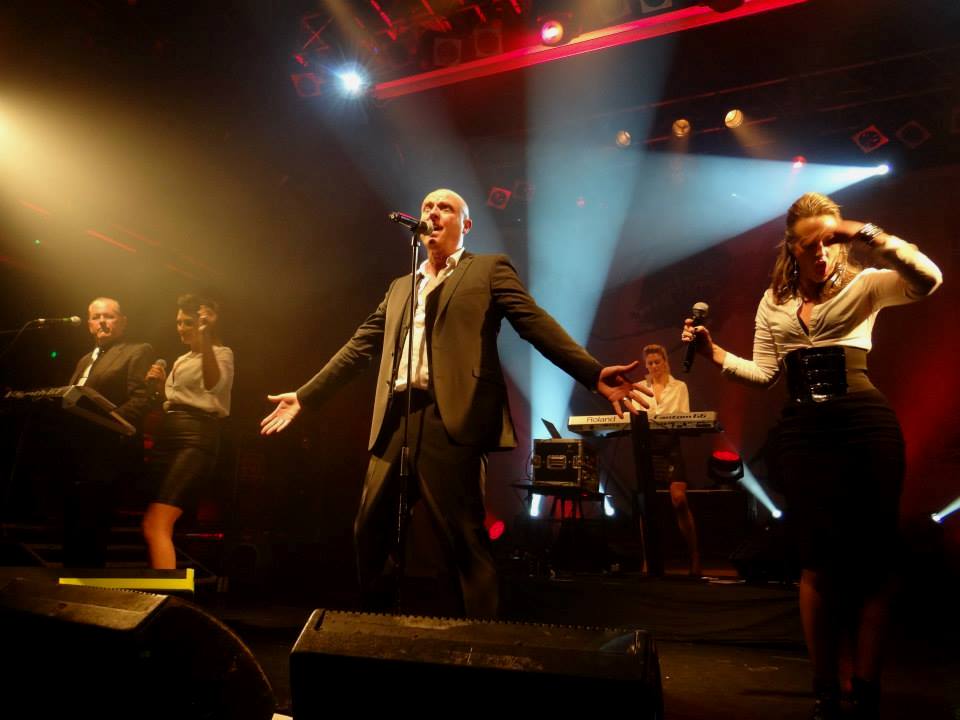 His bass delivery wasn't actually that far removed from Phil Oakey's sombre baritone.
Glenn Gregory said to ELECTRICITYCLUB.CO.UK last Autumn: "It's funny because it's me that pushes that HUMAN LEAGUE thing and I love that early stuff… I've been on at Phil Oakey every time I see him saying: 'Please Phil; you, Martyn and Ian… go and do the first two albums, just do it once'. But he won't have it! I would have my ticket and be at the front weeks in advance…"
So as Phil Oakey doesn't want to do it, it is for Martyn Ware to rightly highlight his pioneering contribution to Synth Britannia and for Glenn Gregory to be on the stage, rather than in the audience. And in a bizarre way tonight, HEAVEN 17's live personnel surreally amalgamated THE HUMAN LEAGUE Mks I and II with the gorgeous Berenice Scott deputising for a still AWOL Ian Craig Marsh (whose birthday it coincidentally was) while the glamourous duo of Billie Godfrey and Rachel Mosleh played soulsista variants of Joanne and Susanne!
The beginning of the set was loaded with surprises as a stupendous 'Marianne' from the 'Travelogue' era EP 'Holiday 80' ripped from the speakers.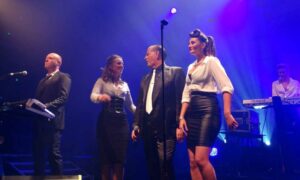 On good form with his backing vocals, Martyn Ware took centre stage himself by doing his best Iggy impression on 'Nightclubbing' from the same EP.
Always an important part of the early HUMAN LEAGUE and HEAVEN 17 vocal set-up, Martyn proved himself to be a competent lead vocalist so Mr Gregory needs to watch out 😉
Martyn remained on the mic to duet with Glenn on their now customary rendition of another League cover favourite 'You've Lost That Loving Feeling'. But of course, it was the premieres of Da League's early standards that everyone was waiting for.
Those came with a slower, dark variation of 'Empire State Human' (as programmed by Vince Clarke for the 'Naked As Advertised – Versions 08' CD) and best of all, 'WXJL Tonight'. A song about the mechanisation of radio stations which today is only too apparent, Glenn gave a marvellously soulful interpretation which Martyn likened to Neil Diamond. Closing with a reworked cover of Mick Ronson's 'Only After Dark' and naturally, 'Being Boiled', the ten song set was a total triumph.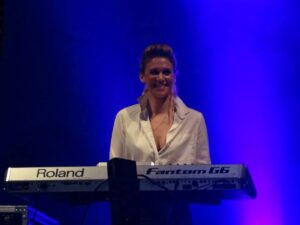 Of course, performing so many songs for the first time, there was bound to be a few missed cues from those concerned although these came more from the boys rather than the girls! But these slight fluffs added to the charm and good natured feel of the evening.
To follow that initial crescendo, there was then the surefire pleasure (one) of  HEAVEN 17's greatest hits and more in the second half, including a toughened up 'Fascist Groove Thang' with its CHEMICAL BROTHERS vibe.
From a club friendly 'Let's All Make A Bomb' to a euphoric extended 'Temptation', coupled with those early HUMAN LEAGUE songs, this was an unforgettable programme. Certainly as a live act, HEAVEN 17 are a far much more fun and engaging proposition than the current incarnation of THE HUMAN LEAGUE.
The sprightly quintet of Martyn, Glenn and Martyn's Angels are the endearing antithesis of Phil, Susanne and Joanne's dour detachment… and if you want proof, just observe how 'Temptation' is performed compared with 'Don't You Want Me?' when the respective factions are in action. There, ELECTRICITYCLUB.CO.UK has said it! So sue us!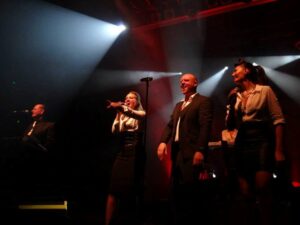 There have been some gripes online that HEAVEN 17 should not be performing early HUMAN LEAGUE material even though one of the original three co-composers is all present and correct.
But by the same token, should PETER HOOK & THE LIGHT be performing the JOY DIVISION and NEW ORDER back catalogue or ONETWO doing OMD songs? As with HEAVEN 17, a founding protagonist is present in each so therefore, the artistic credentials are valid.
And so is the entertainment value. This is showbusiness after all. In many ways, THE HUMAN LEAGUE should actually take a lead from HEAVEN 17's performance adventurism and take a few risks. After all, HEAVEN 17's 'How Live Is' CD artwork made the proclamation: "VOTE HEAVEN 17 – TRUST US, WE'RE ENTERTAINERS"!
Looking back now, the absence of an all-star rendition of 'Being Boiled' during the 'Steel City' tour in 2008 when THE HUMAN LEAGUE and HEAVEN 17 shared the bill with ABC will forever remain a missed opportunity. Hmmm! Who might have put the block on that idea? 😉
Setlist: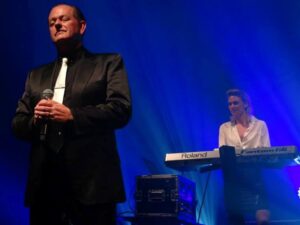 Circus Of Death
Marianne
Crow & A Baby
Nightclubbing
You've Lost That Loving Feeling
Empire State Human
The Black Hit Of Space
WXJL Tonight
Only After Dark
Being Boiled
–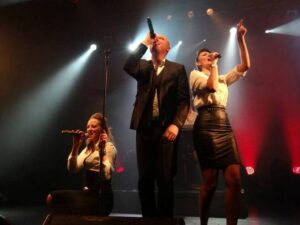 Fascist Groove Thang
Crushed By The Wheels Of Industry
Play To Win
Geisha Boys & Temple Girls
Let's All Make A Bomb
Come Live With Me
We Live So Fast
I'm Your Money
Let Me Go
Temptation
–
Penthouse & Pavement
---
The 'Live From Metropolis Studios' DVD+CD featuring 'The Black Hit Of Space' and 'Being Boiled' as well as many of HEAVEN 17's best known songs is available now via Demon Music Group
HEAVEN 17 play the following live dates in 2014:
Birmingham Town Hall (14th February), Southampton The Brook (15th February), London Jazz Café (20th and 21st February), Manchester Academy (15th March)
https://www.facebook.com/heaven17official
https://www.facebook.com/scrittinet
---
Text by Chi Ming Lai with thanks to Ian Ferguson
Photos by Richard Price
13th November 2013