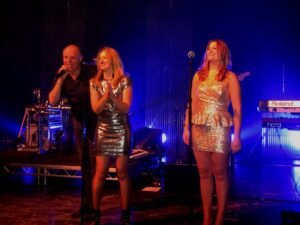 HEAVEN 17's strength as performers is that they are great fun.
It was the conclusion of their UK tour for 'The Luxury Gap' at Shepherd's Bush Empire having premiered it during last year's BEF Weekender at The Roundhouse.
The vibrant chemistry between its central vocal axis of Glenn Gregory, Martyn Ware and Billie Godfrey was very apparent and a pleasure to witness.
While the social commentary of HEAVEN 17's music has always had serious intent and is as relevant now as it was in 1983, the message has always been delivered with a sense of humour and irony. As a result, HEAVEN 17 gigs have never been dour affairs. Of course, 'The Luxury Gap' was the album that launched HEAVEN 17 into the mainstream after a period as cult heroes with their debut 'Penthouse & Pavement'.
They even ended up appearing on the same edition of Top Of The Pops as their old sparring partners THE HUMAN LEAGUE… the tensions between the two acts respective architects Martyn Ware and Phil Oakey have been well documented but in Spring 1983, 'Temptation' and '(Keep Feeling) Fascination' were both in the Top 5 and the pop promise of the original Sheffield synth pioneers who formed in 1978 was now gallantly fulfilled.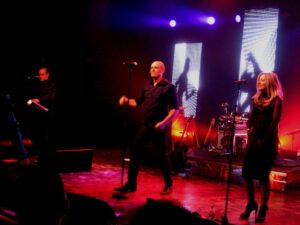 The singles such as 'Let Me Go', 'Crushed By the Wheels Of Industry' and 'Come Live With Me' are regular staples of the H17 live set but it was the opportunity to hear material such as 'Who'll Stop the Rain' and 'We Live So Fast' that made this evening such as joyful experience.
The orchestrated ballad 'The Best Kept Secret' held the crowd's attention despite the absence of beats while 'Lady Ice & Mr Hex', a weird fusion of jazz piano, polyrhythmics, Linn Drum and acid squelches was this section's highlight.
Inevitably, 'Temptation' was still a scene stealer despite being programmed comparatively early into the proceedings although an extended BROTHERS IN RHYTHM styled reprise as an encore helped close the evening with the appropriate euphoric climax…"dime in the hot slot" and all that!
With notable session musicians such as Ray Russell, John Wilson, Simon Phillips and Nick Plytas playing on the original album, HEAVEN 17 sidemen (and woman) Asa Bennett, Julian Crampton, Al Anderson and Berenice Scott all marvellously replicated these parts and more in this retrospective setting.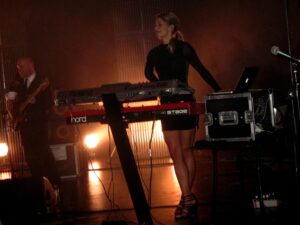 The band was complimented with the addition of Kelly Barnes on extra backing vocals, who with Billie Godfrey and Berenice Scott, provided a glamourous distraction stage right as Messrs Ware and Gregory did their double act on the left.
To bolster the remainder of the show, there were also various highlights from HEAVEN 17's career like 'We're Going To Live For A Very Long Time', 'Penthouse & Pavement', a danced up 'Geisha Boys & Temple Girls', 'I'm Your Money' and 'Fascist Groove Thang'.
There's very much an understanding between Martyn Ware and Glenn Gregory that the earlier electronic material is performed, not for nostalgic reasons but because it is their best. However, in the absence of new material, the occasion also acted as a platform for the "medium of reinterpretation" with charismatic performances of THE HUMAN LEAGUE's 'Crow & A Baby' and 'Being Boiled'.
Who would have thought that two songs Martyn Ware co-wrote with Phil Oakey and Ian Craig Marsh respectively about teenage pregnancy and silk worms roasted alive in the name of fashion would go down so well on a Saturday night? "From when THE HUMAN LEAGUE were good" remarked Ware cheekily on the conclusion of 'Crow & A Baby'. "You can't say that!" retorted Gregory before launching into his now almost inevitable acoustic rendition of 'Don't You Want Me' and amusingly forgetting the words in the process!
There was also a cover of Da League's cover of 'You've Lost That Lovin' Feelin' where Martyn Ware left his Roland V-Synth GT to join Glenn Gregory as part of a new vocal duo THE RIGHT-ON BROTHERS, and a slowed down waltz tribute to the late Billy MacKenzie with 'Party Fears Two', ASSOCIATES' heartfelt paean to the pain of schizophrenia. They may not have new songs but HEAVEN 17 certainly take risks with their live sets, unlike several of their Synth Britannia contemporaries.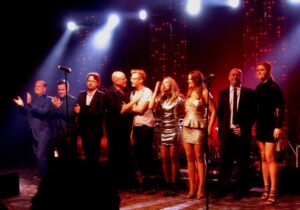 It was a memorable and enjoyable time for everyone concerned. The banter between band members with the audience made for an entertaining show.
But what next for the future artistic endeavours of HEAVEN 17? Is a live showcase of the Fairlighted jamboree of third album 'How Men Are' next in line? Nowhere near as consistent as either 'Penthouse & Pavement' or 'The Luxury Gap', it would be a brave move.
And looking ahead, even the most hardened HEAVEN 17 fan is unlikely to be waiting for the concert debut of 'Teddy Bear, Duke & Psycho'!!
So instead, here's another question to end… is Berenice Scott possibly the sexiest lady ever to have got behind a synthesizer?
---
With thanks to Rosie Johnstone and Sacha Taylor-Cox at Impressive PR
'The Luxury Gap' 2CD+DVD box set is available now via Virgin/EMI Records
'Naked As Advertised' eaturing HEAVEN 17's versions of 'Party Fears Two', 'Being Boiled' and 'Empire State Human' plus 2008 versions of their best known songs is released by Absolute Zero
HEAVEN 17's German tour for 'The Luxury Gap' includes:
Aschaffenburg Colos-Saal (10th December), Hamburg Fabrik (11th December), Berlin C-Club (12th December), Köln Live Music Hall (13th December),  Leipzig Anker (14th December)
---
Text and photos by Chi Ming Lai
5th November 2012