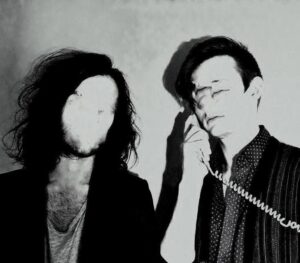 "Warm Jets, Nite Flights and Wuthering Heights"…
If you know anything thing about music, then you will understand what London sibling duo AUTOMATIC WRITING are aesthetically all about. One observer described the pair as "a cross between WHITE LIES and OMD".
The description isn't far off although vocalist Neave Merrick adopts a far more sombre baritone than Harry McVeigh while brother Jamie handling synths introduces far more post-punk distortion than Paul Humphreys ever did.
Early single 'Crystal Visions' is another variant of the Synth Britannia template, coming over like a mutant PET SHOP BOYS fronted by Ian Curtis! AUTOMATIC WRITING have just released a new EP 'Introduction To Floating' which isn't actually new as such.
Featuring live favourite 'This Is Happening' and a solemn stripped down cover of ROXY MUSIC's 'More Than This', the 4 tracker compiles recordings which have appeared on Soundcloud over the last couple of years.
"Imagine if you can what would happen if Depeche Mode, Bowie and Wild Beasts formed a supergroup and soundtracked a David Lynch film using just a laptop, a few analogue synths and a packet of Brian Eno's Oblique Strategy cards" say the Merricks and "Immerse yourself in modern art" as their NEW ORDER influenced number 'Modern Art' goes…
Although 'Introduction To Floating' can be seen as a clearing of the decks release and showcases their earlier, more abstract template, AUTOMATIC WRITING have already proved their dynamic tuneage capability with their previous single, the excellent double header 'Falling' and 'Continuous'. The latter made ELECTRICITYCLUB.CO.UK's 30 Songs Of 2012 listing with its magnificent whirs and spins driven by motorik machine beats and dysfunctional claustrophobia.
The release of the EP is a bit confusing it has to be said and shows AUTOMATIC WRITING a bit rough round the edges following the balanced triumph of 'Falling and 'Continuous'. However, further experience and development can only see the enigmatically photogenic pair with their brooding soundscapes and spikey guitar textures become more accessible while still retaining that important esoteric edge.
---
'Introduction To Floating' is available now as a download EP, along with 'Falling' / 'Continuous' from http://automaticwriting.bandcamp.com/
http://www.facebook.com/automaticwriting
---
Text by Chi Ming Lai
10th November 2013