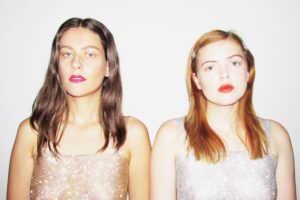 If Soviet Chic inspired fashionista Lotta Volkova had designed a pop group, then she surely would have come up with ULTRAFLEX.
The Norwegian Icelandic duo of Kari Jahnsen and Katrín Helga Andrésdóttir, better known by their solo monikers of FARAO and SPECIAL-K respectively, released their fabulous debut single 'Olympic Sweat' with a video that acted as visual tour guide of their adopted home of Berlin.
Now ULTRAFLEX unleash the suggestively saucy 'Work Out Tonight'
with an ambiguously alluring visual presentation directed by American artist Okay Kaya which sees our two heroines sensually bathing, sunbathing and eating choc ice in a local park before the girls indulge in a cheeky face-to-face windmill routine… a strangely comparable reference from the past is THE STYLE COUNCIL's homo-erotic 'Long Hot Summer' video.
With a funky energetic synthbass and those trusty electro-disco rhythms with lashings of cowbell, 'Work Out Tonight' climaxes with a provocative dialogue between a man who wanders into the women's dressing room and the person he encounters there.
Lyrically playful, some naughty exercise double entendres and breathy exclamations that "I'm gonna make you work it tonight, gonna make you work out tonight" only go on to raise temperatures off the scale. Of their creative chemistry, the pair have stated that this has been down to having "mutual artistic crushes on each other".
ULTRAFLEX have described their debut album 'Visions Of' as "an ode to exercise, loaded with sex metaphors badly disguised as sports descriptions"; it is due out on 30th October 2020.
"1-2-3-BREATHE!"
---
'Work Out Tonight'
is released by Street Pulse Records and available on the usual online platforms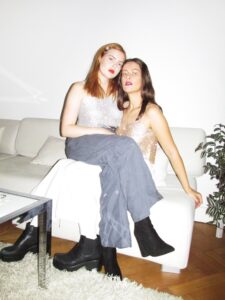 https://www.facebook.com/ultraflexband
https://www.instagram.com/ultraflexband
https://soundcloud.com/ultraflexband
https://www.facebook.com/faraomusic/
https://www.instagram.com/faraomusic/
https://www.special-k-special-k.com/
https://www.facebook.com/specialkspecialkspecialk/
https://www.instagram.com/special_k_special_k/
---
Text by Chi Ming Lai
Photos by Margrét Unnur Guðmundsdóttir
18th August 2020